A Journey Through Mexico's Cenotes
What the heck is a Cenote? Cenote is a Spanish word used particularly in Mexico, that refers to natural wells or sinkholes, where the limestone bedrock has partially or totally collapsed, and fresh water from the underground river system is exposed. Back in ancient times in Mexico, only Mayan religious leaders and royalty were allowed to swim in the Cenotes. Many of the Yucatan Peninsula Cenotes were even reserved for human sacrifices for the gods, because to many Mayans, the Cenotes were a gateway to the underworld.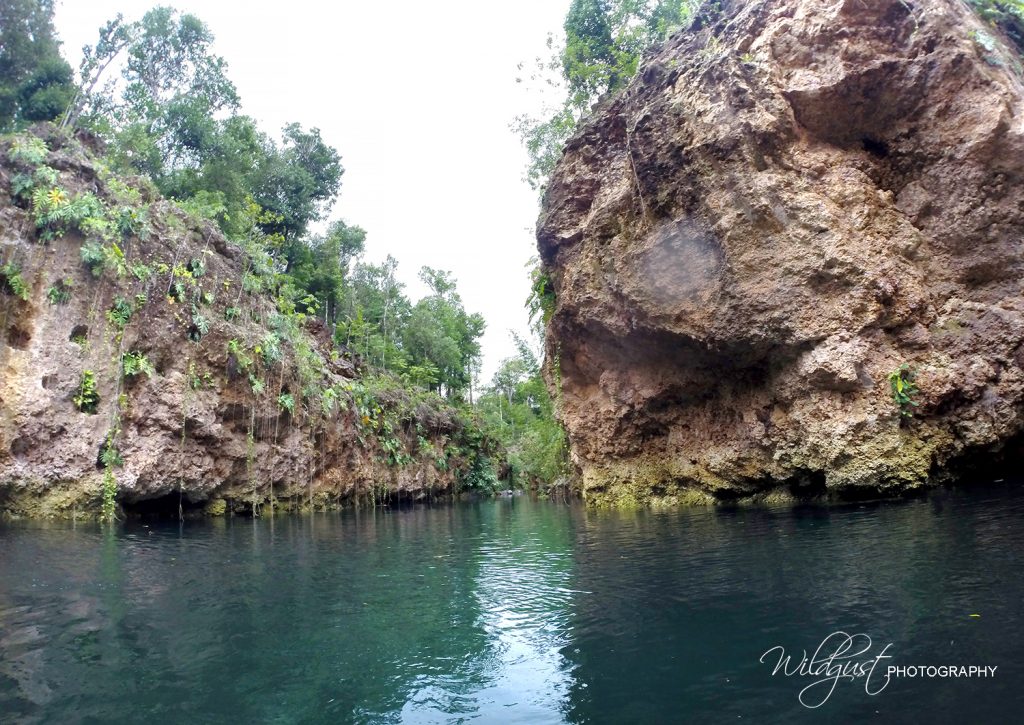 We (myself, the hubby and 2 awesome adventure seeking friends) decided on a Xenotes Oasis Maya Tour where we visited 5 different Cenotes and got to do different activities in each one. We got picked up at our hotel early in the morning, and on the drive our guide Adrian, mentioned the road to the Cenotes would be bumpy. Well, that was the understatement of the week! It felt like really bad turbulence but on the ground instead of up in the sky. I'm ok with that though. If you get sick easily, Dramamine might be a good thing to take before hand. Once we arrived at Lu 'um, our first Cenote of the day, we were outfitted with life vests, helmets & a climbing harness. And then the adventure began…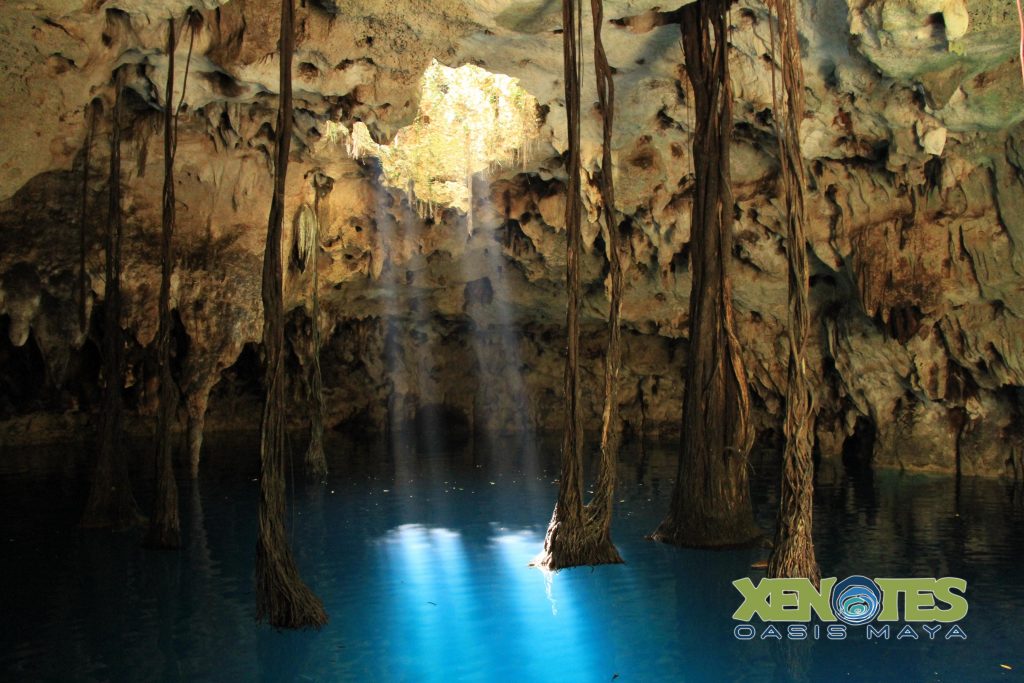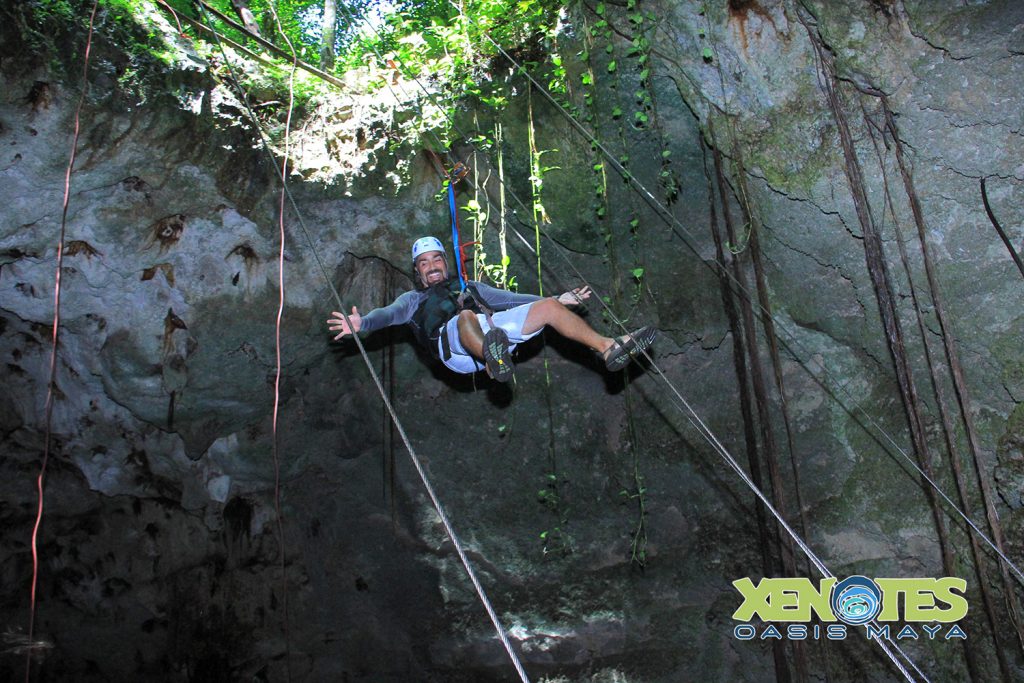 HERE ARE THE 5 CENOTES WE VISITED:
Cenote Lu 'um (Tierra) means earth in Mayan

.

 We repelled down into the dark abyss and straight into fresh (but cold) water. This Cenote was the darkest of all five that we visited during the tour, as it was a beautiful underground sinkhole with a narrow opening at the top, since much of the limestone roof was still mostly intact. We were also able to climb up on part of the bedrock inside the Cenote and jump back in the water, while the rest of the group repelled down the small opening at the top, probably 50 feet above us. For a similar experience right here in Florida, check out Devil's Den Springs.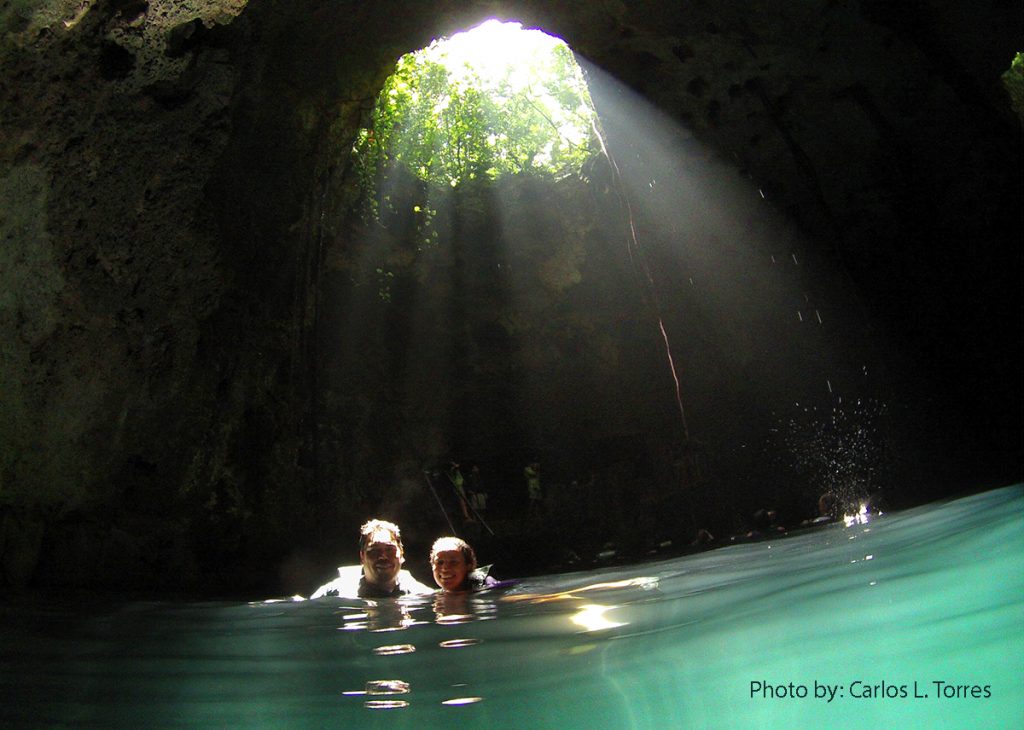 Cenote K'iin (Sol) means sun.

 Kayaking in this beautiful, open Cenote was incredible. K'iin looked more like a fresh water river through mountains because it was completely open over head, flanked by large trees hanging over the sides of the rock walls. That usually means it's a very ancient Cenote, and the entire rock roof has collapsed.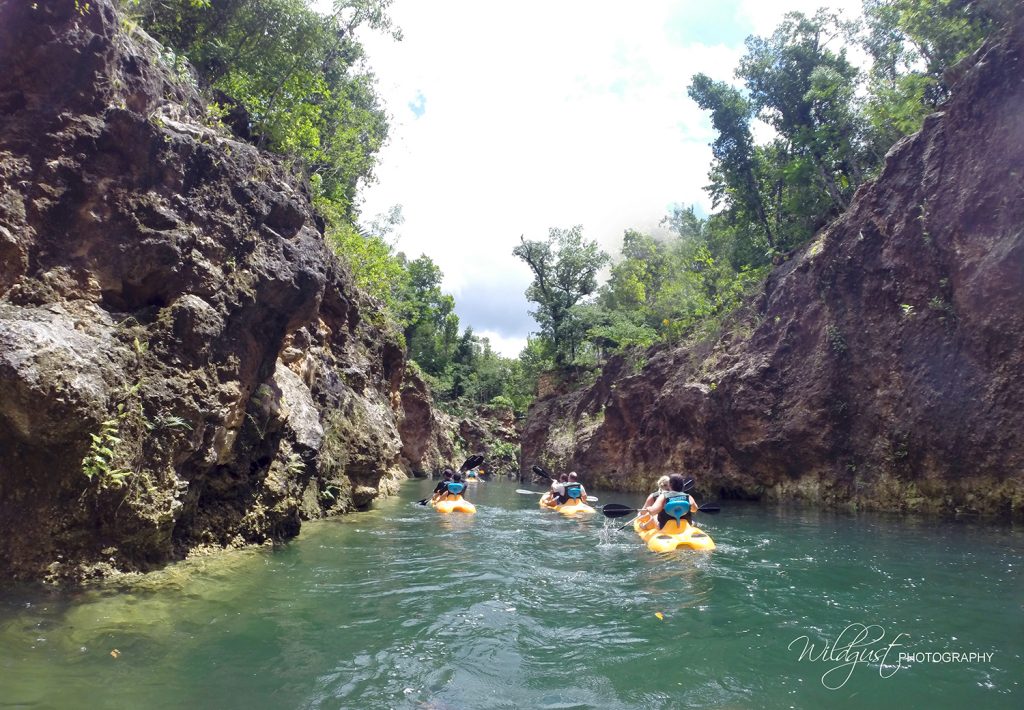 Cenote Ha' (Agua) means water.

 Snorkeling was fun, but the visibility at this Cenote wasn't particularly great. I guess we are a little spoiled with the fresh water springs we have here in Florida, which have amazing visibility year round. Regardless, it felt great swimming and floating in the cold water.
Cenote  Iik' (Viento) means Wind/Air.

 We got to zip line into the water at this Cenote and it was awesome! You could zip line down in different ways, like seating, upside down spider man style, half standing and more. So many options to splash into the water! OHHHOO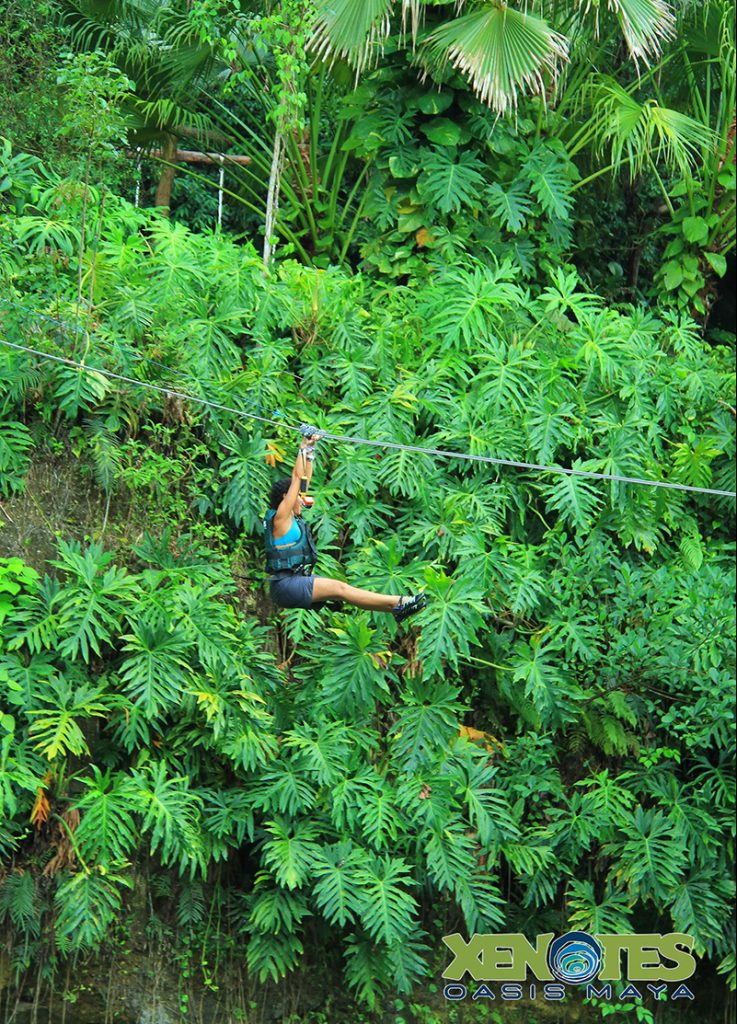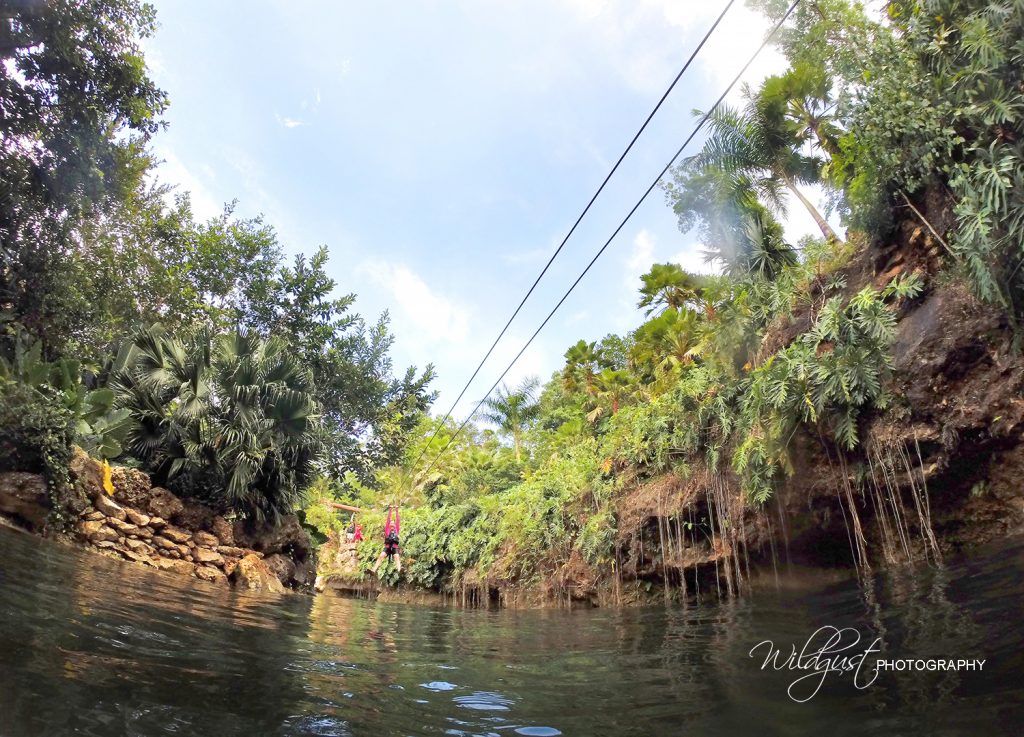 Cenote K'aak' (Fuego) means Fire.

 At this Cenote we had the chance to zip line, go down a slide AND cliff jump. Say Whaaat?? The Cliff jumping was my favorite part of course. It was the perfect way to end our tour on a high note.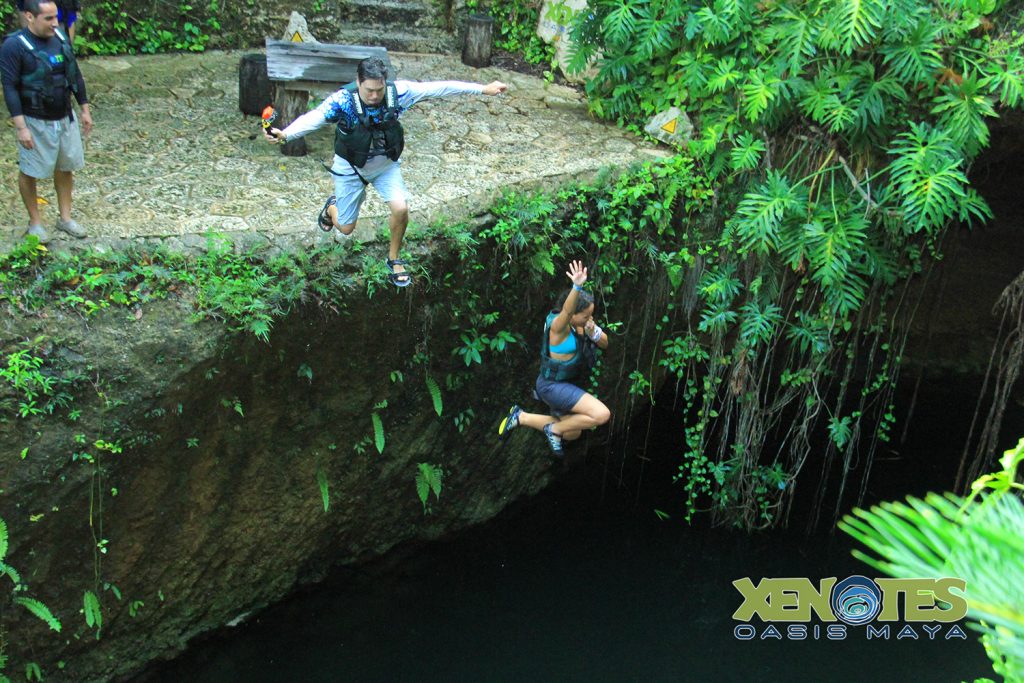 After the first Cenote, we were offered a light continental breakfast with assorted pastries, whole apples, bananas, coffee & Mexican home made hot chocolate, which was delicious. TIP: If you like a big breakfast in the morning, you might want to grab your eggs & bacon before hand. But then again, do you really want a heavy American style breakfast right before physical activity? Think about it. Lunch was served after Cenote #4 and it was a selection of a cold cuts sandwich buffet accompanied by potato salad, green salad and it also included unlimited coronas and red wine! Every Cenote we visited had changing and restroom facilities.
We did bring our go pros of course, but honestly the Tour photographer captured so many great shots that would not have been possible from our perspective. The photo package per couple was a little pricey but worth it, hence the majority of the photos on this post are by Xenotes Oasis Maya Tour's photography crew unless otherwise stated or watermarked. Gina was our group's photographer and the photo package was $70 per couple *This is not a sponsored post. We loved the tour and would highly recommend Xenotes Oasis Maya Tour Company. They were very organized, friendly and accommodating. And if Spanish isn't your forte, don't worry, they speak English.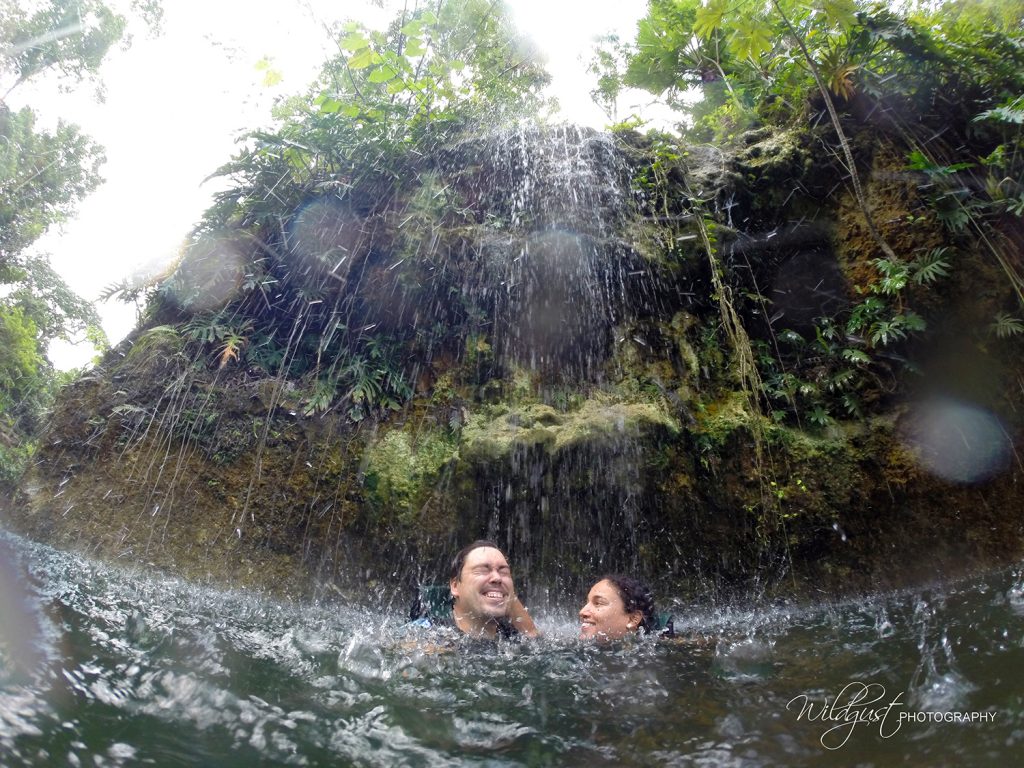 Next time we visit Mexico I want to go scuba diving in a Cenote. We hear Dos Ojos is a pretty great spot, but closer to Tulum rather than Cancun. So see you in the near future Tulum…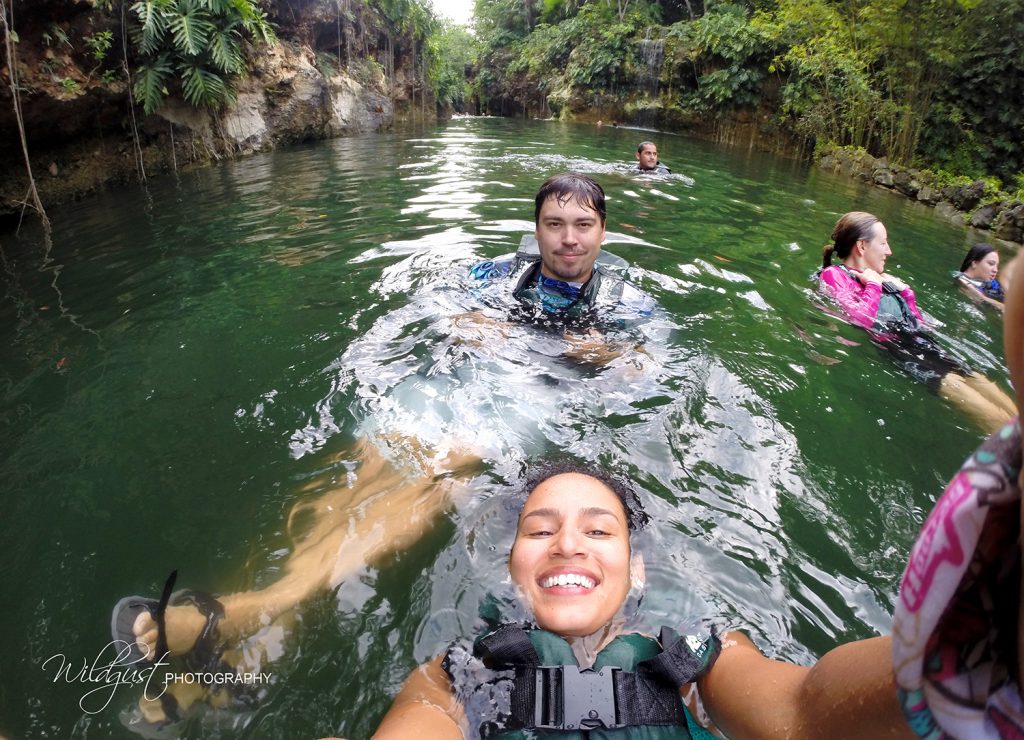 Adios Mexico, till next time! Have you guys ever been to a cenote? Which one did you visit?
(Visited 29 times, 1 visits today)