You can't go to Ireland and not drink at least one pint (or 10) a day. It's not only frowned upon, but almost illegal around there (Ok, maybe not illegal). The hubby and I visited Ireland a couple of years back and being a super savvy planner, I booked our hotel in the Smithfield area of town, aka right across from the Old Jameson Distillery! Totally on purpose of course. Now since Saint Patrick's day is right around the corner, I have decided to help you get in the spirit of the festivities, by listing some cool bars and pubs and how we spent a educational and boozy afternoon in Dublin Ireland:
Since it was across from our hotel, we started the day at…
Old Jameson Distillery: 
Hey, it's 5 o'clock somewhere right? This is the location of the original
Bow Street distillery
established in 1780. John Jameson took over ownership and began expansion in 1810. The Jameson Irish Whiskey we know today was produced and distilled at the Bow Street distillery in the Smithfield neighborhood in Dublin, Ireland until 1971. The business was moved out of Dublin and into Midleton, County Cork, Ireland where production is currently located. Today the Old Jameson Distillery location is a kind of whiskey museum, where you can take a tour and learn all about the whiskey making process; from harvesting the grains to taste testing some delicious Irish whiskey. When looking down on the lobby floor, you can see some of the original vats and barrels where the whiskey was stored and aged. There's also an awesome bar in the lobby area that serves up some fantastic craft cocktails. So sit back, order a drink and enjoy the day. Or hurry to the next spot on the list…(Confession: I'm sorry I don't have as many awesome photos as I would like from this trip because at some point, I elbowed the hard drive straight to the floor and the hubby could not restore all the photos…cry emoji)
FUN FACT

:
 Jameson whiskey is made in Ireland, so it's Irish but John Jameson (founder) was actually Scottish.
Good to know: Tickets are 18 Euros for the tour and it includes 1 complimentary cocktail. Tours start at 10am, and plan on spending about an hour and half here as the tour lasts 40mins and there's a gift shop and bar.

Next, Guinness StoreHouse:
Ok, so even if you're not a beer fan (like me), this is still worth the visit. The St. James Gates' Brewery was established in 1759 but 
The Guinness StoreHouse
 however, opened in 2000 as a tourist attraction that went beyond a simple Visitor's Center. The Guinness Storehouse has 7 floors to explore, so plan to spend a few hours here. Learn about the beer making process; the history of Arthur Guinness, the man that started it all; the Guinness brand advertising history where you can see vintage bottles and poster designs; what it takes to transport all that Guinness across the Atlantic and around the world in the Cooperage & Transport section, and so much more. Of course the hubby and I waited in line to go into the 
Guinness Academy, 
where you can learn "how to pour the perfect pint" and receive your diploma. Oh and there's the cool Gravity Bar on the 7th floor, granting you with a 360 view of the city. Plan on spending a few hours.
FUN FACT: Arthur Guinness signed a 9,000 year lease when he started the brewery, so I guess Guinness is here to stay…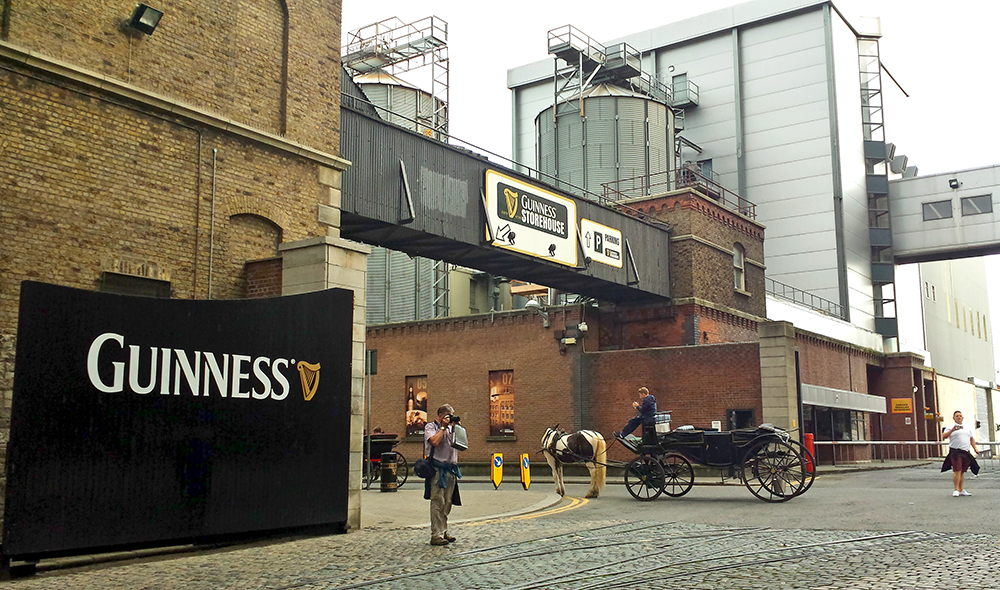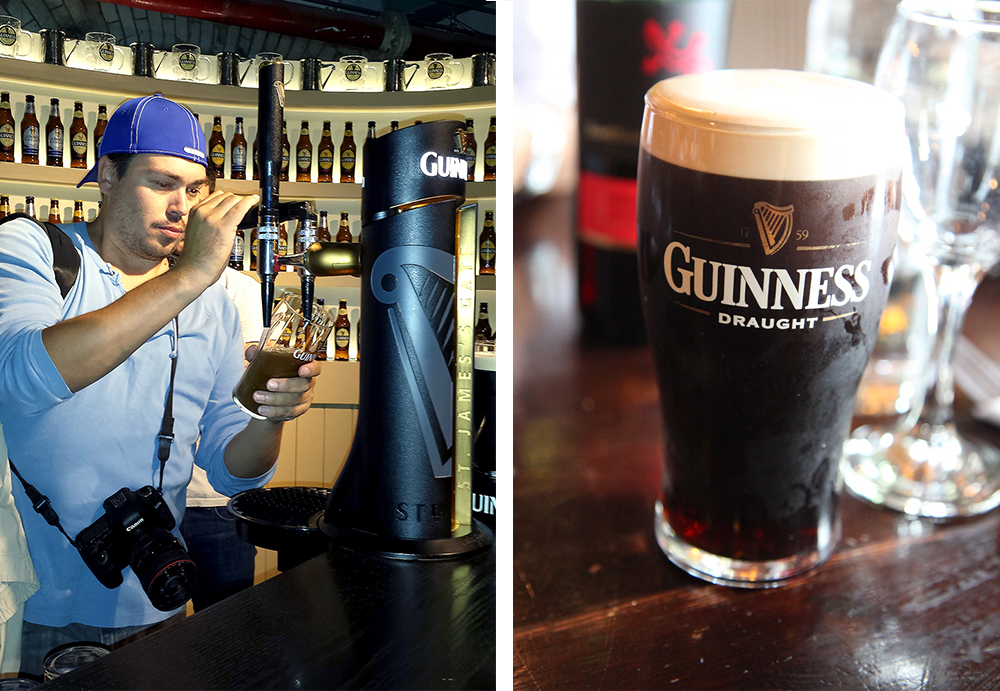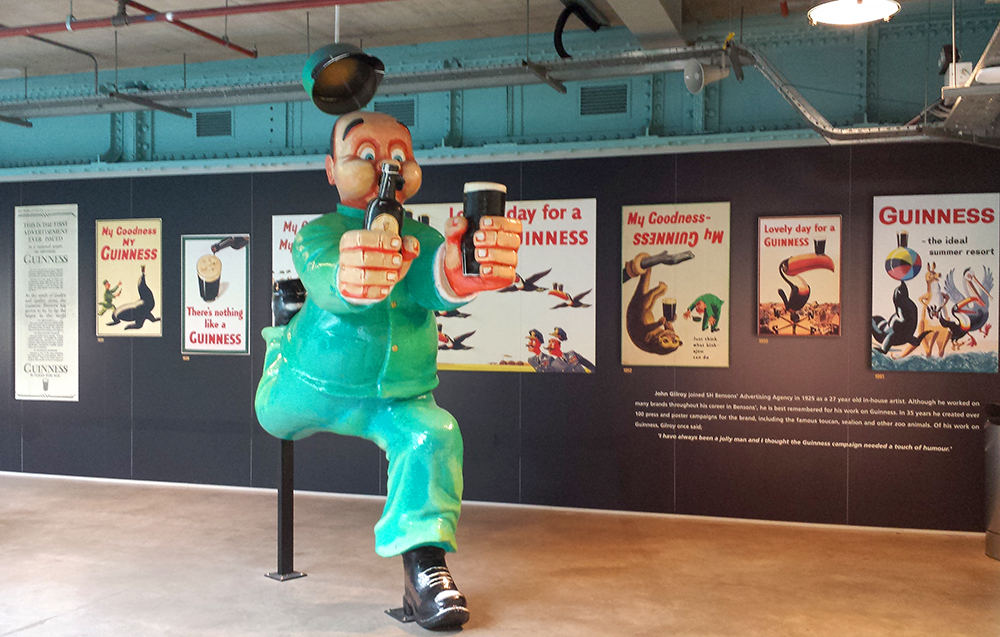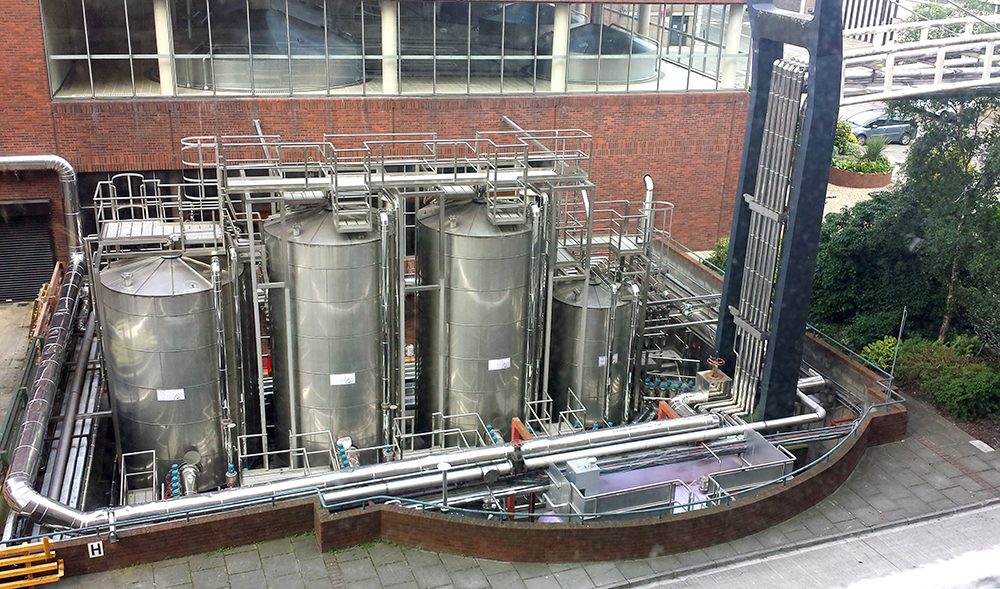 Temple Bar:
Yes, this area has become super touristy, but it's still worth a night of wandering. We stopped at the Old Mill Restaurant for some great fish & chips and wine for dinner and afterwards, strolled the cobblestone streets in the Temple Bar area to listen to some live music being played by random street musicians and admired some sidewalk art as well before calling it a night.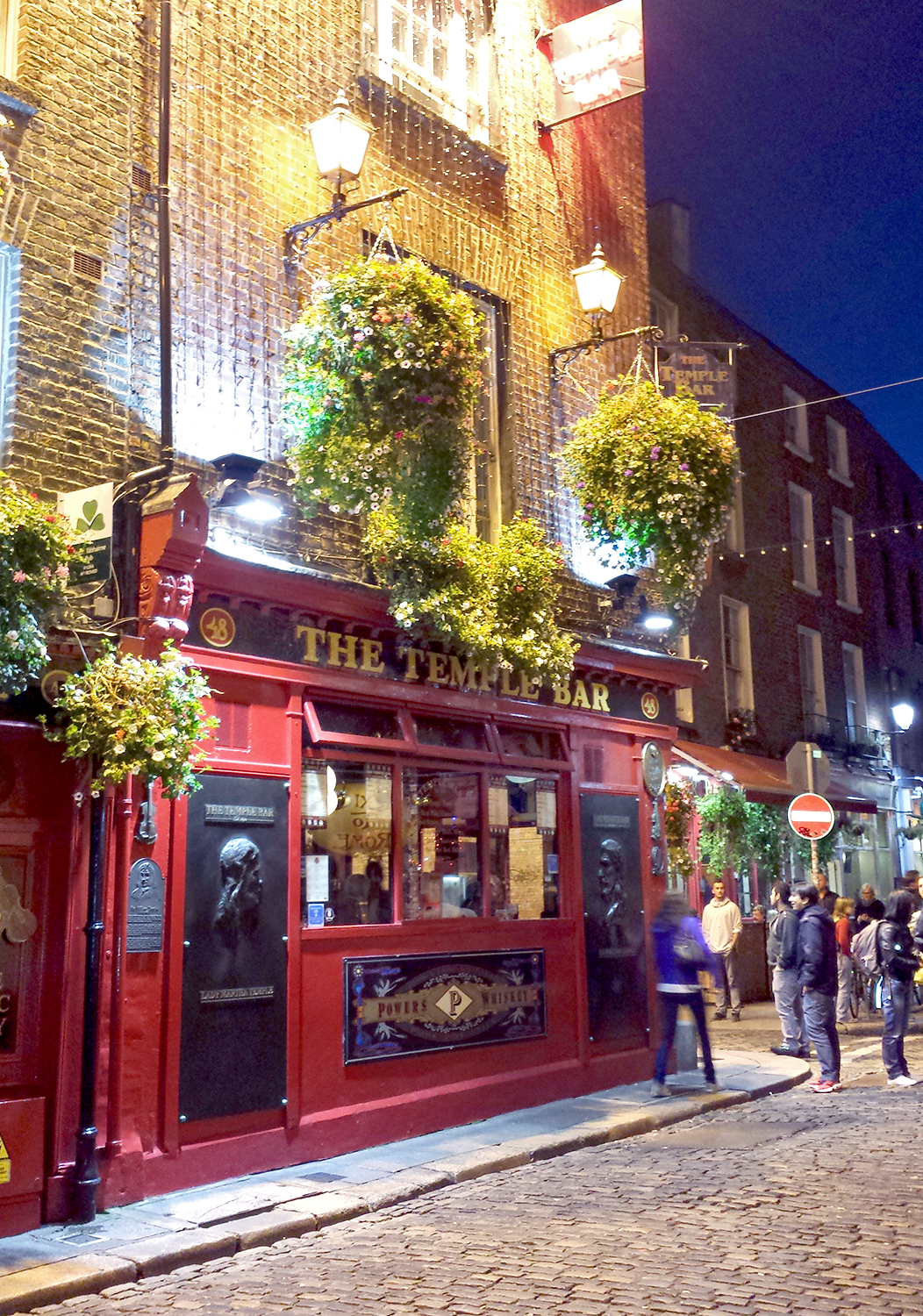 Cobblestone Pub:
This little hole in the wall pub known as The Cobblestone was a hidden gem we found right in Smithfield Square, where our hotel and the Jameson Distillery was located. It didn't look very inviting from the outside with white metal bars covering the windows, but we gave it a try and loved it because it wasn't touristy. It was definitely a locals pub, with cheap beer and lovely live Irish music playing all night. The next day when we told our taxi driver that we had stopped for a drink at the Cobblestone, he had a big smile on his face, almost like he was proud of us for going into a local pub instead of Temple Bar every night. So Cobblestone is local approved for sure! And as they describe themselves "It's a drinking pub, with a music problem." For a hidden gem here Florida hit up the Ice Plant Bar, one of my favorite's.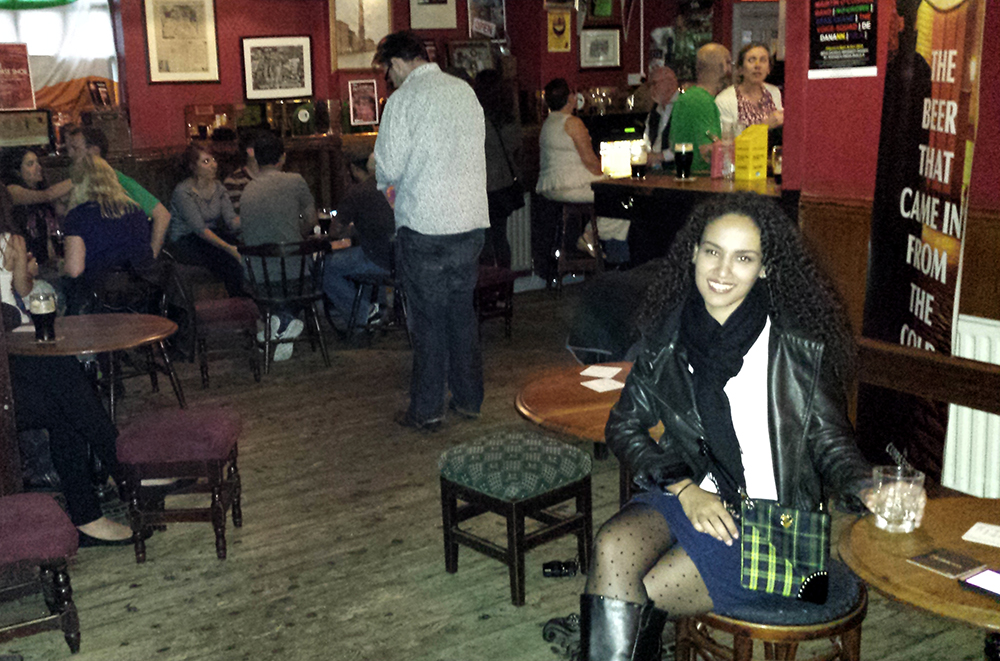 John Kavanagh's The GraveDiggers Pub:
Established in 1833 and adjacent to a graveyard, John Kavanagh's Gravediggers Pub has been in the Kavanagh family for over six generations. I think it is safe to say this family business is pretty successful. We stopped here as part of a spooky – literary night tour and it was the perfect end to our night. Ghost stories, cemetery, old bar, shots and pints!
FUN FACT: Back in the old days, gravediggers would rob graves in the cemetery next door and after looting the grounds, they would stop in for a pint of beer at the pub afterwards, hence the nickname Gravediggers Pub.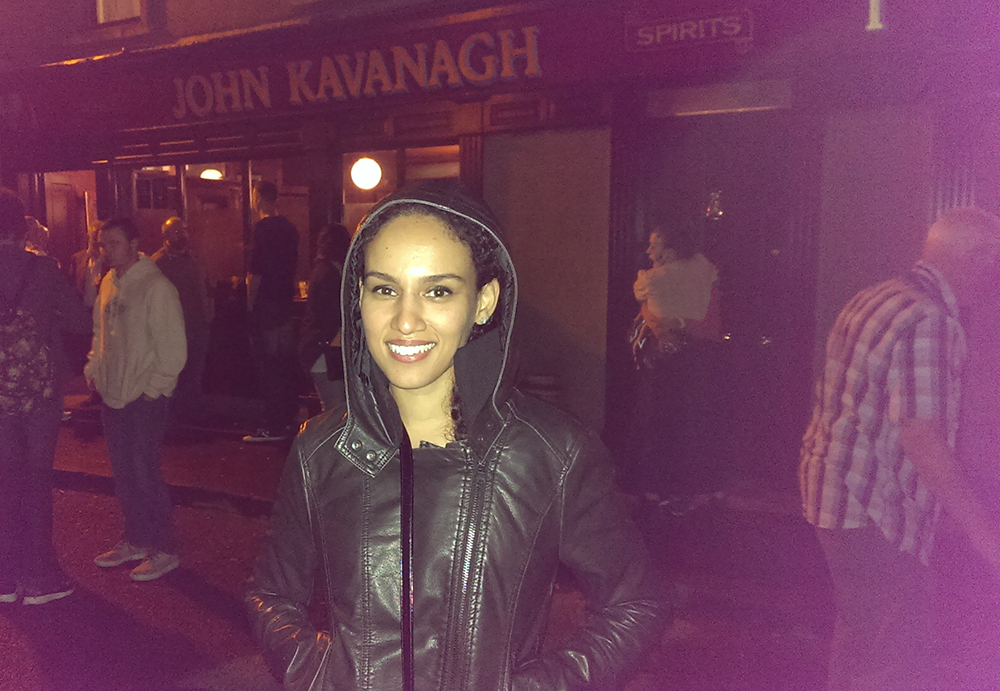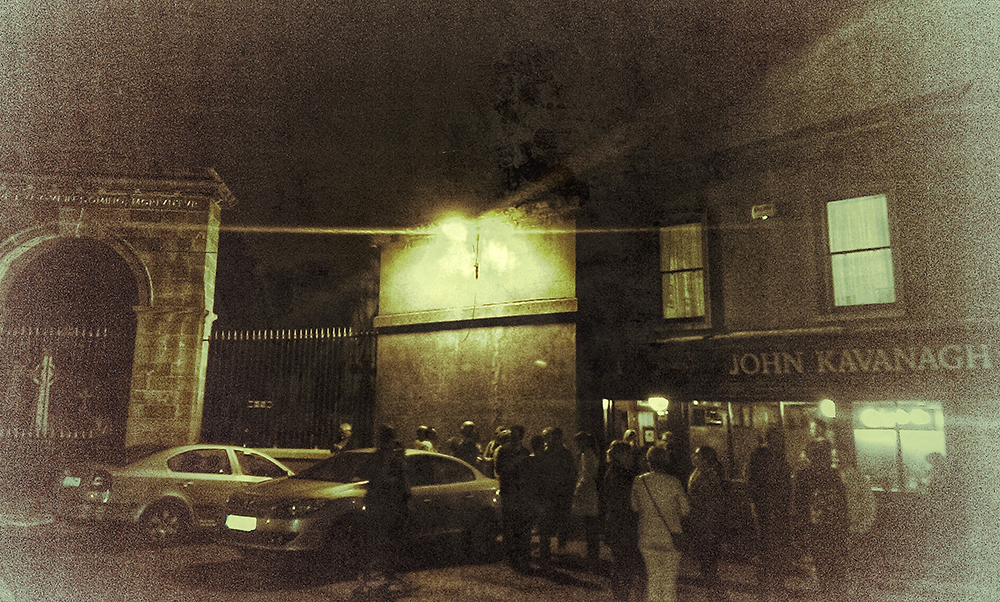 The Brazen Head:
Established in 1198,
The Brazen Head
is officially the oldest Pub in all of Ireland! Can you believe Tom and I didn't make it here? I know right? Treason, I'm sorry Ireland, I let you down. The truth is, we didn't realize it existed until the last day we were in Ireland and already out of time, so ignorance isn't always bliss. The kicker is, The Brazen Head is only a 10-15 min walk from the Guinness Storehouse! I still cry about it…so don't be stupid and miss out on this piece of history like I did. I guess the lesson here is, I need to book another trip to Ireland 🙂
I hope you have enjoyed all this info about beer and whiskey in Dublin, Ireland. It was a lot of work, so now I'm gonna go sip a little Irish cider and plan some St. Patrick's weekend festivities. Cheers!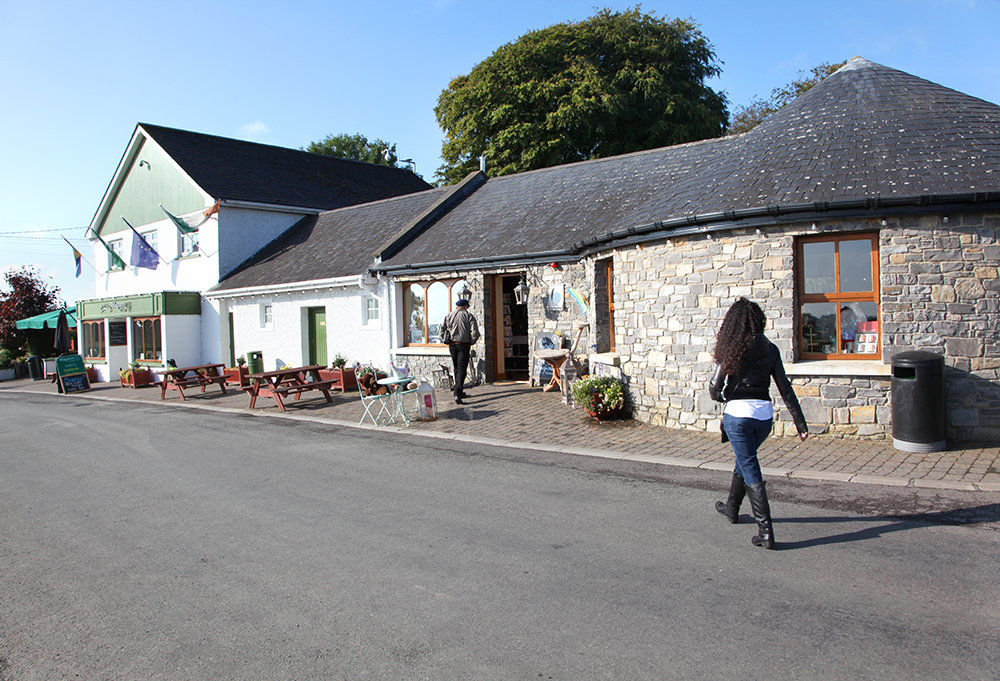 (Visited 11 times, 1 visits today)