Weekend Trip to Clearwater Beach, Florida
The hubby had to work a show out of town but this time it was only 2 hours away from home, in Clearwater Beach Florida. I decided why not take advantage of my few days off and join him at the new Wyndham Grand Clearwater for a mid week getaway? The hotel costs were already covered by his job, so it was just a matter of packing a backpack and filling the gas tank. Did I mention Clearwater beach was voted one of the top 10 beaches in Florida?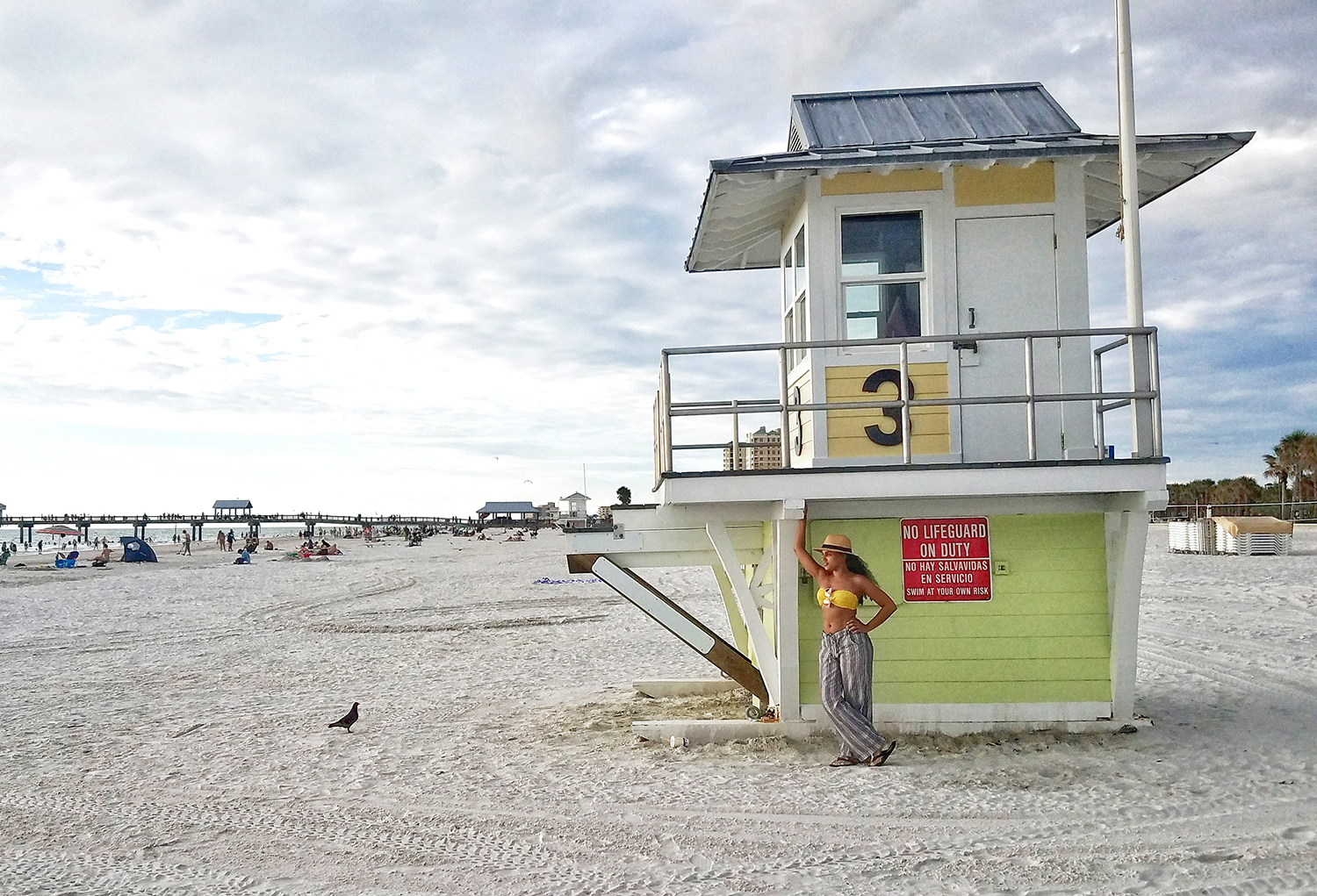 THE BEACH:
We have been to Clearwater Beach many times before but we usually come early in the morning and head back to Orlando late afternoon. It was a different experience and really nice to actually stay for a few nights and explore this beach town a bit more; granted I did A LOT of just sitting at the beach under the shade, with a good book. The biggest difference was experiencing Clearwater Beach at night. The Wyndham we stayed in was near Pier 60 and Marina area, so it was close to all the action. Walking around the beach after the sun goes down, we got to see Pier 60 come alive with local vendors selling handmade soaps, jewelry, candles and leather goods while performers entertained crowds of tourists and Floridians alike with singing, dancing, acrobats and randomness. A couple of blocks in either direction, and you have a wide selection of restaurants from tiny pizza joints to elegant dining; bars and cheesy souvenir stores to cute beachy shops scattered around for your convenience. Be sure to go up a street or two for even more eating options like the cool Pearly's Beach Eats on Papaya St (between Mandalay Av. & Poinsettia Av.)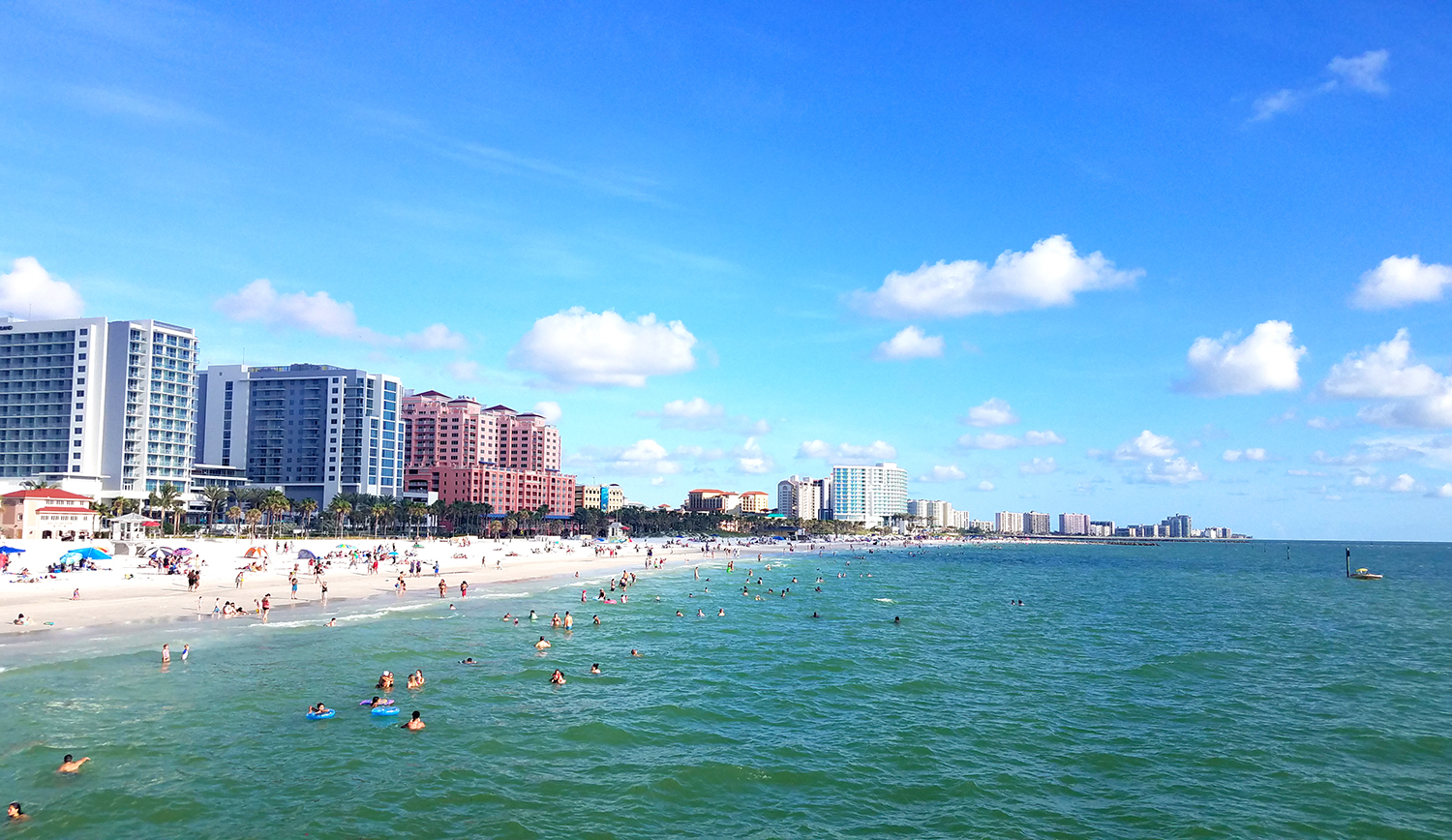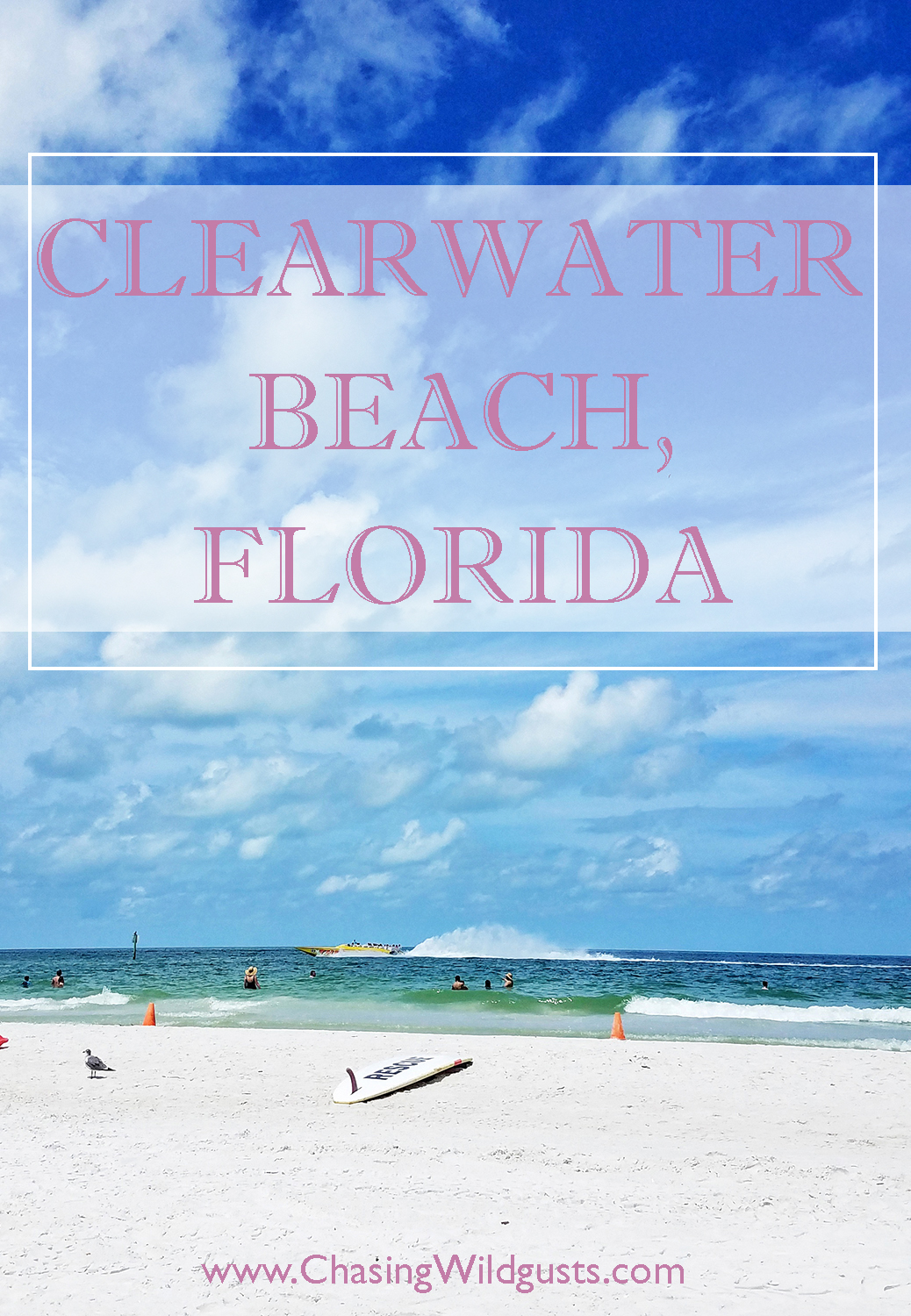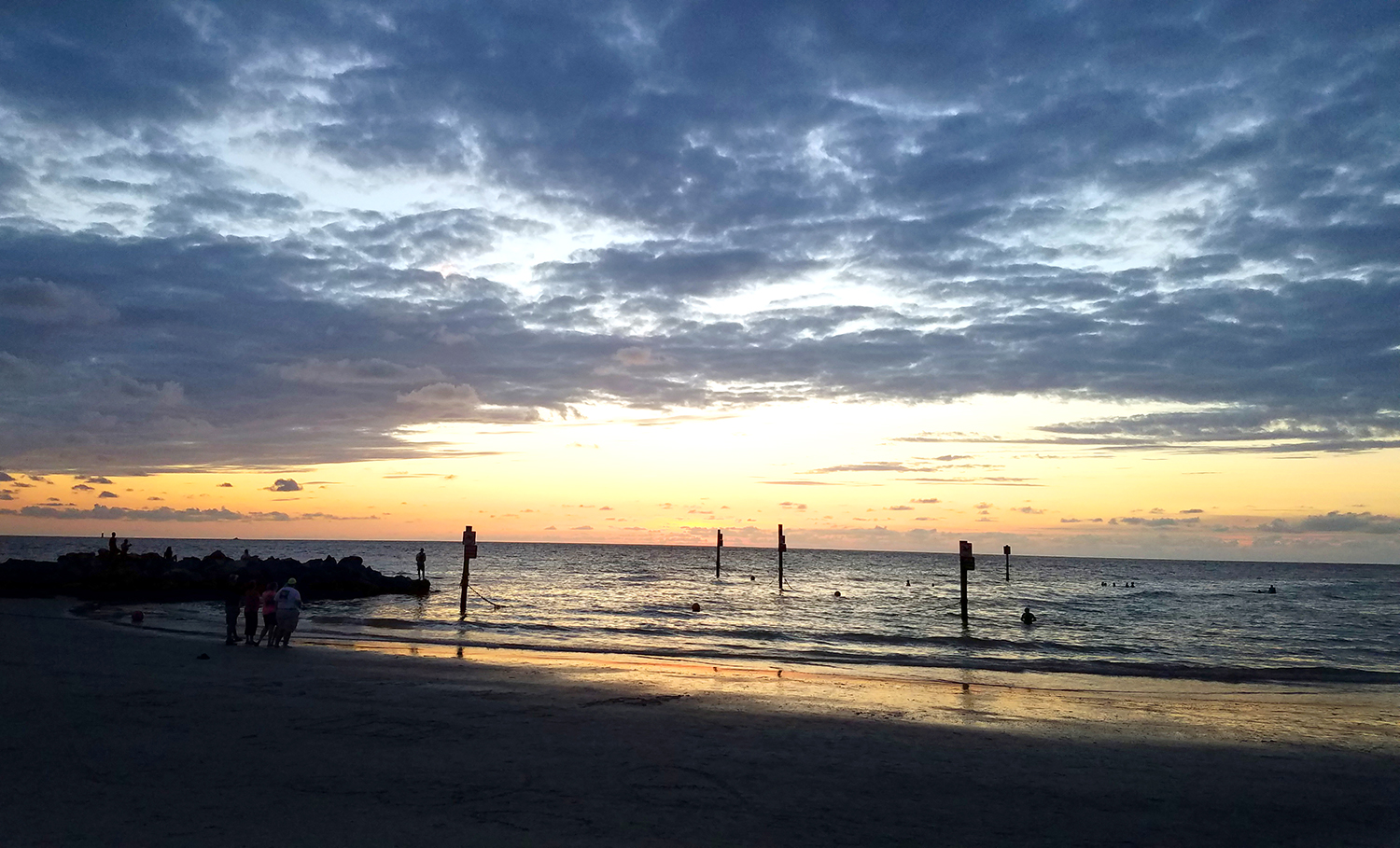 Though Clearwater Beach is lined with great hotels it is a public beach. Hence you don't have to be staying at a hotel to enjoy it. The beach is maintained by the city and vendors provide beach chair & umbrella rentals. And if you want to get a little fancy, you can rent out the blue cabanas that perfectly line up on the beach. I decided to got fancy and paid $40 bucks for the cabana since I wasn't paying for a hotel anyways, I figured I could splurge a bit. Normally the cabanas are $60 but I talked it down to $40 since I got there after 2pm. Basically you just pick the one you want, settle in and an attendant will come by to charge you. I got lucky one of the days because I spent hours in a cabana and no one ever came by to charge me for it! #score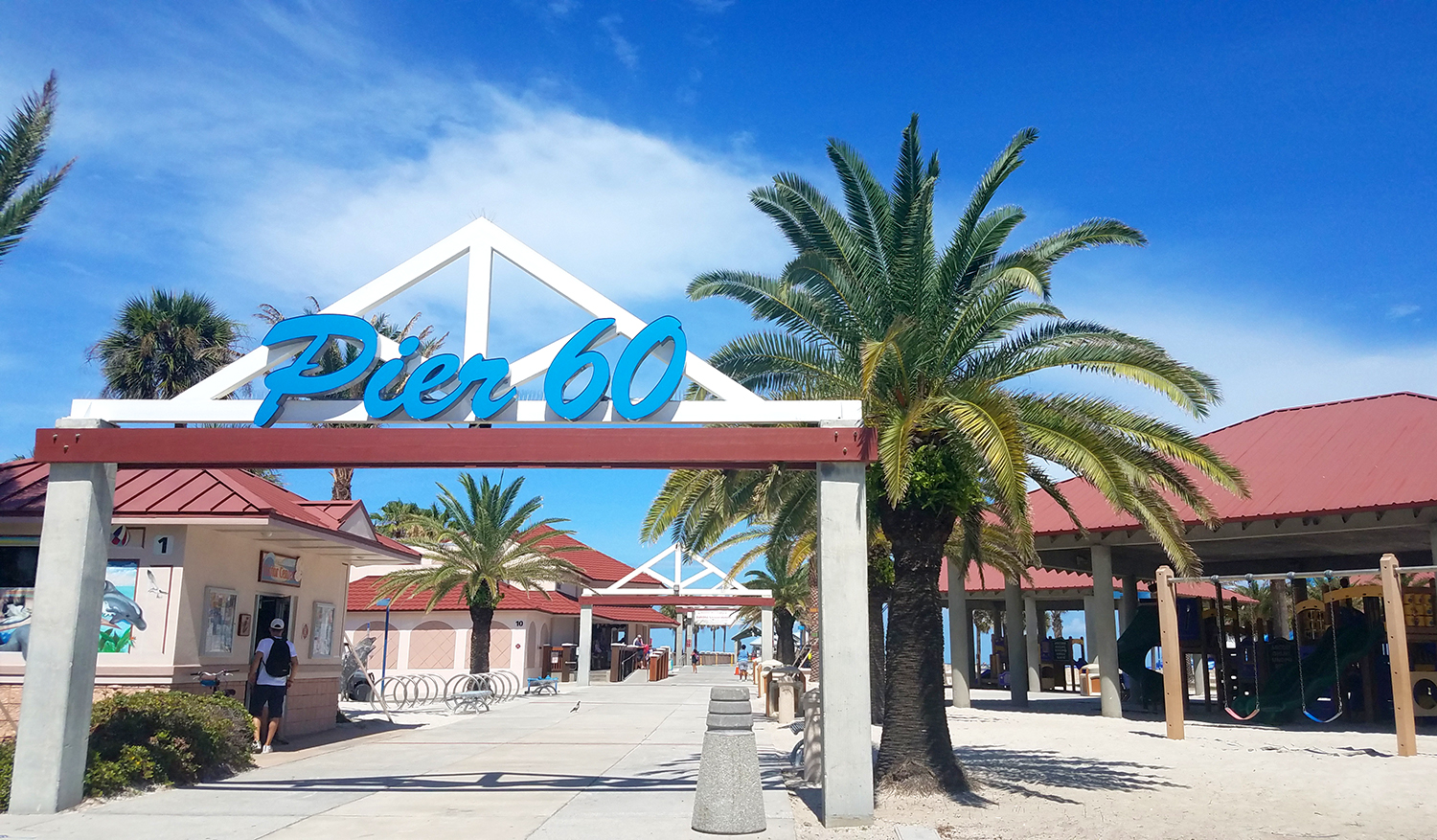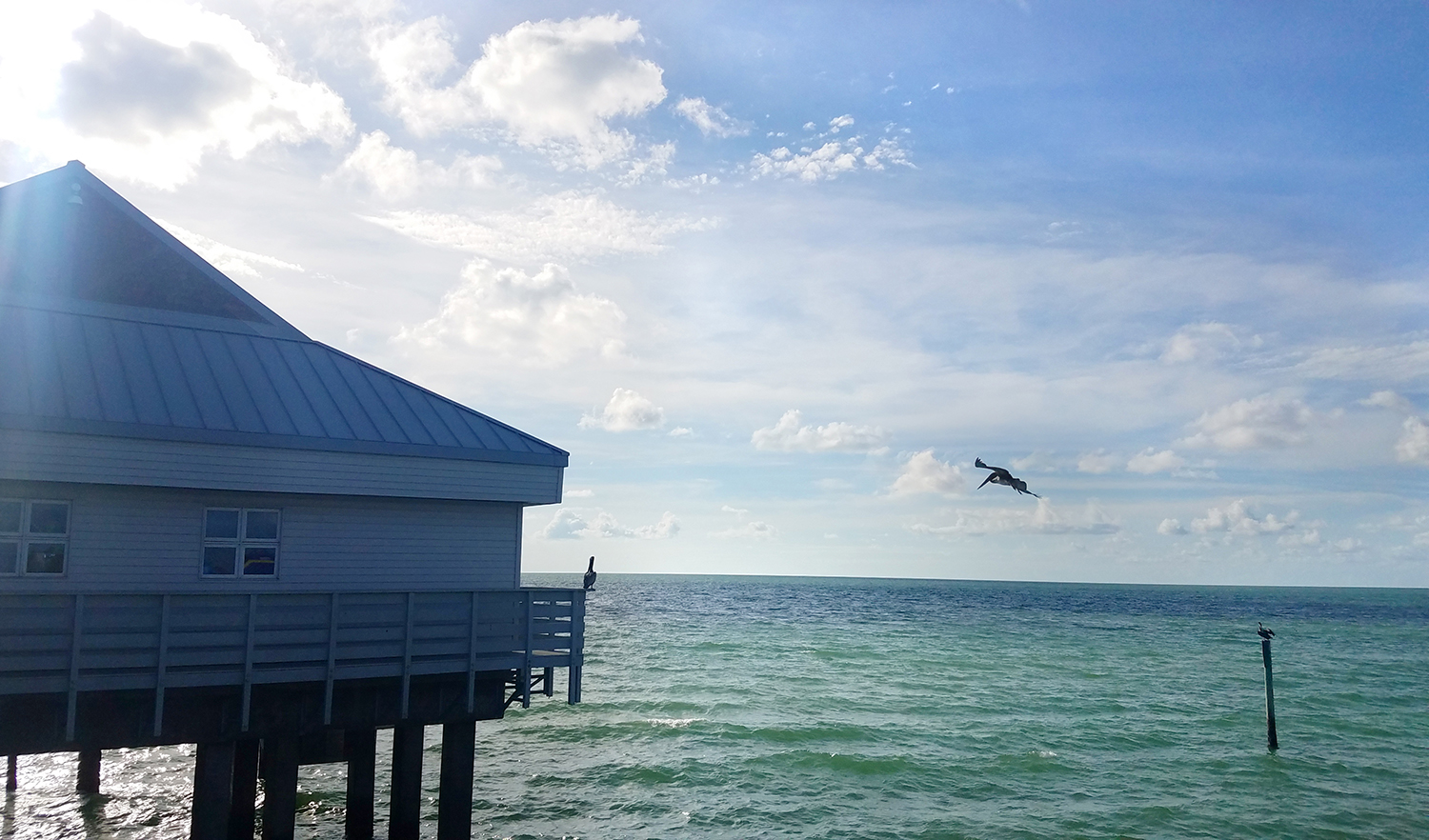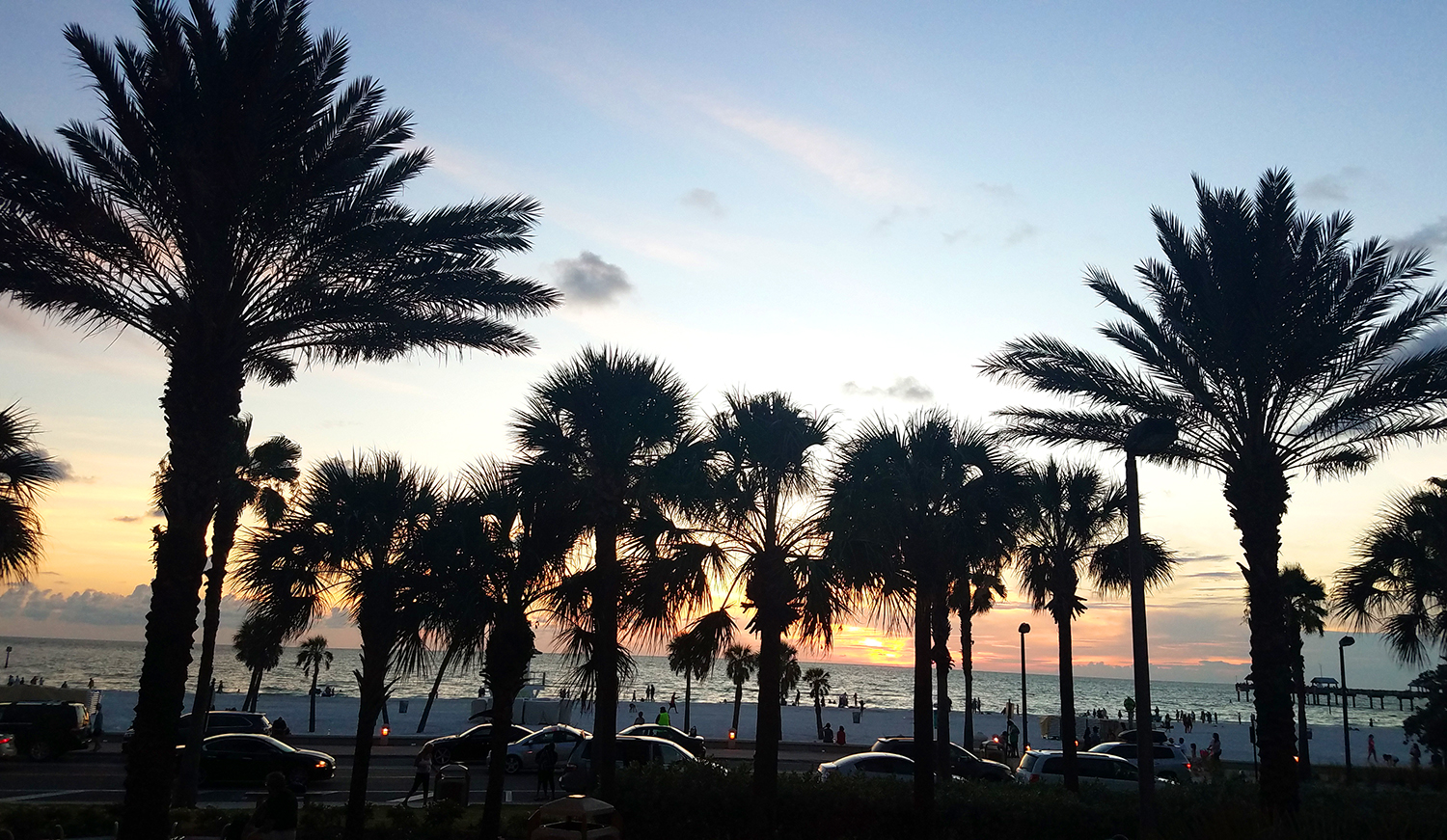 WHERE TO EAT: So many options! But here are a few…
Pearly's Beach Eats: with its cool surfer vibe and delicious tacos & sandwhiches are a must. Order at the window and pick a table in the "backyard" or front yard, depends on how you look at it. Pearly's serves beer & wine. http://pearlysbeacheats.com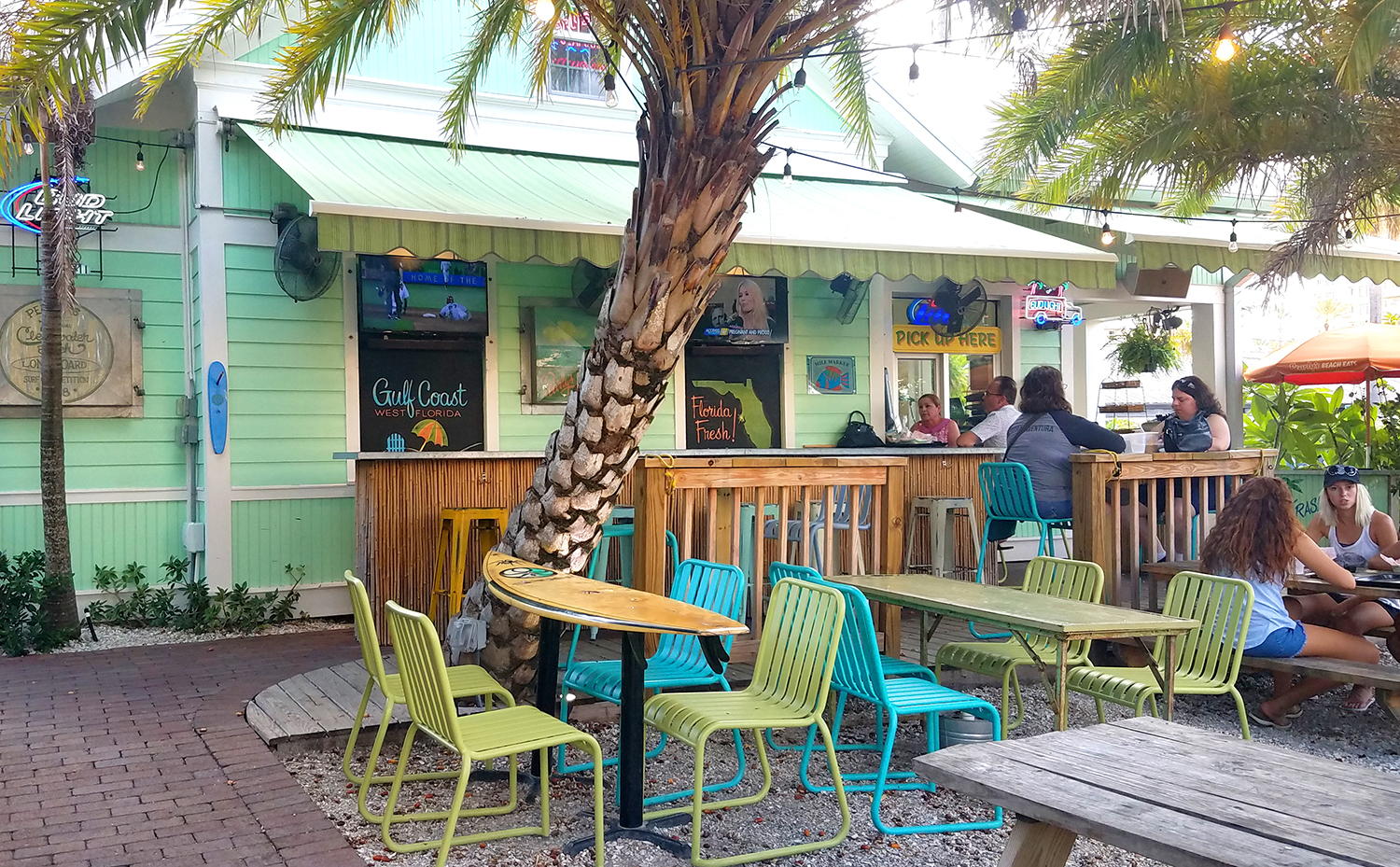 Frenchy's Grill: has a great Grouper sandwich.
Bob Heilman's Beachcomber: a little bit more upscale and open for lunch and dinner. Full Bar.
Bobby's Bistro & Wine Bar: located right behind Beachcomber is another really great option with both indoor and courtyard sitting available. Wine list and full bar.
Eskpades: Lobby bar inside the Wyndham Grand Clearwater, the bartender Mike made a fantastic Old Fashion. I know, not what most people would order on their beach vacation, but hey, I love old fashions!
Post Corner Pizza: Has been serving delicious home made Greek dishes and pizzas for the past 30 years.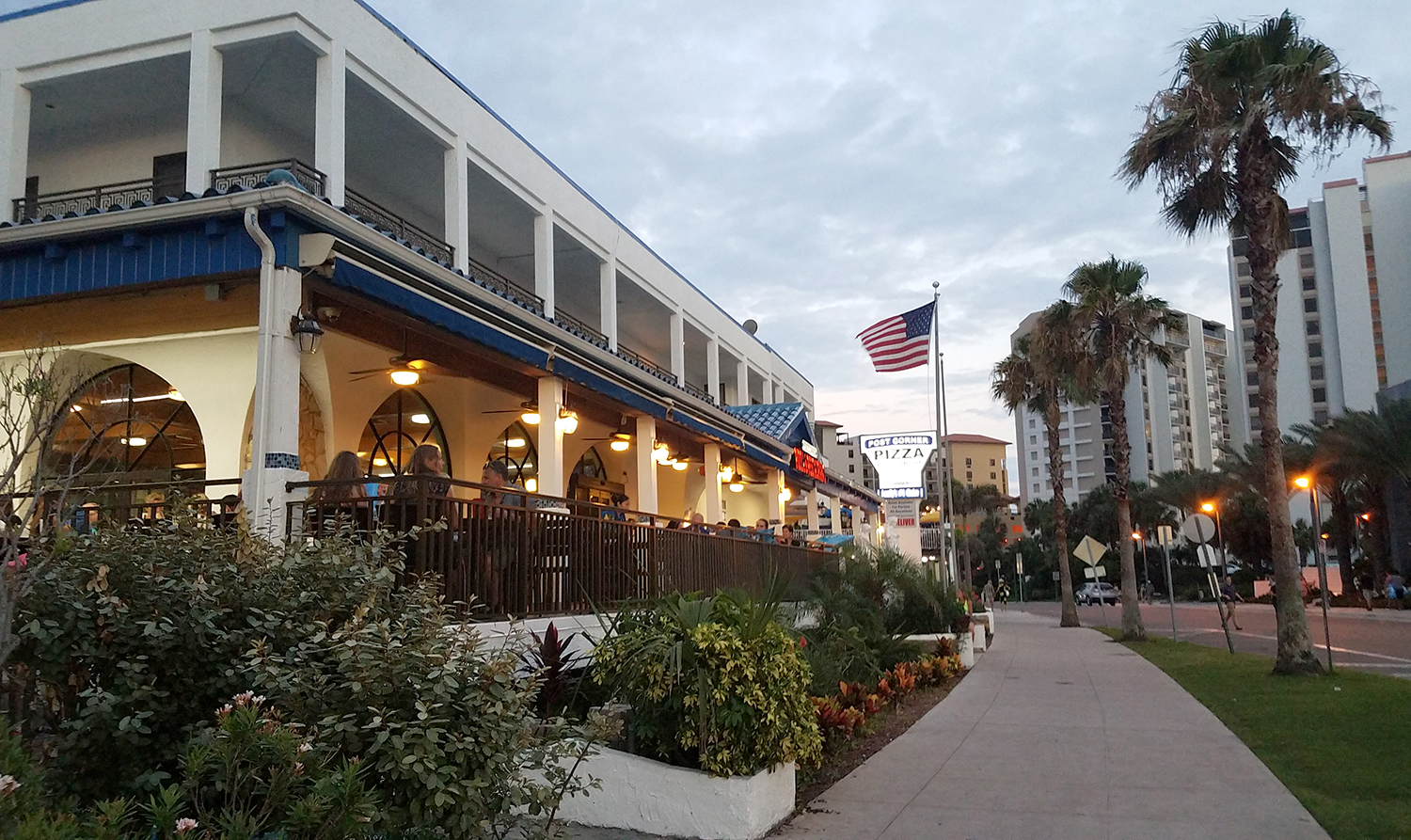 THINGS TO DO BEYOND THE BEACH:
If you get tired of playing in the soft white sands and swimming at the beach, Clearwater has more adventure, arts and culture for you to explore:
Pirate Ship Tour: party like a Pirate! urghhhhh. Eye patch maybe required…
Bush Gardens: a fantastic theme park full of thrill rides and a beautiful zoo program as well.
Clearwater Marine Aquarium: Home to the real life Dolphin named Winter, who has a prosthetic tail. Winter inspired the movie and book a Dolphins' Tale.
Dali Museum in St. Pete – Surrealist art at it's best. He is one of my favorite artists because though he painting technic is realistic, the scenes depicted are dream like. And the architecture of the building? Not to be missed.
Dale Chihuly Museum – world famous glass artist. I haven't had a chance to visit this museum yet, but I have seen various of Chihuly incredible works of art displayed at the Bellagio Hotel in Las Vegas and at the Atlantis Hotel in the Bahamas.
John and Mable Ringling Museum of Art – established in 1927, it has beautiful Italian Renaissance style architecture and mesmerizing gardens for a perfect afternoon.
Street art murals – around St. Pete's Central Avenue more than 70 murals to providing a visual feast to the eyes.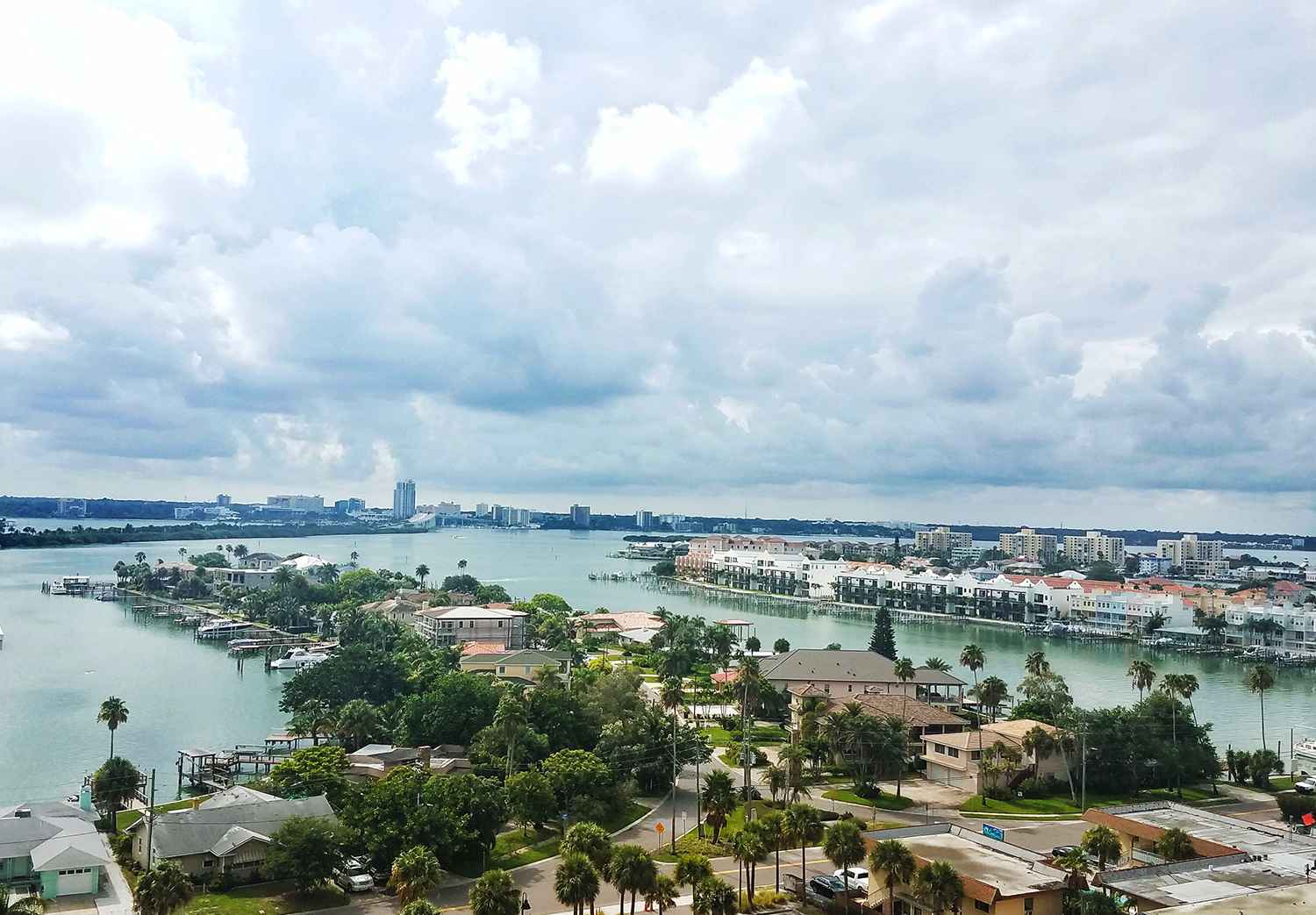 PARKING:
You can park in downtown Clearwater for free and take the Clearwater ferry over to avoid all the traffic. For more details on where to park at the beach instead of downtown click below:
http://www.visitstpeteclearwater.com/article/beach-parking-find-your-spot-sand
There are a few affiliate links in this post. It doesn't cost you ANY extra to click on it and purchase. I'll make a few cents on the dollar so thank you 🙂
I hope that if you're planning a trip to Florida you can add a few days to spend at Clearwater/St. Petersburg for some great beach time, arts and culture. Have you ever been to Clearwater, Florida

?
READ NEXT: about 1.5 – 2.5hrs from Orlando
(Visited 10 times, 1 visits today)