If you ever find yourself in
Cape Town, South Africa
; besides enjoying a
safari game drive
, make sure to add a day trip to Cape Peninsula to your itinerary. About an hour away from the main city of Cape Town; it gives you breathtaking views, more vineyards, Boulders Beach (home to an adorable African penguin colony) and the Southern most point in all of Africa!
Best way to make this trip is to either book a tour, a taxi driver and work out a price for the day OR rent a car (what we should have done but we were a little intimidated of driving on the opposite side of the road) So we booked a taxi driver. The day of, another driver shows up at the door and we are like who the heck is this?! The original driver had a family issue and sent a colleague in his place. Said colleague was very nice but not proficient in English. But in the end, we kinda got passed the language barrier and did what we came to do: Visit Boulder's Beach in Simon's Town, visit a winery and check out the Cape Peninsula. Here's how the day went…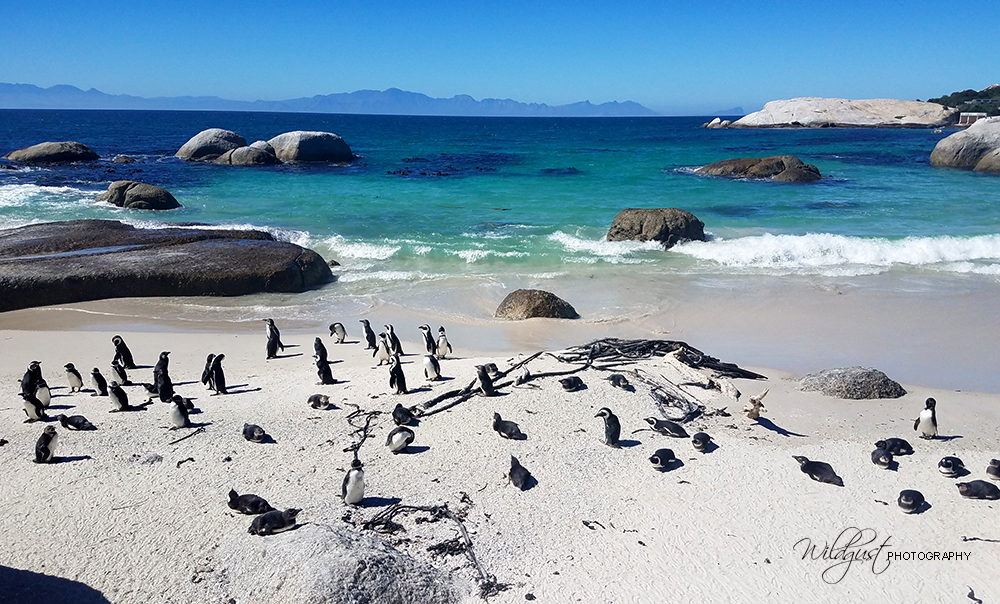 First up: Morning at Cape Point Vineyard, It's 5 O'clock Somewhere
Our driver started by heading to a winery within Cape Town and it was closed, because it wasn't even 10 am. Lawrd have mercy! So we tried to tell him, let's keep going and head to Boulders Beach to see the penguin colony, we can do a winery later (as in a more
acceptable time for booze)
. As we drove past beautiful
cliffs and mountains
overlooking the ocean, about 45 min later we somehow ended up starting the day at Cape Point Vineyards. At that point we just accepted the language barrier with the driver and embraced the day as it unfolded. So our first stop was a winery, and needless to say, we were the first customers of the day.
I thought, fuck it, I'm going to start my day with a wine tasting and it's only 11am. Jimmy Buffet always says it's 5 o'clock somewhere right? He is a wise (and non-judgmental) man. Cape Point Vineyards specialized in Sauvignon Blancs and it was absolutely delicious! I even liked their Chardonnay, which surprised me because I'm usually not a fan of the varietal. The setting was beautiful, sitting outside with a lake view, glass of wine in hand and the crisp winter breeze blowing in my hair.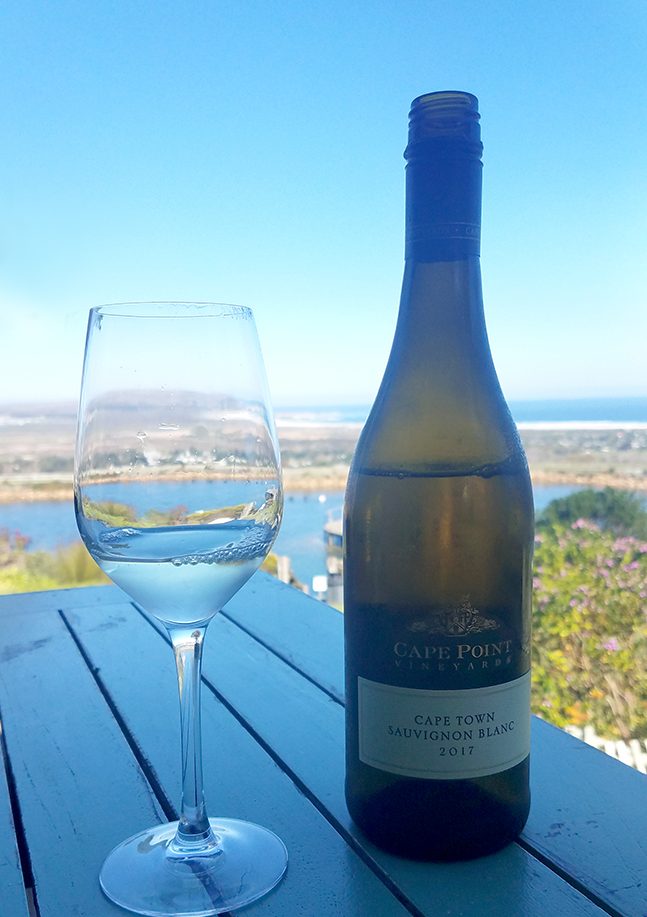 Stop #2: Boulders Beach! A Penguin Story
We found Penguin Heaven. Did you know South Africa has a whole colony of resident peguins? It's so awesome! Penguins are so cute, and smaller in real life than you think, which makes them that much more adorable. The African penguin colony resides in a protected area between Simon's Town and Cape Point. The beach is dotted not only with penguins but also with giant granite boulders that are around 540 million years old, hence the name Boulder's Beach. There are two viewing platforms on Boulders Beach; the main one is full of tourists and where I filmed most of the shots in the video. But I highly recommend taking a walk to the other platform because you'll probably be the only person there. On the walk,  you'll get to see so many penguin nests and little babies hiding in the shade of the bushes and trees along the way!
CHECK OUT THE YOUTUBE VIDEO: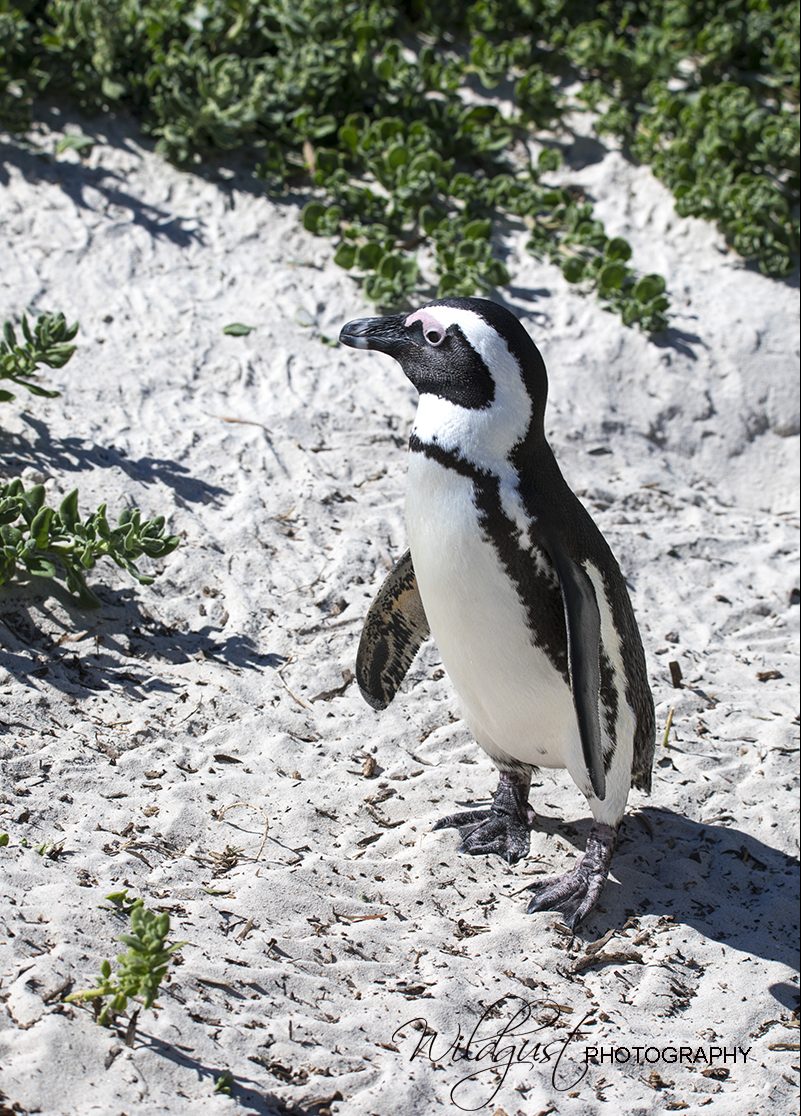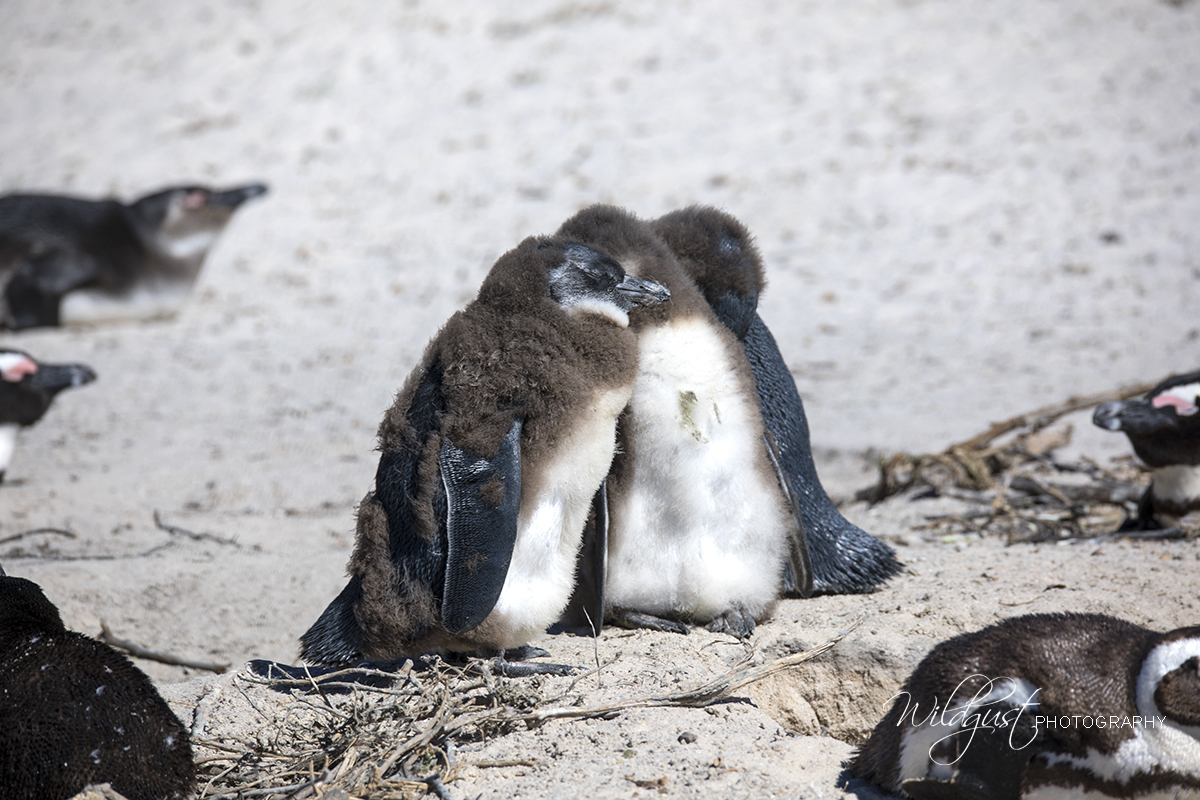 FUN FACT: The African penguins are also known as a Jackass Penguin due to their donkey like braying calls.
The young chicks are not ready for the ocean yet, as their fluffy down is not waterproof, but they are so darn cute! Back in the early 1900's the African penguin numbers were estimated near 1.5 million and sadly today only about 10% remain and the African Penguin is now listed as an endangered species. After watching the penguins for a couple of hours we got hungry and had a quick bite at the Peguino Cafe before continuing on our journey. And of course I had to purchase a scarf at the outdoor market. It was a pink penguin print. Couldn't help myself.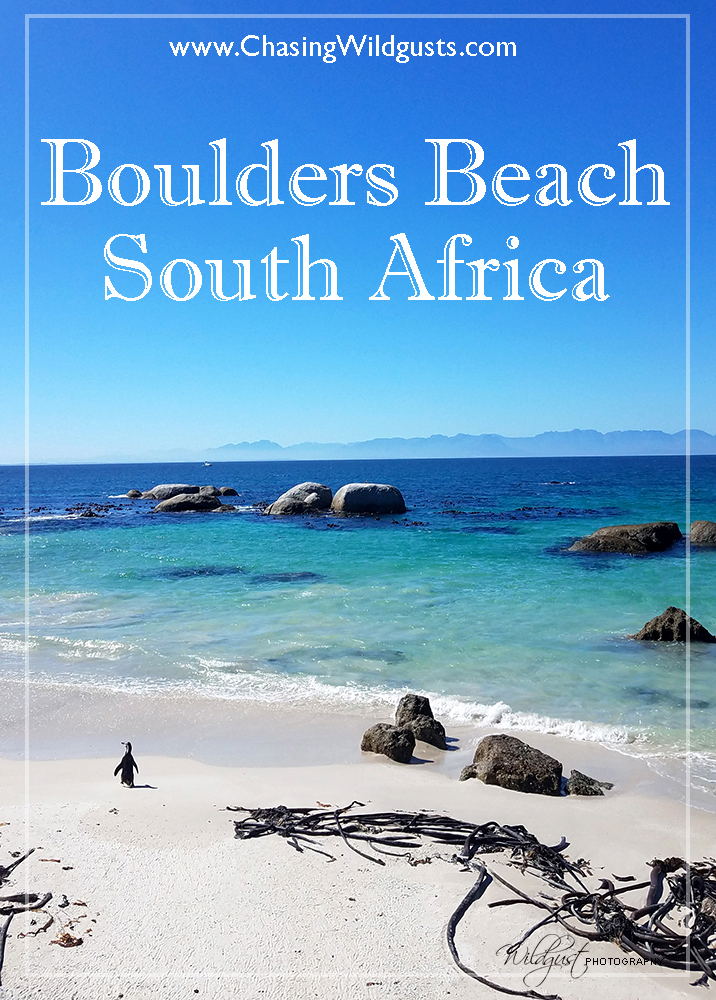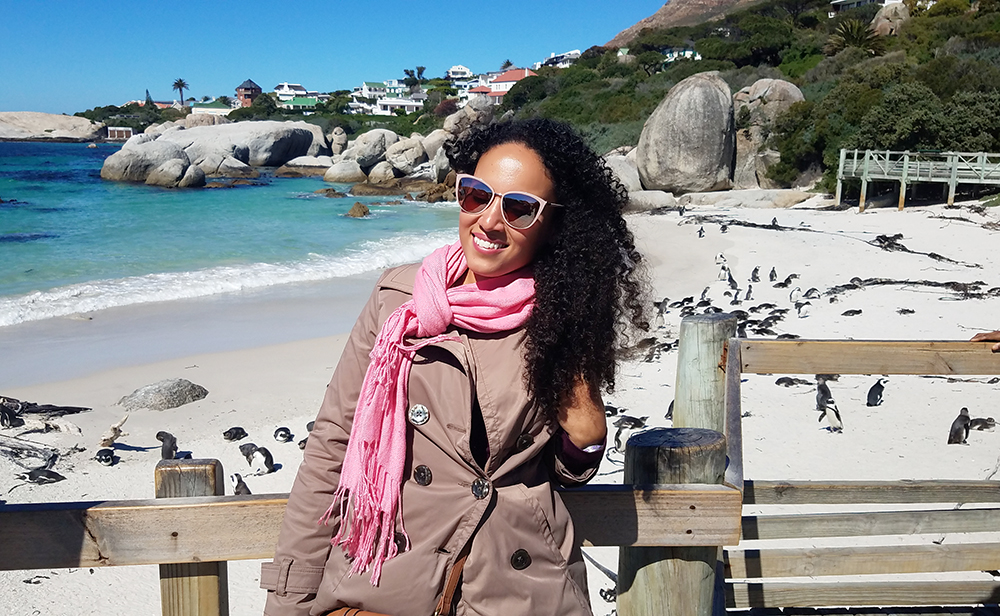 Stop #3: Cape Peninsula – Cape Point & Cape of Good Hope 
Amazing views! A little lighthouse on one edge, whales swimming out in the distance, and a long hike down to the Southwestern most point in Africa. We under estimated this. We thought we were going to drive up, stop and take a photo at the southern most point. Well no. You're entering a national park with a long drive up. A air cable car (extra $ but worth it) takes you up to a look out point and from there it's an easy climb to the lighthouse. To actually walk down to the southern most point it's a hike, like over an hour and we just didn't have the time. So close but yet so far. Either way we were happy just to be there and admire the breathtaking views.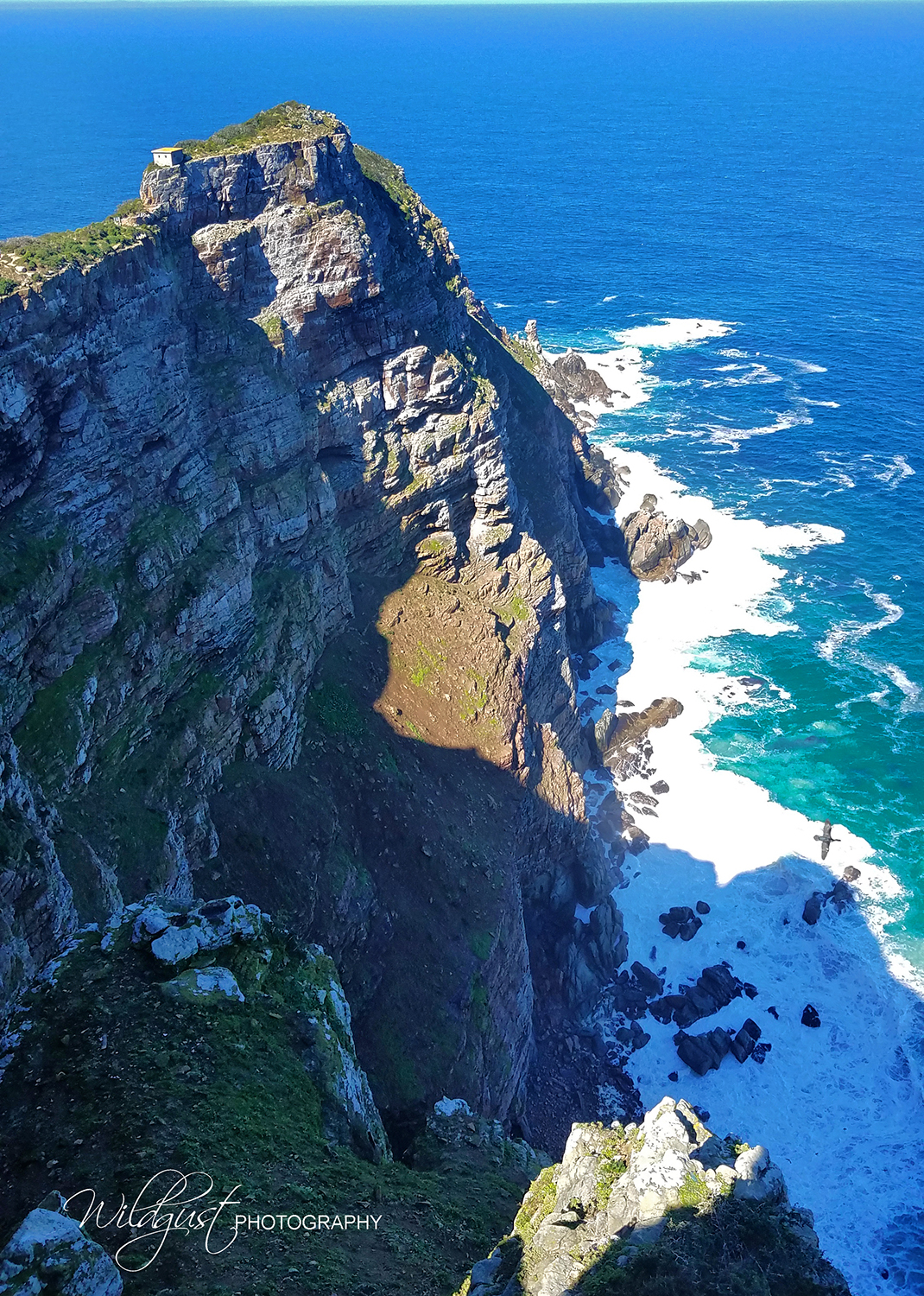 The Cape Point National Park encompasses the Cape Point & the old Lighthouse where the above shot was taken. The shot below is of Cape of Good Hope which you can hike all the way down to. Beware there are baboons through out the park grounds and they are NOT shy. They are attracted to food and will literally fight you for a soda bottle or steal a bag of nacho chips. So be careful, and if they try to take any food from you, just let them. Baboons can be dangerous and have very strong, sharp fangs and claws. We actually witnessed a little debacle between a guy and a baboon who was trying to take his backpack! And it was angry; the guys little daughter started crying, the mother was freaking out. A Hot mess kinda situation that could have ended a lot worse. In the end, the baboon ran away with a coke bottle and stole another ladies' drink bottle! What a little devil. We stopped at the Two Oceans restaurant for some wine and dessert outdoors in the crisp air while watching whales in the distance. Doesn't get much better. Life is good.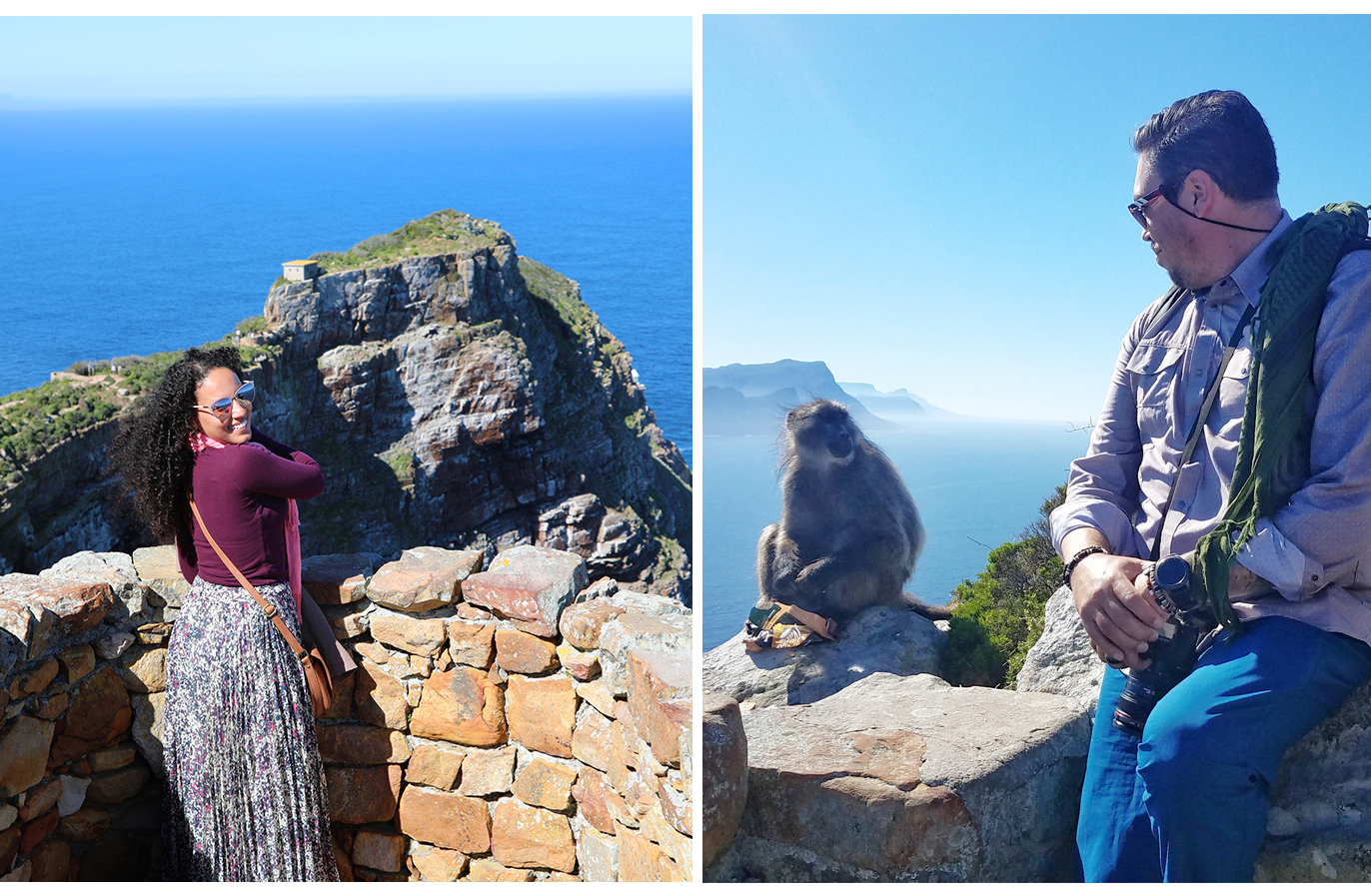 Tom was getting social and made friends with this baboon. He was eating a bag of nacho chips he stole from the convenience store at the visitor center!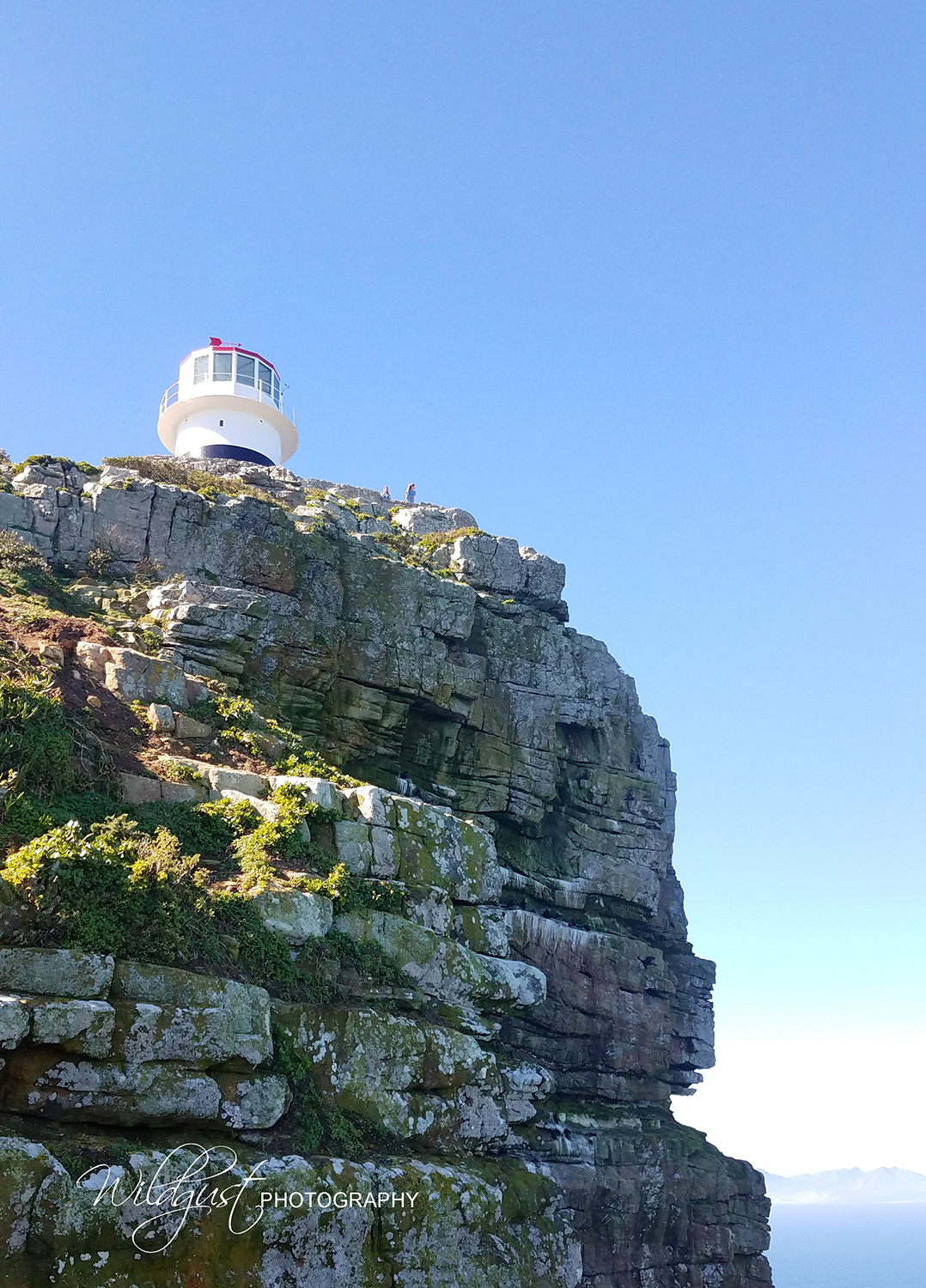 Planning to visit South Africa? READ NEXT:
 Gansbaai – a small coastal town about 2 hrs from Cape Town. Popular for shark cage diving. We used Marine Dynamics and they were great!
(Visited 9 times, 1 visits today)