Last week I took some out-of-town family to visit Blue Spring State Park and they were pretty amazed to see this side of Florida. Most foreigners think all Orlando has to offer is theme parks and shopping. Sigh… So sad. So, determined to changed their perspective and to show off the natural Florida beauty I get to enjoy all the time, we went into an adventure at the springs! I've been to Blue Springs many times, in different seasons; and the truth is, it just doesn't get old. Specially during these really hot and humid summer months, that spring water is such a refreshing delight! And yes, the water does feel a bit chilly at first (it's 72 degrees though!). But you just have to jump in. No tip toeing around, come on, there are little kids already splashing in the water. Suck it up, jump and make a bigger splash!
Exploring Blue Spring video link!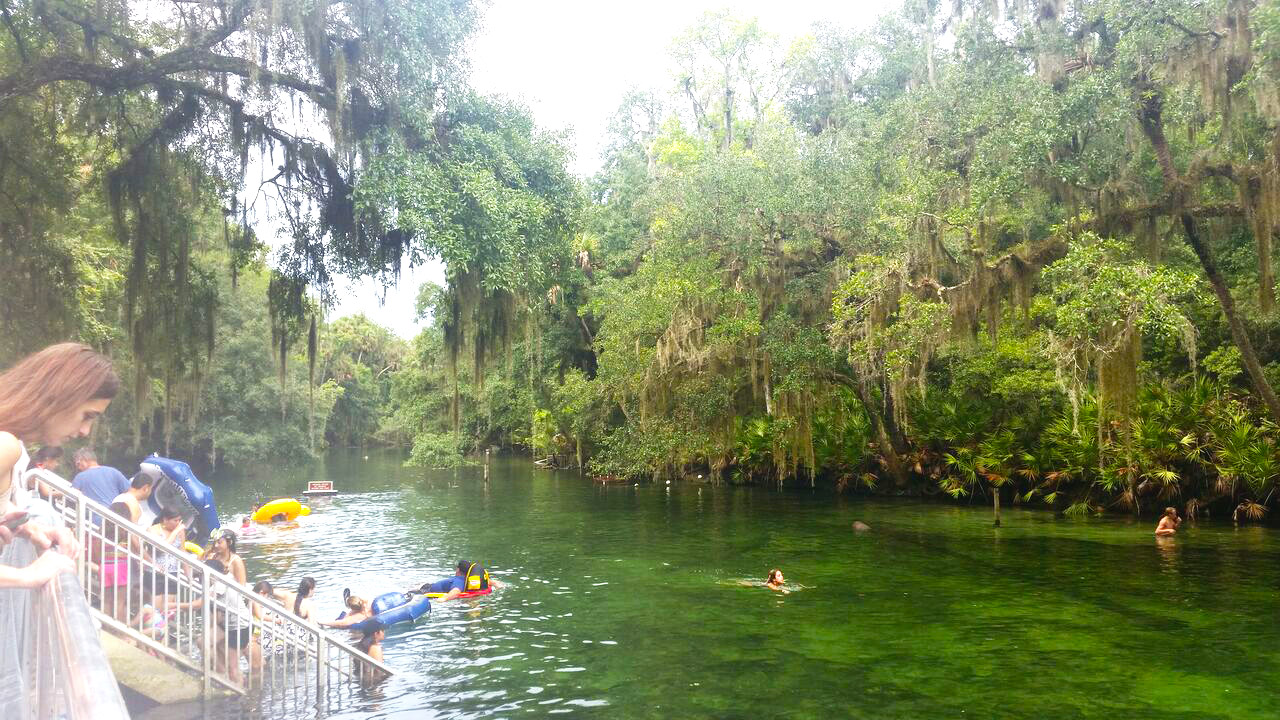 My favorite thing about Blue spring is the possibility that I might get to swim with a Florida Manatee! It's not often that it happens but every now and again I get lucky. The West Indian Manatees are protected by Florida State law, so one can not chase it, run towards it or harass it in any way (but why would you wanna do that anyways? We have to respect all creatures) If they happen to be extra friendly that particular day and swim right by you then just enjoy the moment and share the water with them. In the winter months the Manatees come into the spring by the hundreds at times for refugee; since the spring water is a constant 72 degrees, it's perfect for them during those colder months. For their protection though, the spring is closed for water activities from November 15th through March 15th. But during that season you can have a fantastic viewing experience from the boardwalk and watch hundreds of manatees congregate in the water.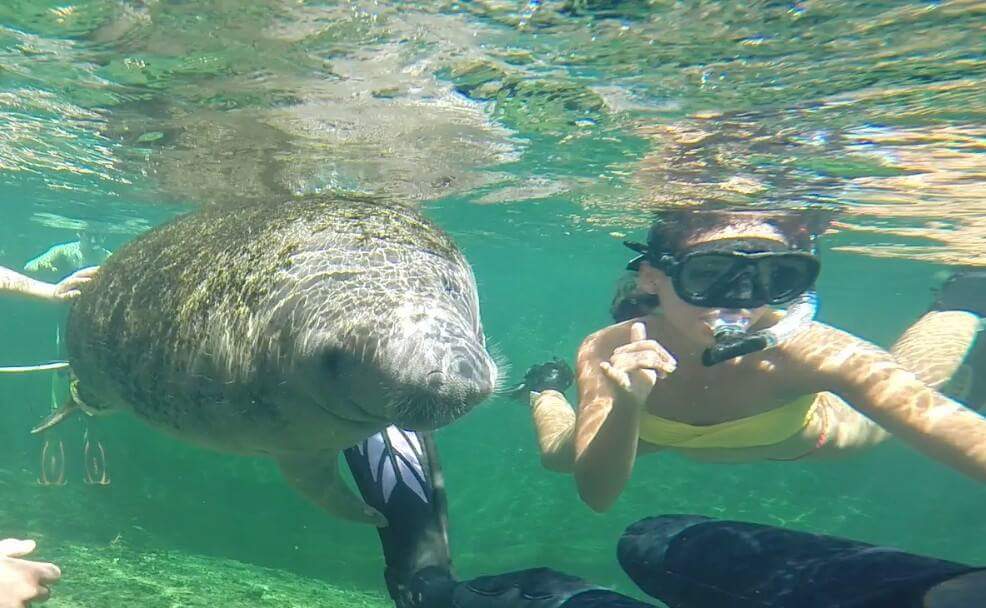 The one time I swam with manatees was such a freaking cool experience! I was out there with my husband and a friend and all of sudden on my peripheral I see what seems like a giant rock moving or rolling in the water and it was manatee mama and her calf slowly swimming inches away from me!! I was ecstatic! And managed to get a few shots with the GoPro. I'll keep going back in hopes to experience that again but until then I'm still enjoying every second underwater. The diving area is really beautiful. It's at the mouth of the spring where the opening drops into a vertical shaft at an angle into a room at about 80-90 feet depth. I particularly love to free dive here! The fallen trees criss cross over the spring hole making it for a magical scenery underwater! The top photo on the post is probably one of my favorite underwater shots of me diving down. (my other favorite shot is in front of a wreck in the Caymans, but that's for another post) The sand banks on the sides along the spring are pretty shallow. If you get tired of swimming, you can probably just stand up and walk! It gradually gets deeper towards the center and by the basin opening. So far I've only been able to free dive down to about 16 feet, where some of the fallen branches are seen. Gotta work on my breathing exercises and hopefully get deeper next time!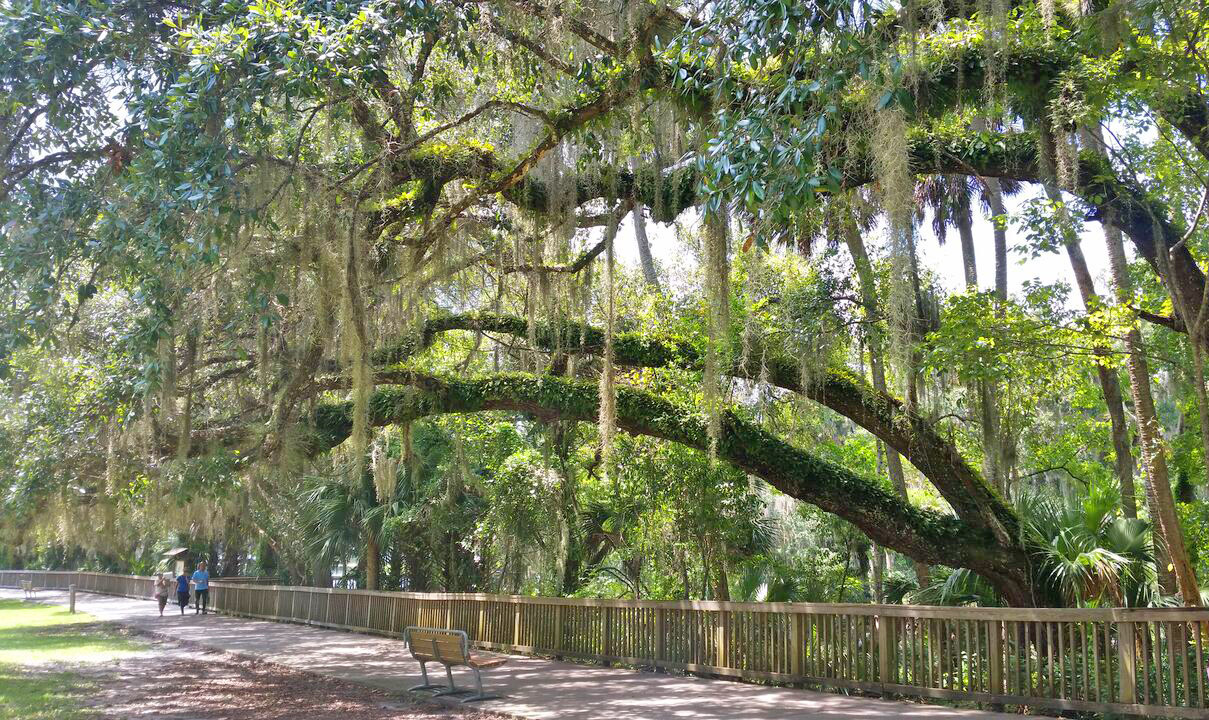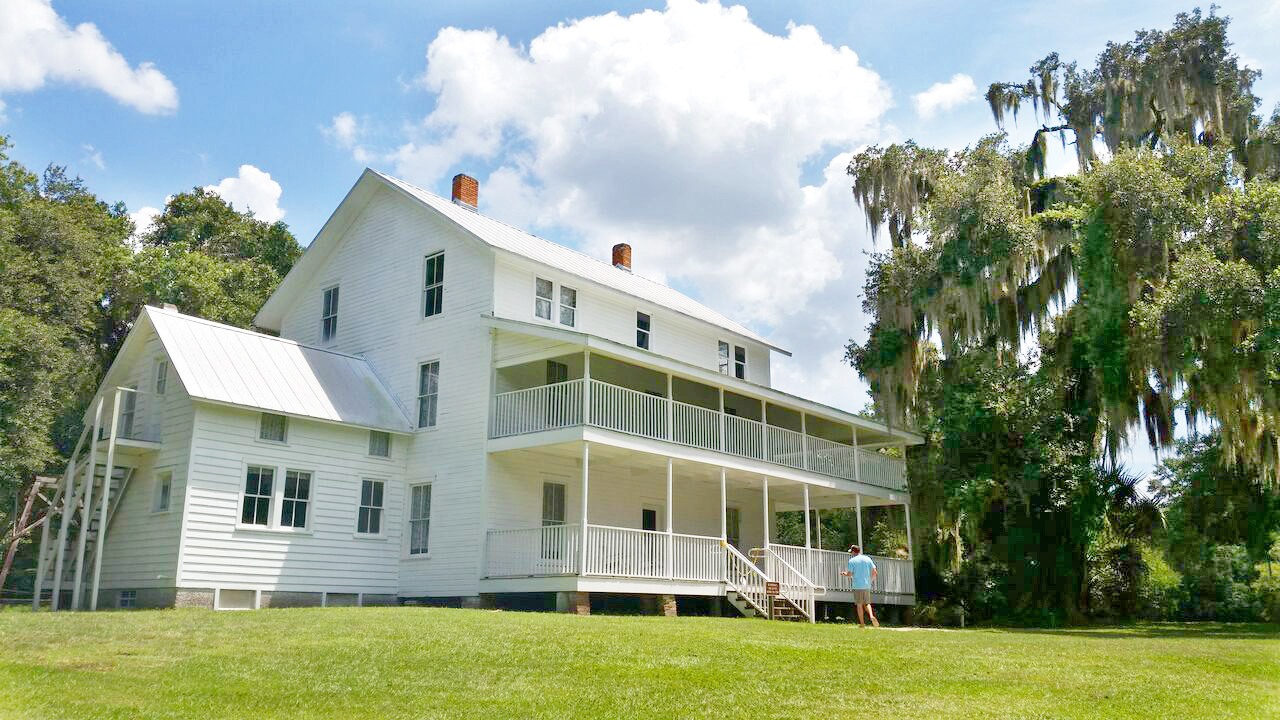 Tubing, snorkeling, swimming and scuba diving can be enjoyed for most of the year at Blue Spring State Park! After all, we have a short winter season down here in the sunshine state. When you get done with all the water fun, head down to the one-third mile boardwalk for a stroll or sunbathe on the beautiful lawn area. I usually pack a picnic and head down to the lawn to enjoy lunch after diving. While you're on the lawn side, make sure to check out the historic "Thursby House" constructed in 1872 by Louis Thursby, an orange-grower and business man of the era. The house-museum is pretty neat, with vintage furnishings and some very old school appliances! Typically the house is always open to the public and you can do a self-guided quick tour. I hope you're already planning a day trip out here with family and friends. Go chasing local adventures!
Good to Know: https://www.floridastateparks.org/park/Blue-Spring
Address: 2100 West French Avenue, Orange City, FL 32763
Phone: (386) 775-3663
Activities: swimming, snorkeling, scuba diving, tubing, fishing
Rentals available: canoes, kayaks, tubes and more.
Concession stand open during summer season.
(Visited 5 times, 1 visits today)