Ginnie Springs! Ahhhh! What can I say? I love this wonderful, beautiful, fresh water spring in my own backyard. Well, not literally in my backyard, but it's only 2 hours away from Orlando; making it a great day trip or a relaxing weekend getaway for any local or visitor alike. Florida has so many
amazing watering holes
, it's really hard to pick a favorite, but with kayaking, tubing, snorkeling, scuba & cave diving, camping, volleyball and fishing available; all your favorite outdoor activities are covered at Ginnie Springs, making it hard to beat and definitely puts it on top of my
Florida Springs
list. Don't forget to pack a picnic and the beer cooler too!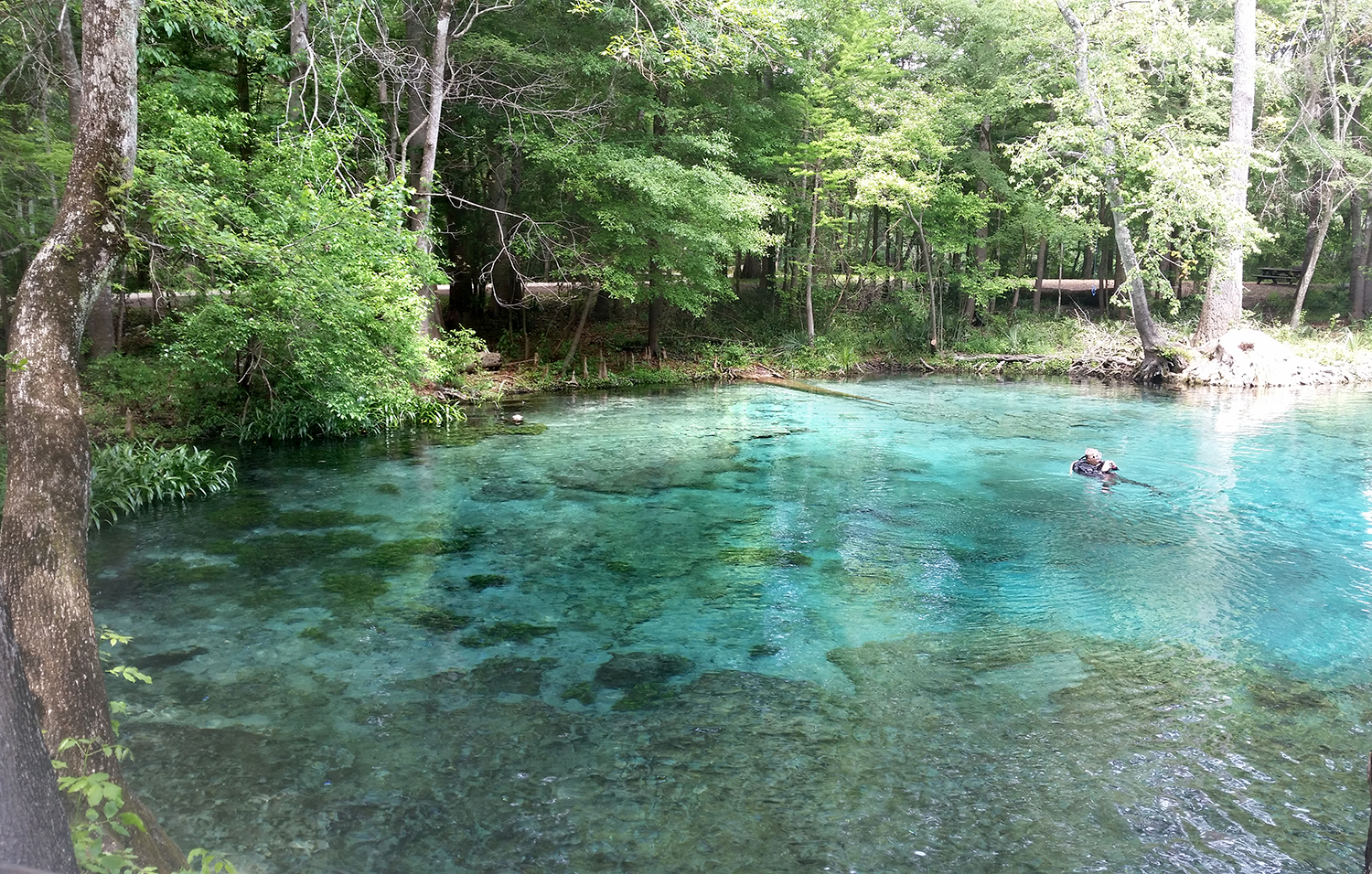 CHECK OUT THE VIDEO!
Located in High Springs, Florida (Just 2 hours Northwest of Orlando) Ginnie Springs Outdoors is a privately owned park composed of over 200 acres of land along the banks of the Santa Fe River, that includes 7 separate fresh water springs. In the summer months, it gets very busy (since the kids are out of school), so get there early. You can reserve a pavilion in advance for large groups and make the most of the picnic tables and grills that are scattered through out the area; making it great for a family outing. The seven springs have such an amazing water visibility, no wonder divers come form all over the world to experience Ginnie Springs, a PADI 5-Star facility, offering all levels of scuba certifications, including cave diving. Ginnie Cavern is safe to be explored by open-water divers since it has a wide open entrance that allows enough light in. As you dive down, be sure to turn around and just admire the beautiful back lit view of the cave's mouth. The dive down is a max of 50ft, and a light is needed to explore the limestone formations past the main entrance, see the "ballroom" and get to the very bottom. At 50ft below you can try to grab a hold of the metal grate that blocks the entrance to the maze-like cave system, part of the Florida Aquifer. It's really cool to hold onto the bars and feel the sheer force of millions of gallons of water rushing out from the earth!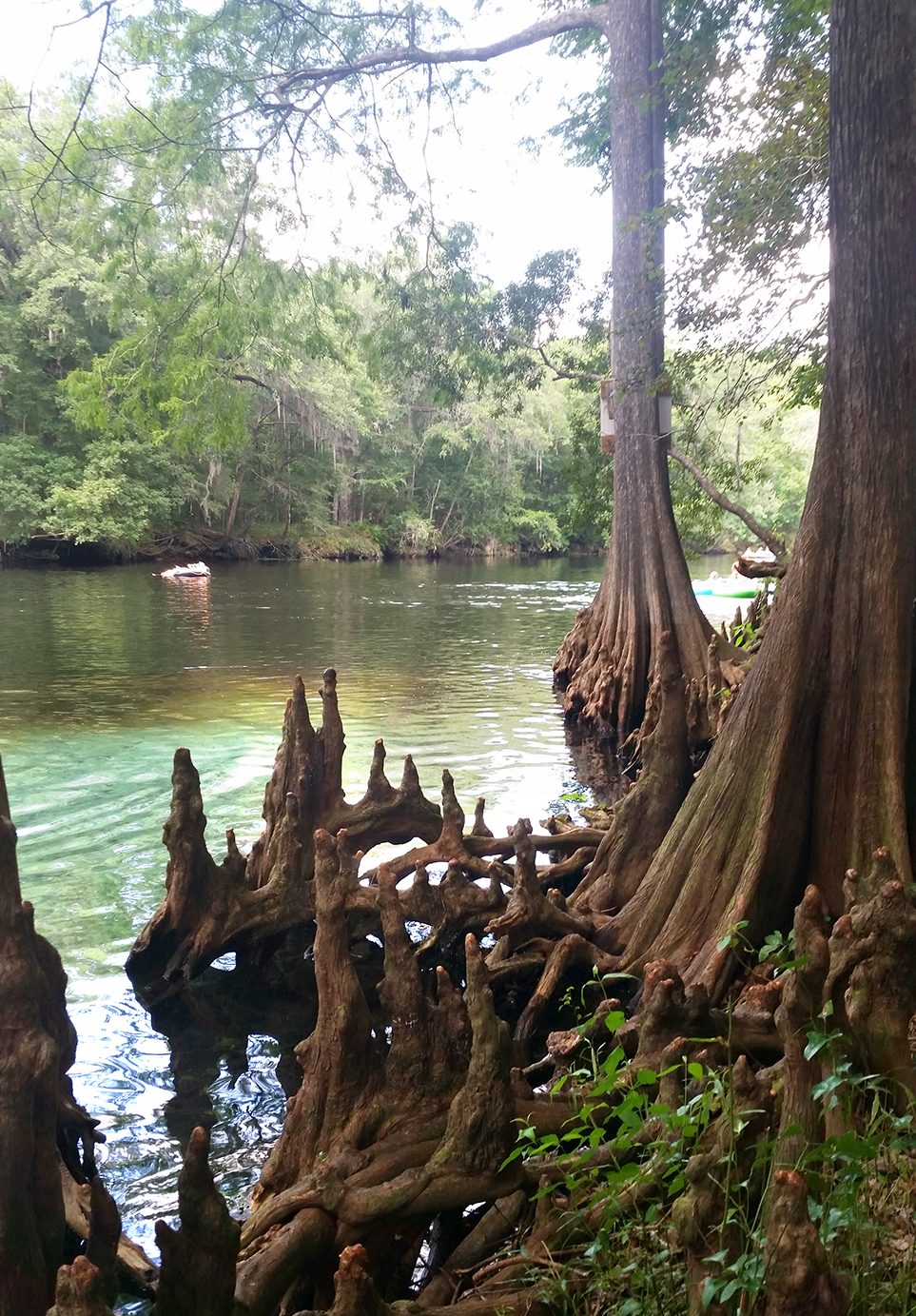 There's clearly a visible delineation of where the Santa Fe River meets the fresh water spring. The river's water is darker, brown and murky; whereas the spring water is crystal clear, blue-green in color. Pretty neat to see! And how about those tree roots? In and over the water, how cool is that?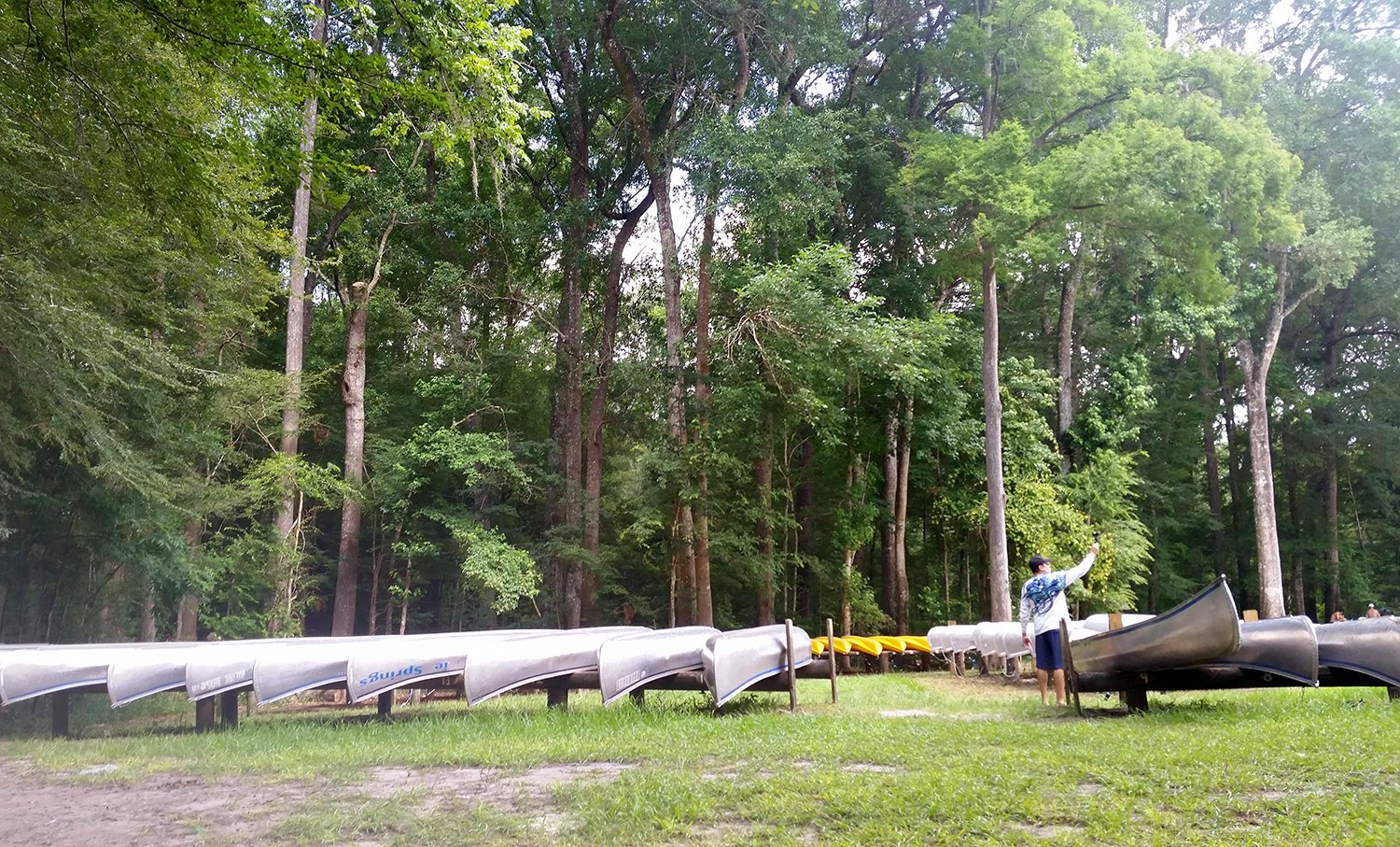 Kayaks and canoes for days!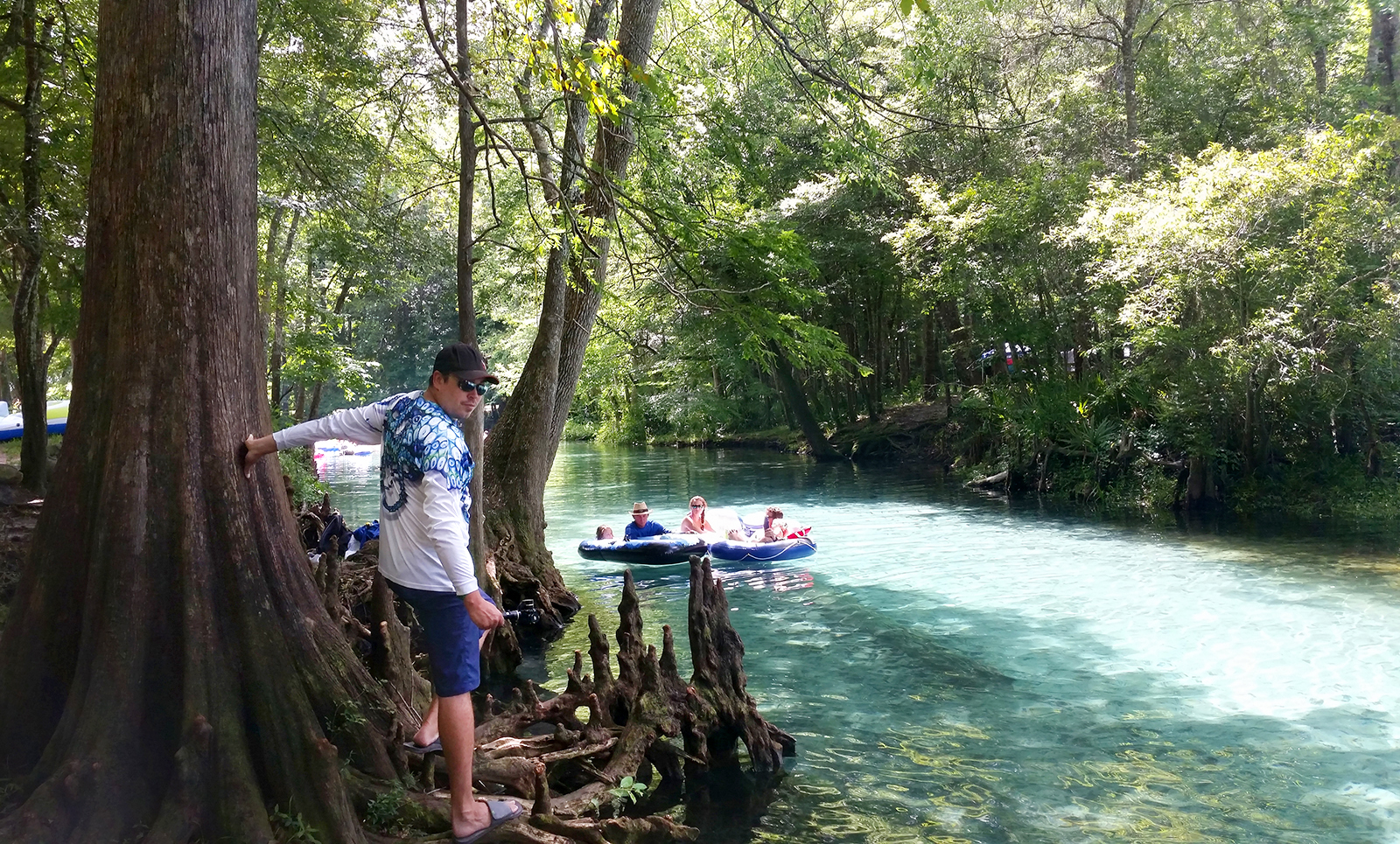 Our scuba gear taking over a picnic table. Testing out my new mask!
ACTIVITIES:
Scuba Diving/snorkeling: Ginnie Springs has full scuba equipment rental available onsite, including Nitrox. Ginnie Cavern can be explored by all levels of certified divers, but only Certified cave divers may explore over 30,000 feet of passageway in the Devil's Eye/Ear system
Tubes/kayaks: You can rent a tube or kayak onsite. Or bring your own awesome swan – flamingo – donut floats and get it filled there. A lazy drift down the Santa Fe River anyone? Yes, Please!
Camping: Primitive sites or sites with electricity, whatever floats your boat. Laundry facilities and restrooms are available through out the campgrounds.
GOOD TO KNOW:
GPS Address: 5000 NE 60th Ave High Springs, FL 32643
Remember that the water in any of Florida's natural springs' is a constant 72 degrees. Feels nice and refreshing in the summer, but in the few "winter" months we get, it's good to wear a wetsuit, specially if you plan to scuba dive.
Be sure to add Ginnie Springs Outdoors to your next trip to Florida! And if you're a Floridian, who has never been to Ginnie Springs, what the heck are you waiting for? GO! It's awesome.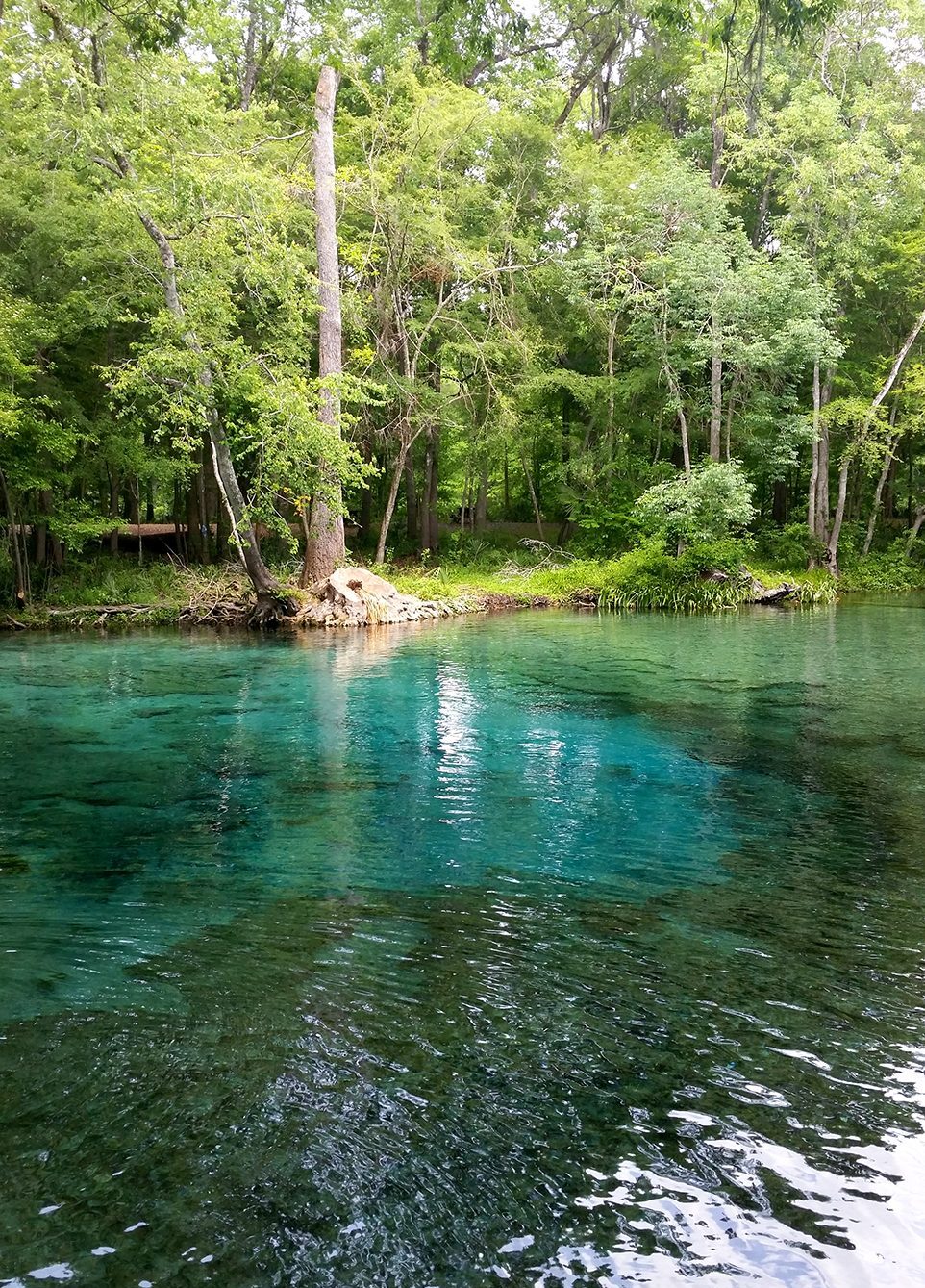 (Visited 25 times, 1 visits today)