The great thing about Puerto Rico is you don't need a passport to travel since it's an USA territory. So if you just want to hang back for the day in Puerto Rico and not
explore underground caves
or
zipline across the Caribbean
, a day strolling Old San Juan might just be the way to go. Here are a few fun things to do and see while exploring Viejo San Juan:
1. Shore Dive or Snorkel:
Start your day with an awesome morning dive off the shore (or snorkeling) with Scuba Dogs, right by the Escambron Marine Park near the Caribe Hilton Old San Juan. The shore dive was abundant with life and fairly shallow, (no deeper than 30 feet) so it's perfect for novice divers. If someone in the family or one of your friends isn't scuba certified, they can opt to do the snorkel or just hang out at the beautiful beach and work on their tan while you dive. Scuba Dogs had great customer service and very attentive dive masters. Full equipment rental available onsite and fresh water showers as well.
 Scuba Dogs Dive Center @ Escambron Marine Park.
2. Condado Lagoon fun: 
If scuba and snorkel are not your thing, go kayaking or paddle boarding at the Condado Lagoon; only a 10 minute drive (or taxi ride – NO UBER in PR) from Old San Juan. Afterwards, you can linger and enjoy the nightlife at the upscale hotels and casinos on Oceana. It's a bit like Miami, only in the Caribbean.
3. Plazoleta del Puerto:
Now that you've worked an appetite head down to Plazoleta del Puerto for lunch, only about a block away from the main ship piers of Old San Juan, towards the fort outer walls. There you'll find some delicious & cheap street food and drinks from the many food carts available at the plaza. Best spot for an authentic lunch or dinner that won't break the bank. The piña coladas were just $4 bucks! Happy hour price is always good.
4. Shopping: 
From art galleries, clothing stores and cheesy souvenirs shops. Whatever your into! I got some wonderful hand made soaps, infused with natural essential oils at Marisel Herbal Bath & Body (306 Fortaleza, Old San Juan) where every item is made in house, and you can see their production area on the back of the store.
5. Bars and Restaurants:
Stop at Greengos (310 Calle Fortaleza, San Juan, 00901, PR) for a ridiculous and awesome variety of tequilas; including the house-infused tequilas on special for just $4 bucks. I tried the cucumber infusion on the rocks with lime and it was very refreshing on such a hot day! For dinner head to Hecho En Casa (249 Calle San Francisco, San Juan, PR) for their chicken or shrimp mofóngo which were both amazing and not greasy, like I've had in the past elsewhere. The pizza at Pirilo (207 Calle Tanca, San Juan, 00901, PR) was to die for; and the last bar of the night Yeyos, had writing on the wall and $1 beers all day, in which I gladly added my drunken written contribution (see video above).
 Cool art @ Greengos. Tequila and awesome skull candy bottle topper.
6. Museum Hopping: 
7. Soak up some history: 
A visit to San Cristóbal Fort or El Morro, especially towards the end of the day, is great for some pretty sunset photos and a wonderful coastal breeze. The fort is open till 6pm and the entrance fee is only $5.00. Both are part of the UNESCO World Heritage list. Not a bad way to end the day.
And there you have it! 

Water activities (dive – snorkel – SUP), restaurants, bars, history, art and shopping!
Check out the GPSMyCity App Guide:
http://www.gpsmycity.com/tours/7-cool-things-to-do-in-old-san-juan,-puerto-rico-2444.html
Other ideas for things to do in Puerto Rico? Please comment below!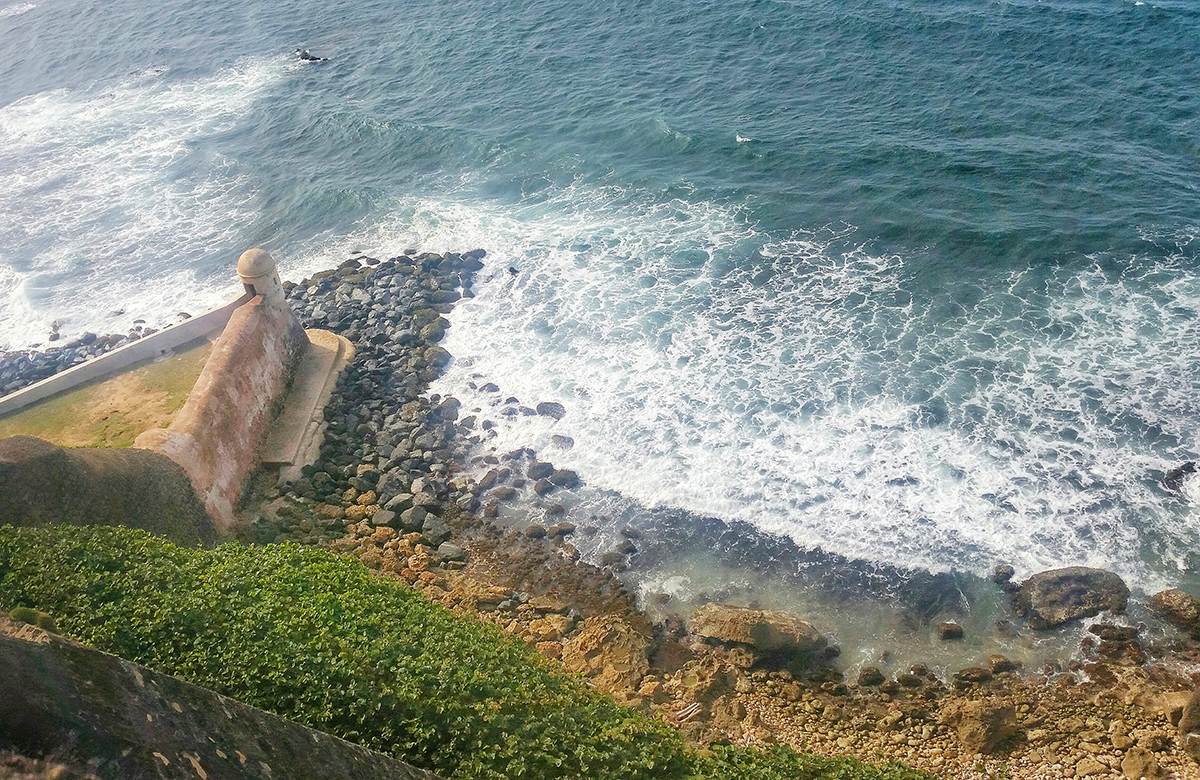 (Visited 57 times, 1 visits today)