Diving (read more here) and snorkeling are great activities, but there's plenty to do in Grand Cayman above the water as well. Art galleries, shops all around, restaurants, coconut water from street vendors, and of course, good old island rum.
7 THINGS TO DO AND SEE IN GRAND CAYMAN:
1. CAYMAN DISTILLERY: Opened in the summer of 2013, it's the only distillery in the island. They actually age their rum on the ocean floor and have the first-ever undersea rum maturation site! Since the Caribbean is all about rum, why not indulge and take a tour of the distillery while sipping a delicious cocktail? It's five o'clock somewhere right? http://caymanspirits.com/tours/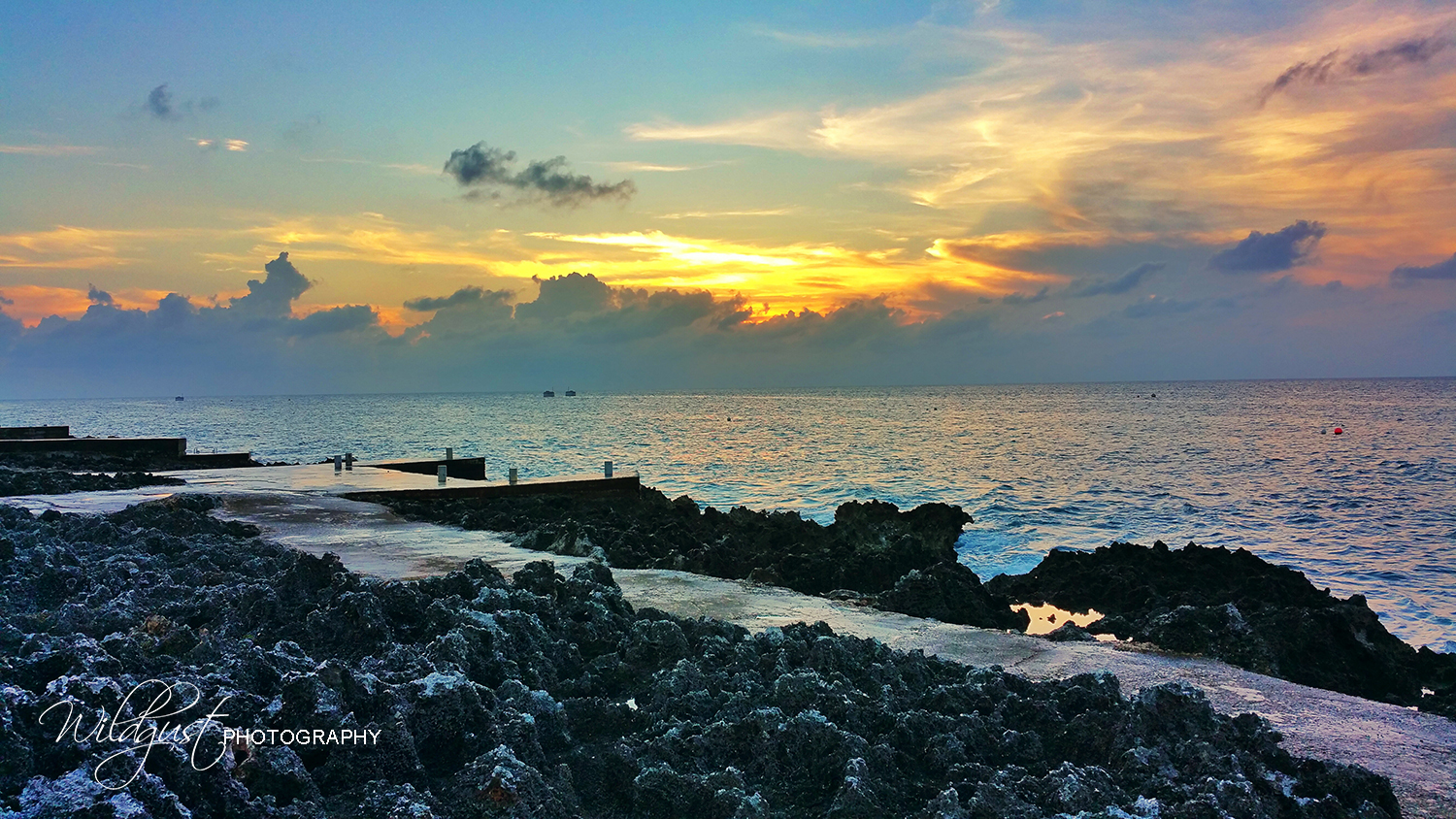 2. THE SEVEN MILE BEACH: Located on the west side of the island, the Seven Mile Beach is a beautiful stretch of white sand with hotels to fit any budget. We have stayed at the Comfort Inn Suites, where the rooms have a kitchenette which is great for families, couples or divers who don't want to eat every meal out; and save for extra excursions. If you want a bit more luxury though, stay at the Marriot Resort next door (where we stayed in 2013). They have completely updated the decor to a more organic meets modern beach house vibe and it's fabulous! The lobby bar serves great appetizers and a tasty rum flight that shouldn't be missed. Almost directly across the street, there is a slightly outdated, flamingo pink strip mall, where you'll find a tiny bar called Havana Club Lounge. Cigars are rolled out front by a traditional Cuban roller and inside, the rum selection is pretty fantastic. It's a great spot to cap off the night or start it!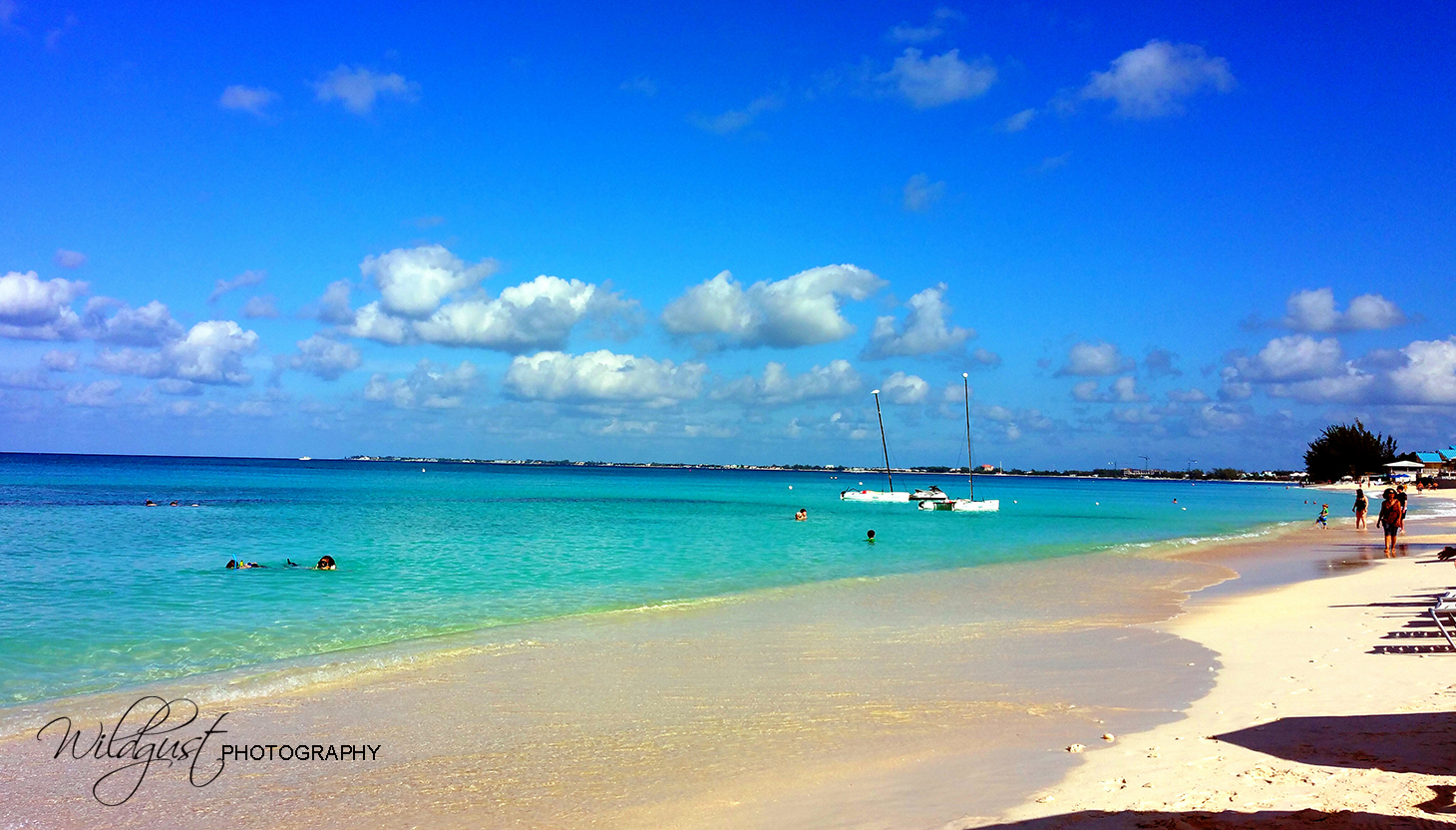 3. RUM POINT: Another great beach spot lined with palm trees. Sailing, restaurants, bars and fun in the sun are always  available. If you're stopping in the Cayman from a cruise ship, it's about 40 kilometers from the Port authority in George Town and totally worth spending the afternoon. TIP: Your best bet is to rent a car for the day or book a tour. A taxi would be very expensive, we're talking $75 + one way. Just remember, in the Caymans, you drive on the LEFT side of the road just like in England.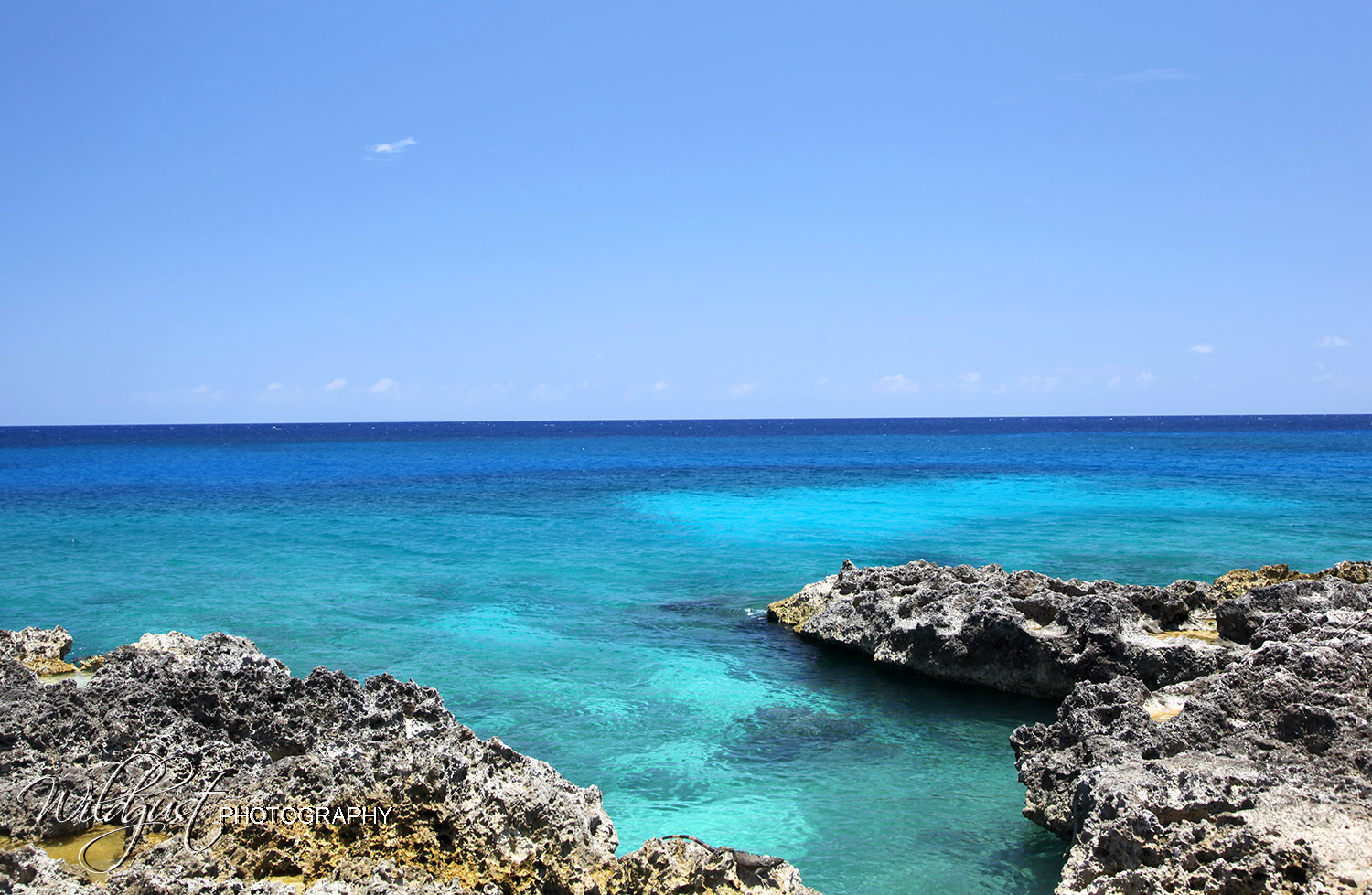 4. STINGRAY CITY: We booked our tour through Red Sail Sports at the Marriot hotel and I didn't think anything of it. That is, until I was waist deep in the water and stingrays started swimming VERY close by. The tour guide then says, "Here, I'll catch one and you just hold it for a second to pose for a picture. Don't lift it out of the water though". So I held a stingray and posed for a photo. They are beautiful animals but they do feel like a giant, wet, mushroom slapping past your thighs and stomach. That's the best way I can think to describe it. There is no shortage of stingrays and they are very accustomed to people and boats in the shallow sand banks. It was a really interesting experience and I would definitely recommend it. Our boat served rum punch and beer as part of the tour. No complaints there!
5. CAMANA BAY: Only a 10-15 minute walk from the Marriot on Seven Mile Beach, my favorite area for a dinner and a stroll would definitely have to be Camana Bay. It's a newer development, with fantastic artisan and farm to table restaurants, bars, coffee shops, retail stores and even a movie theater. From fusion cuisines, to Japanese, French and more; there's plenty to choose from to satisfy your appetite.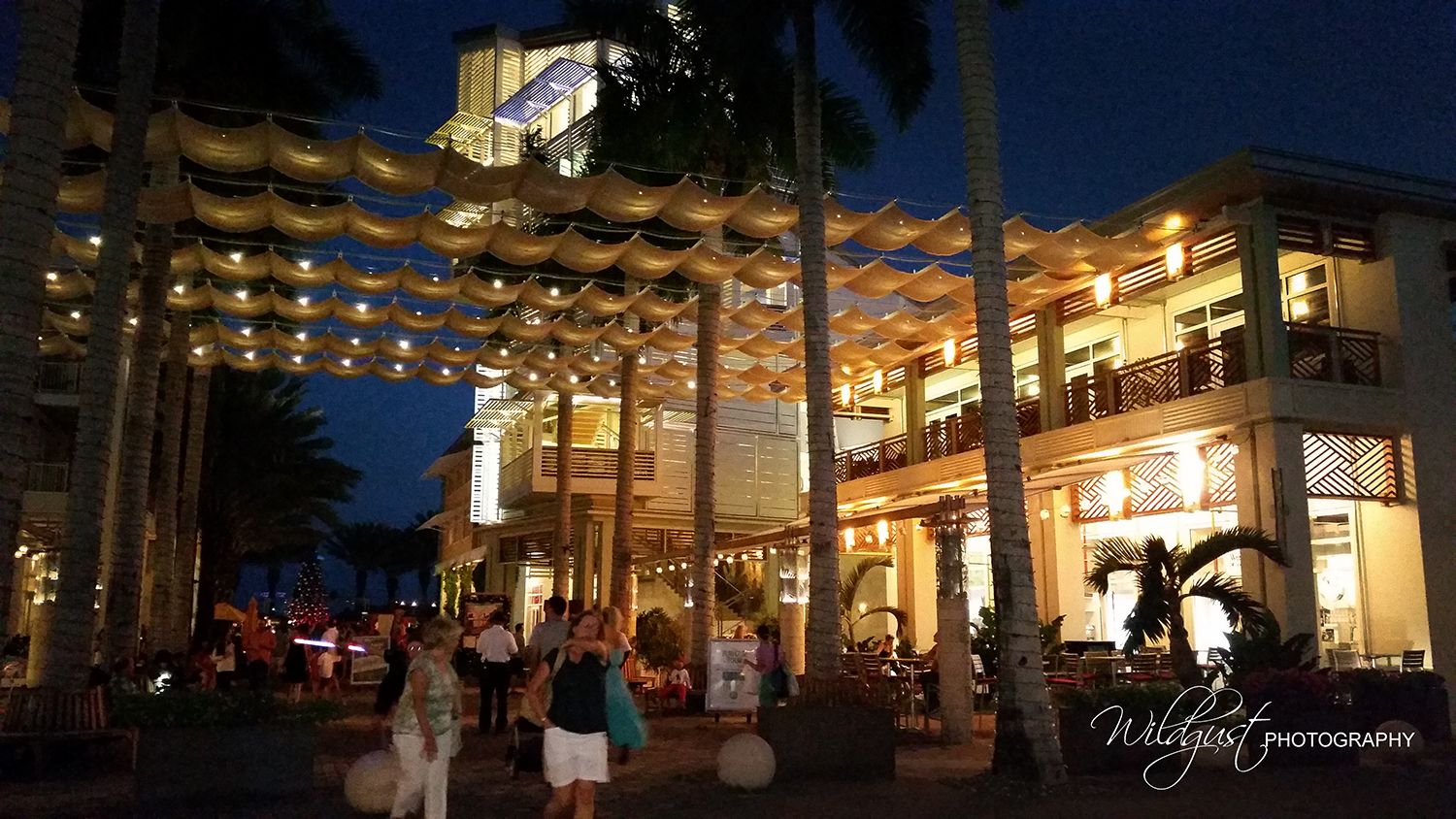 6. DOWNTOWN: The downtown area in George town has a large concentration of stores, souvenir shops and popular restaurants such as Margaritaville, which has a slide! and Hard Rock Cafe. The island delicacy is turtle meat, as in a stew or a turtle burger and the Cayman Islands is the only place where it's legal to consume sea turtle meat. There is A LOT of controversy regarding the topic (More information below). You can enjoy a fresh coconut or a cocktail at a local bar without any guilty feelings. TIP: Almost all business close on Sundays in the Caymans.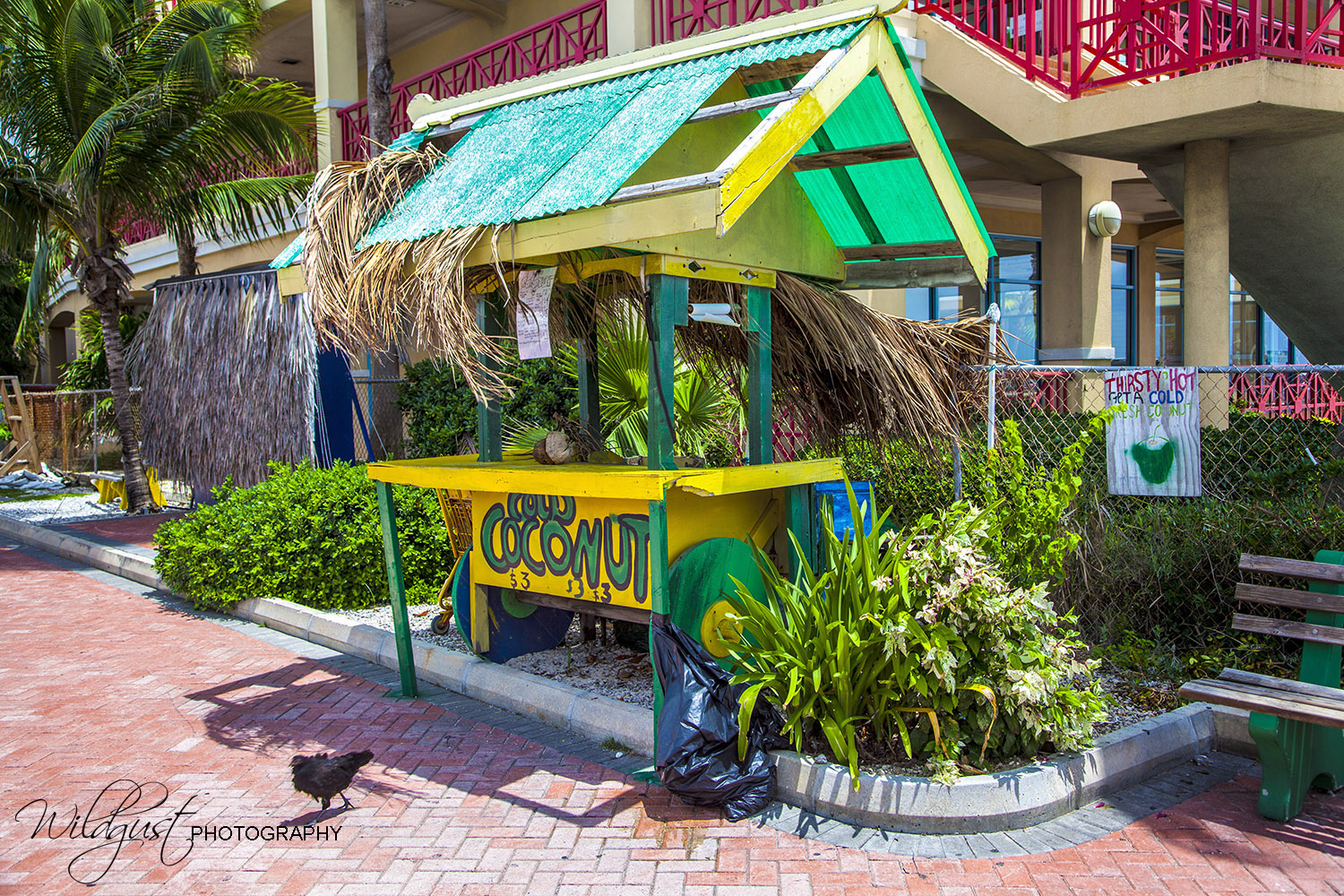 7. GOING TO HELL: We grabbed a cab and asked the taxi driver to take us to Hell. Yes, Grand Cayman has a town called Hell. The area known as "Hell" is actually pretty small, less than a football field in size and composed of black limestone formations. There are viewing platforms where you can look out and observe the "hell" like landscape; a post office so you can mail yourself, or your nemesis, a postcard from Hell and a giftshop. Ten minutes is plenty to check out this quirky spot.

     
THE ONE TO SKIP OUT ON:
BEWARE OF TURTLE FARM "ATTRACTION": We headed to the turtle farm, which is supposed to maintain a healthy balance between food consumption and species prosperity. THAT IS NOT THE REALITY. Most tourists go because just like us, they love sea turtles. But there was so much we didn't know about turtle behavior; that honestly anyone could have fooled us into thinking that what we saw was "ok". In the wild, unlike whales and dolphins that live in pods and closely tight families, turtles are much more solitary, migratory animals that swim very long distances in the open ocean. I did not know this and just noticed that the tanks were very full of turtles, many on top of each other. Due to over crowding in the tanks, the turtles become stressed and turn on each other and diseases spread easily among them and can potentially spread to tourists handling the animals. Other turtles, due to improper breeding, are born with defects or missing their eyes! In 2014, 1,268 turtles died in the farm. It's a truly horrible environment. Very few actually are lucky enough to be released into the ocean. It's no different that a chicken or pig farm with no business ethic; that only cares about their profit margin. What makes this farm far worse in my opinion, is that sea turtles are an ENDANGERED species and the simple fact that the turtle farm gives off the impression that rehabilitation & conservation is one of their main goals when clearly the main goal is meat trade profits.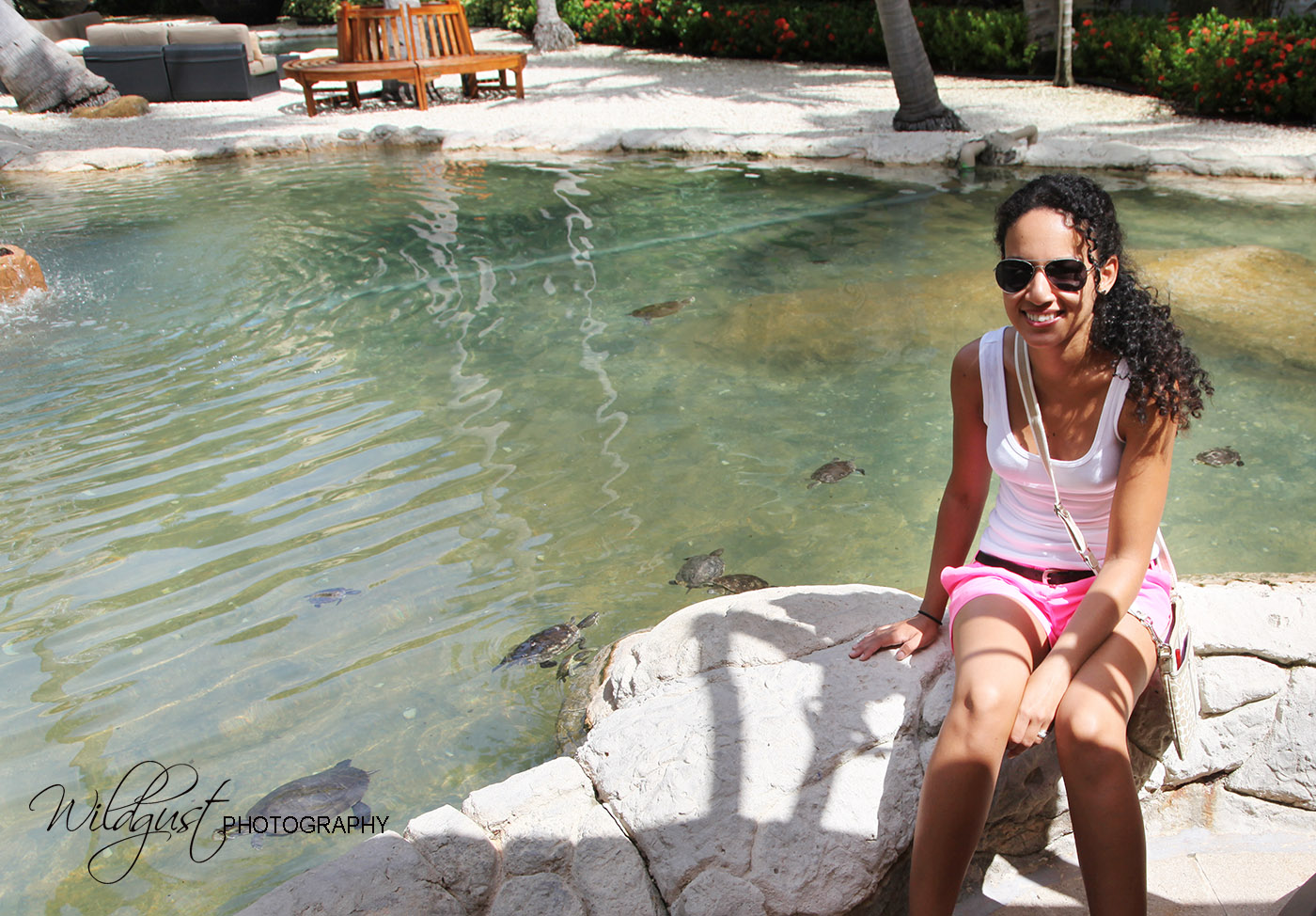 Let's make a conscious effort: To do more research when it comes to any "animal attractions" that we may decide to visit. Be it at home or on our travels. Currently, there are a couple of animal welfare organizations trying to work with the Cayman government to transform the turtle farm into a true rehabilitation center for sea turtles. I hope that change happens soon. Here are a few links that go more in-depth on this major issue. Cruel attraction, Turtle farming, Endangered.
Another point to consider: Just because an attraction has decent ratings on sites such as TripAdvisor or is offered as an "excursion" by a cruise ship, it doesn't make it reputable. Cruise ships and other sites do not rate based on "animal welfare". They are not marine biologists, scientists nor do they have qualifications to rate "safety and regulations" of any attraction for that matter. What to see sea turtles? Go snorkeling or diving and you might see them swimming wild and free! I have many times, and it's one of my favorite animal encounters in the water.
In summary, some of the most visited spots in the Grand Cayman are: Seven Mile Beach, Rum Point, Cayman Distillery, StingRay City, Downtown, Camana Bay and Hell.
 Don't forget, most businesses close on Sundays in the island.
 It's better to rent a car or book a tour if you're going to venture out more than 20 minutes of where you are based.
 If renting a car, remember to drive on the left!  GRAND CAYMAN MAP
I always try to write great and positive experiences from my travels but unfortunately sometimes we are faced with situations that might not be as morally sound as we hoped. It's up to us to educate ourselves and make an informed decision. Please share it with friends! Write a comment! Have you been to the Caymans? What are your thoughts on the turtle farming issues?
Download the GPSMyCity App and check out the link below:
http://www.gpsmycity.com/tours/7-cool-things-to-do-1-to-skip-in-the-cayman-islands-2445.html
(Visited 60 times, 3 visits today)