Sleeping Bear Dunes National Park, Michigan USA
We all think; even dream, of visiting Hawaii, Arizona, and
Florida
to experience nature at its best.
Michigan
on the other hand, isn't a state that readily comes to mind for the best of nature, but it was the surprise of our summer. We had never really thought about visiting Michigan until a coworker mentioned spending the summers out in
Northern Michigan
and began describing its history and all that it had to offer up there in the "mitten" of the USA. I had no idea it had all this natural beauty, wineries; much less a
National Park
! So of course, I had to experience it for myself and decided an end of summer road trip from Florida, with my husband and parents in tow would be a great idea. Check out the video down below.
 Sleeping Bear Sand Dunes
One of the highlights of our trip was the famous
Sleeping Bear National Park
Sand Dunes which are a huge attraction that will test your physical stamina if you decide to hike all the way up and across it. And of course, Tom and I had to climb up the dune! My parents stayed behind as the steep climb up the sand dunes would be too much for them at around the ripe age of 70+. The truth is, I didn't think the hubby and I would make it half way through it. The thing about giant sand dunes is how deceiving it can be on your eyes. Just when you think you have reached the summit or the other side of the dune; you are sorely reminded of the next mile ahead. Seriously, every time I thought we were at the other end to get views of Lake Michigan, I realized how far we still had to go just by looking at the people way ahead of us that looked liked tiny ants in the path. Nature can have some really good optical illusions to trick your eyes, and these sand dunes were like desert mirage. When I noticed some obviously local people (Olympians!) running up and down the dune, I really thought to myself, "Damn I'm out of shape!" But I walked on…steadily…at a much, much slower (granny) pace and reached a midway point of the sand dunes that wasn't defeat nor victory, but enough to satisfy and be able to say we climbed the dunes.
Pierce Stocking Scenic Route
We visited during the National Parks Centennial and it turned out our entrance was free in commemoration. I love it when things are free! Typically the fee is $15 per car and good for 7 days. When we first drove up to the National Park entrance, the park ranger had mentioned that after climbing the sand dunes, we should drive through the
Pierce Stocking Scenic Route
that followed the contours of the dunes and pine forests for 7.5 miles within the Sleeping Bear Dunes National Lakeshore Park.  And she said be sure not to miss Lookout #9, where you can see how vast and expanse Lake Michigan truly is. And she was right, if I didn't know any better I would think it was the
Caribbean Ocean
before me, not a mere lake bordering the USA and
Canada
. The
Pierce Stocking Scenic Route
 was another great feature of the trip for sure. The views were absolutely breathtaking, with an almost vertical drop towards the water. We literally could barely see the bottom where lake and sand came together, and according to the posted Warning Sign, it's a 2 hour climb back up; Yikes! As inviting as the waters of Lake Michigan looked in that sunny day, in the distance below; we didn't do the walk down the precipice because such a steep climb back up seemed too arduous, specially considering my parents age (ok, now I'm officially using my parents senior status as an excuse, you got me), hence we admired the wonderful vista from the viewing platform. Check out the video below: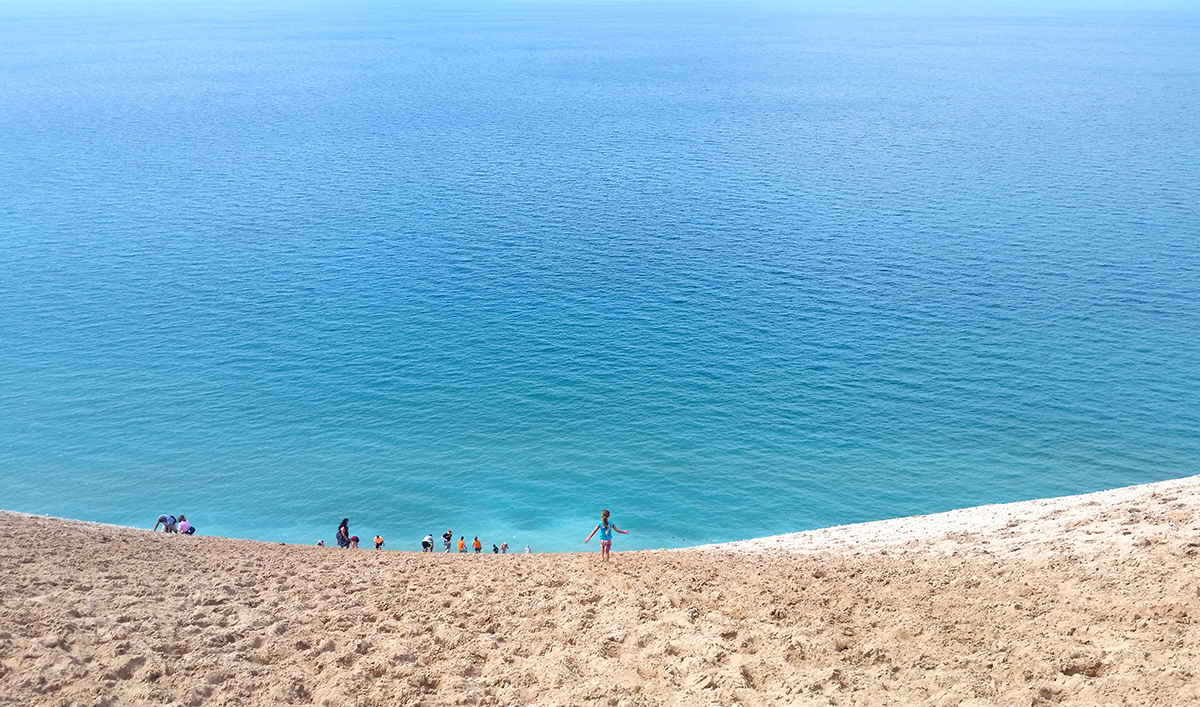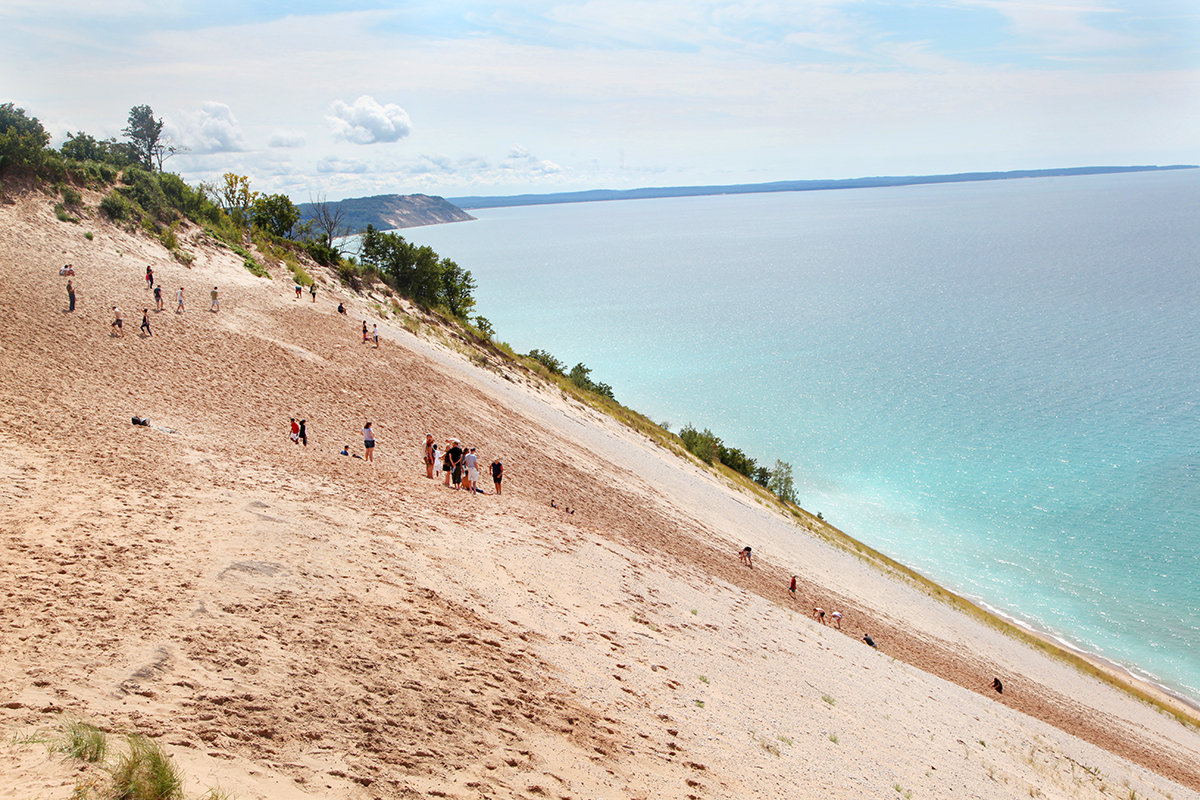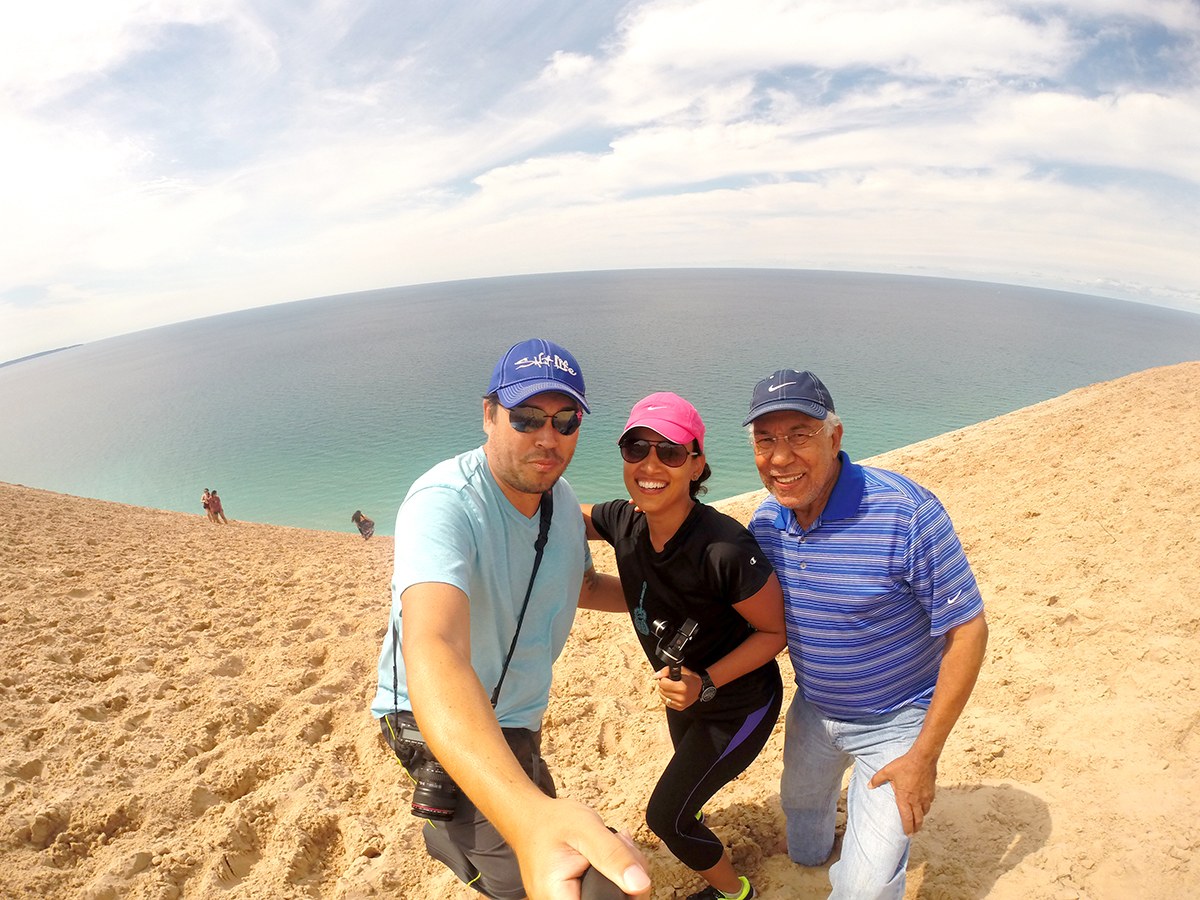 After exploring the National Park we headed to near by Glen Arbor town and spent the late afternoon strolling cute shops, had lunch @ Cherry Republic, bought souvenirs at M22 (an awesome local clothing brand) and even did their wine tasting! We then walked to the lake edge by Glen Arbor and saw an Icelandic horse mowing a neighbors lawn (aka eating a lot of grass). Bought some lovely home made soap products at Bay Lavender Trading Comp before heading back to Cedar, Michigan where we were based. What a great day.
 Icelandic horse in the middle of Michigan! Cherry Ice tea at Cherry Republic.
Did you think Northern Michigan had this much 
natural beauty 
to offer? We had no idea and were pleasantly surprised. Have you ever been to Northern Michigan? Well, you should. It's one of those hidden American gems not to be missed. 
WHEN TO GO:
Winters in Michigan are harsh, so to get the most of your trip go in the summer (early July) to catch the National Cherry Festival near Traverse City or early fall like we did. The temperatures were perfect, not too cold and not hot.
STAY: We stayed based in Cedar, Michigan at the Summertime Historic House . Book it here and click
READ NEXT: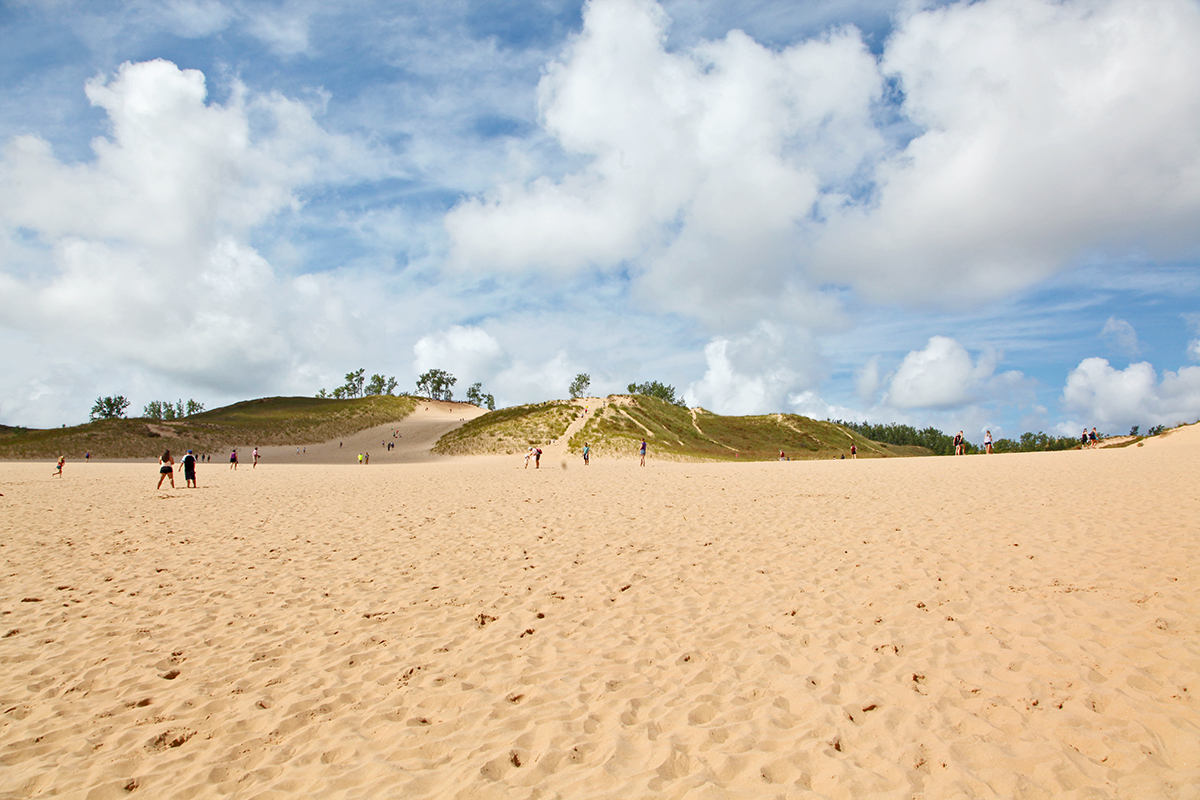 (Visited 15 times, 1 visits today)