Don't let the name fool you, this subterranean fresh water spring is heavenly! Devil's Den is probably one of my favorite springs in Florida because of its unique topography. When you walk around the area, you see beautiful old trees with branches stretching out over the landscape, lurking and enticing you to walk closer and explore. As you approach the tree with the little devil character depicted in scuba gear nonetheless; you realize there is literally a hole in the ground, a window per say. At closer examination, you see glistening blue water 60 feet below reflecting sun rays from the sky above, and then curiosity peaks and you just want to go under ground already to see what it looks like beneath. As you descend the narrow, stone carved stairs into the underground river, you go down yet another flight of stairs, this one wooden, that connects to the water platform and you're rewarded with a stunning view of the basin. (Check out these articles on other Florida springs Blue Grotto & Blue Springs)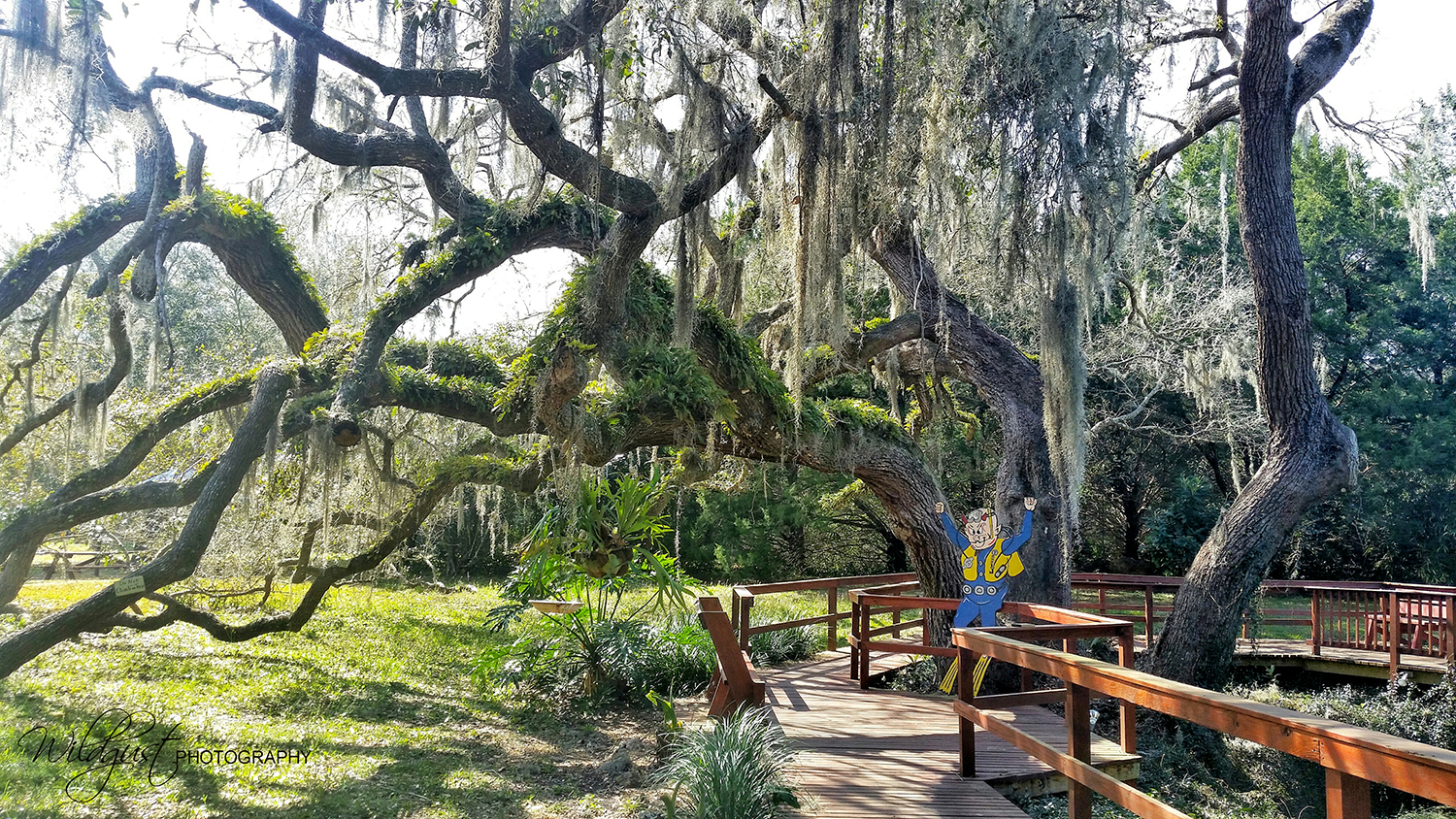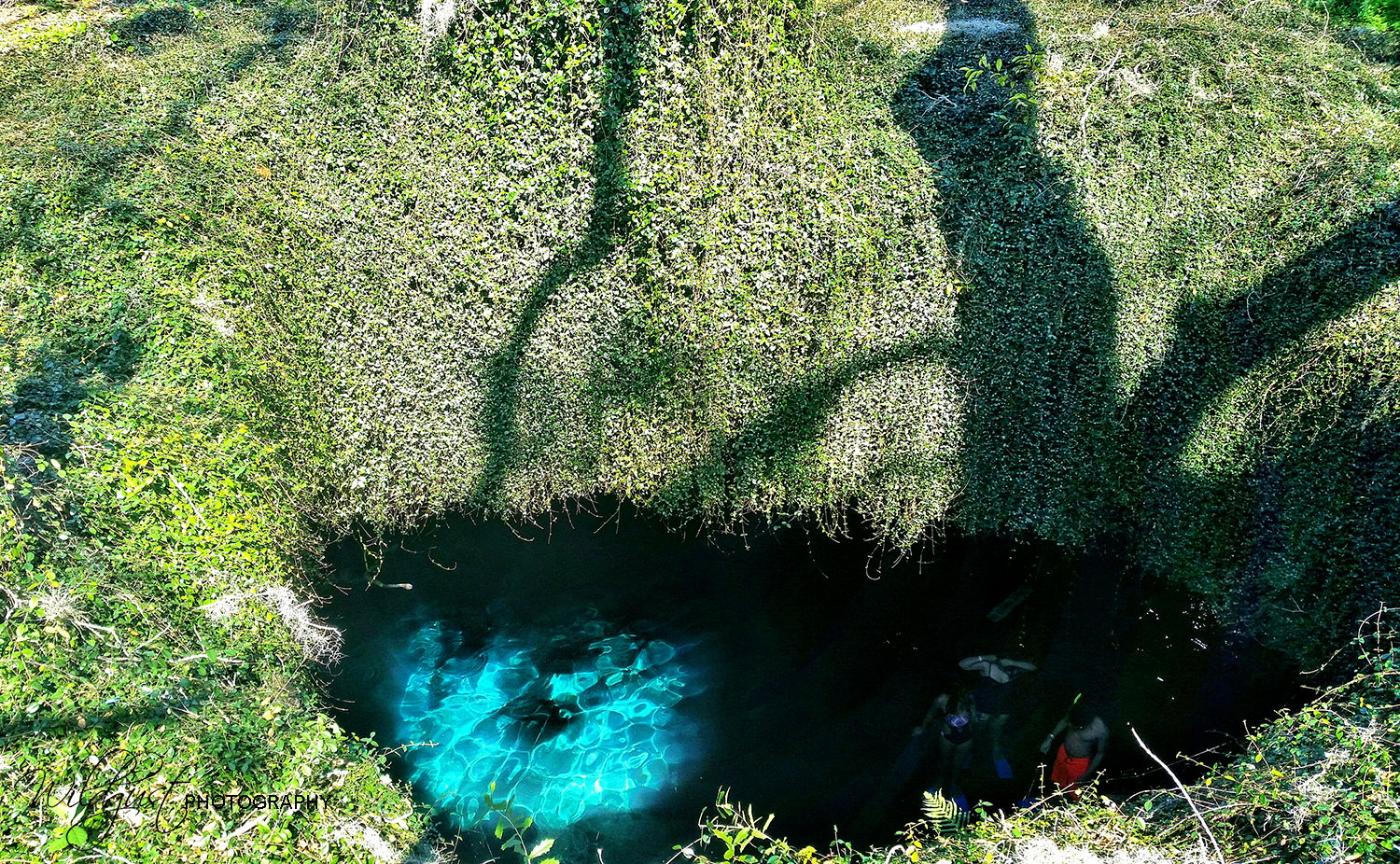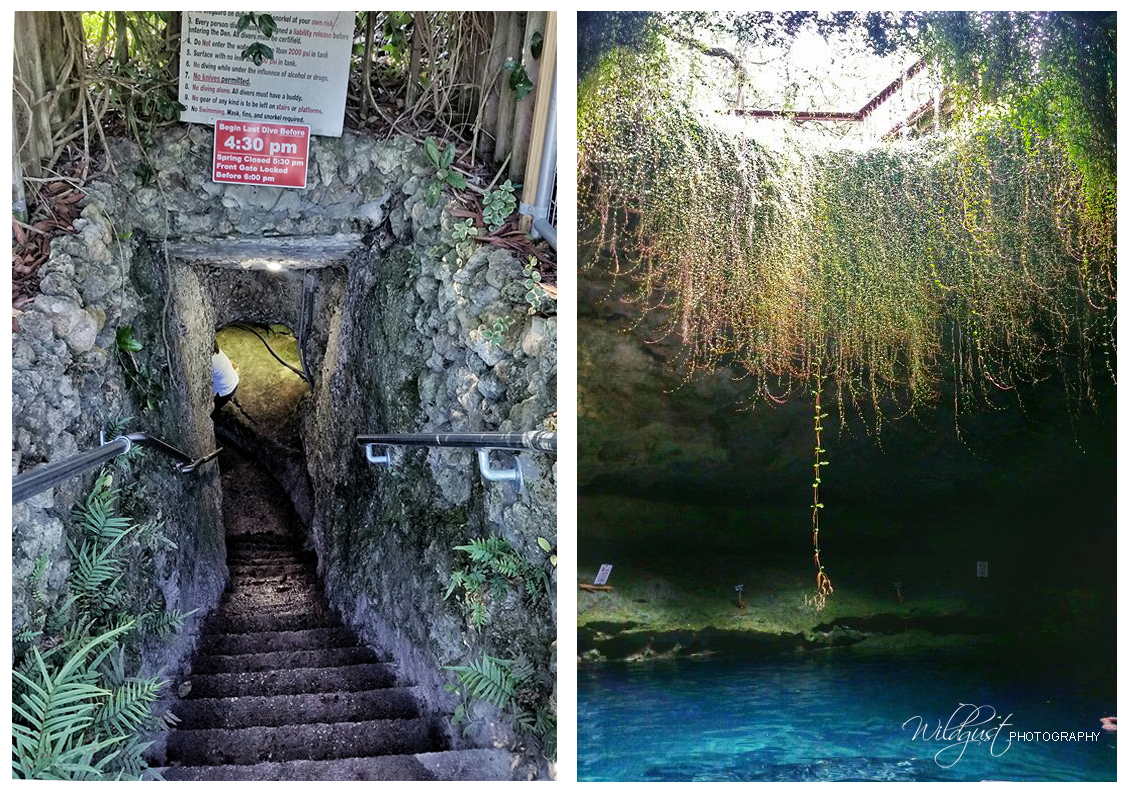 Like all Florida springs, the water temperature is a constant 72 degrees F (22 C) year round. During the colder months, the water vapors that form, rise from beneath and through the surface opening. Early settlers thought it was "smoke rising from hell" and hence the moniker, Devil's Den. On the surface, the hole is some what small, but 60 ft below, the "pool" opens up and stretches across about 120 feet in width, with a depth of 58 feet. Located in Williston, Florida, the spring is privately owned and it opened to the public only in the 1990's; but it is thousands of years old and various animal fossils have been found in the underground cave system. Devil's Den is a truly unique dive experience and it's where my husband and I did our last "check out dive" to get scuba certified, so we always enjoy coming back to this magical subterranean pool. Check out this short video: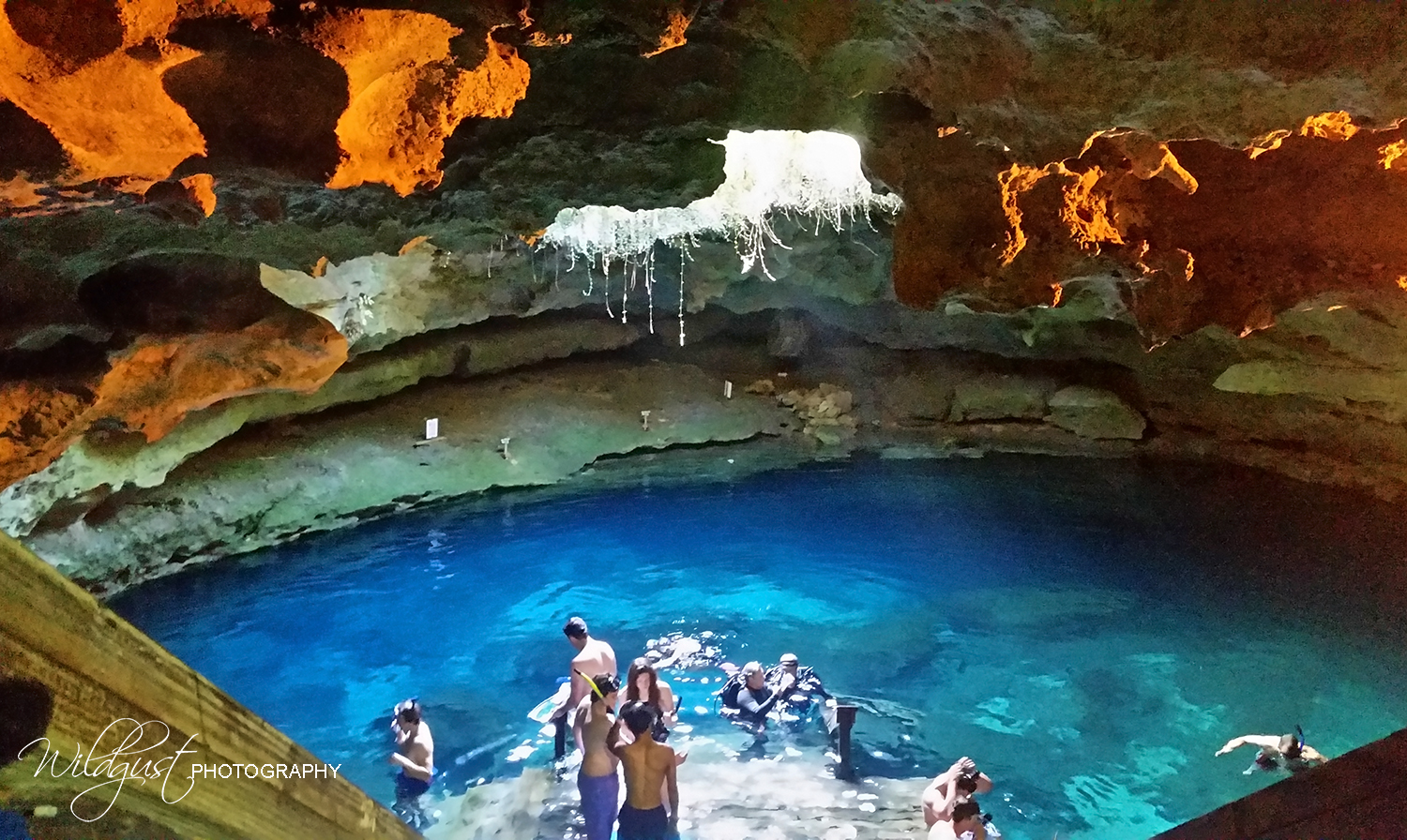 FAMILY FUN: On this most recent visit to Devil's Den, a friend of mine came along with her family, kids in tow and all. And do you know what? Her kids loved this place and already asked to come back! So Devil's Den, just like any other natural spring here in Florida, is a wonderful place to spend the day with friends and family that goes beyond the expected and allows you to explore the sunshine state at its best. Hope you plan a trip out here soon!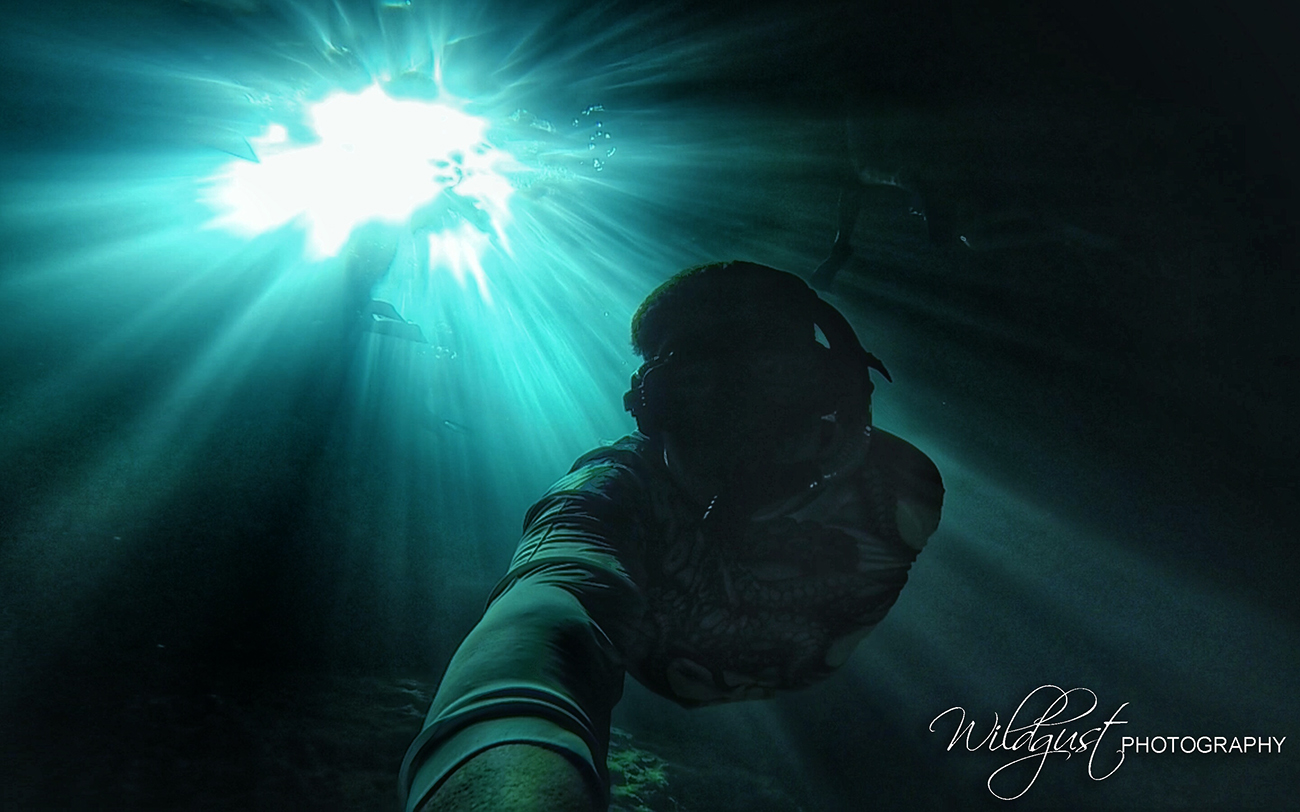 ACTIVITIES: Snorkeling and Scuba Diving. You must have equipment to walk down into the spring. If you forget anything or don't have your own gear, not to worry, the facilities have a full scuba & snorkel equipment available for rental, including tanks. Above ground, you can camp, picnic, rent cabins, or enjoy horse back riding from the adjacent farm. There is a trail for walking as well.
NOT available: Divers, Nitrox is not an option here. Also, there are no restaurants or food at the facilities. Pack a picnic or stop at Publix grocery store on the way there!
GOOD TO KNOW:
Scuba Divers: $38 everyday / Full equipment rental $40 / individual gear also available /Air Fills $8 No Nitrox available / No free diving fins allowed. MUST have a dive buddy, NO exceptions.
Snorkelers: $15 Mon- Fri / $20 Weekends and Holidays / Snorkel gear rental $10. Must be at least 6 yrs old to snorkel.
Located: 5390 N.E. 180th Ave. Williston, FL 32696
Phone: (352) 528.3344
Website: http://www.devilsden.com/home.html
Photography/video gear: Gopro Camera and Waterproof Dive housing, which can go up to 60 meters! Click on the link at the bottom of this post 🙂
The entrance to the office. A walk along the nature trail.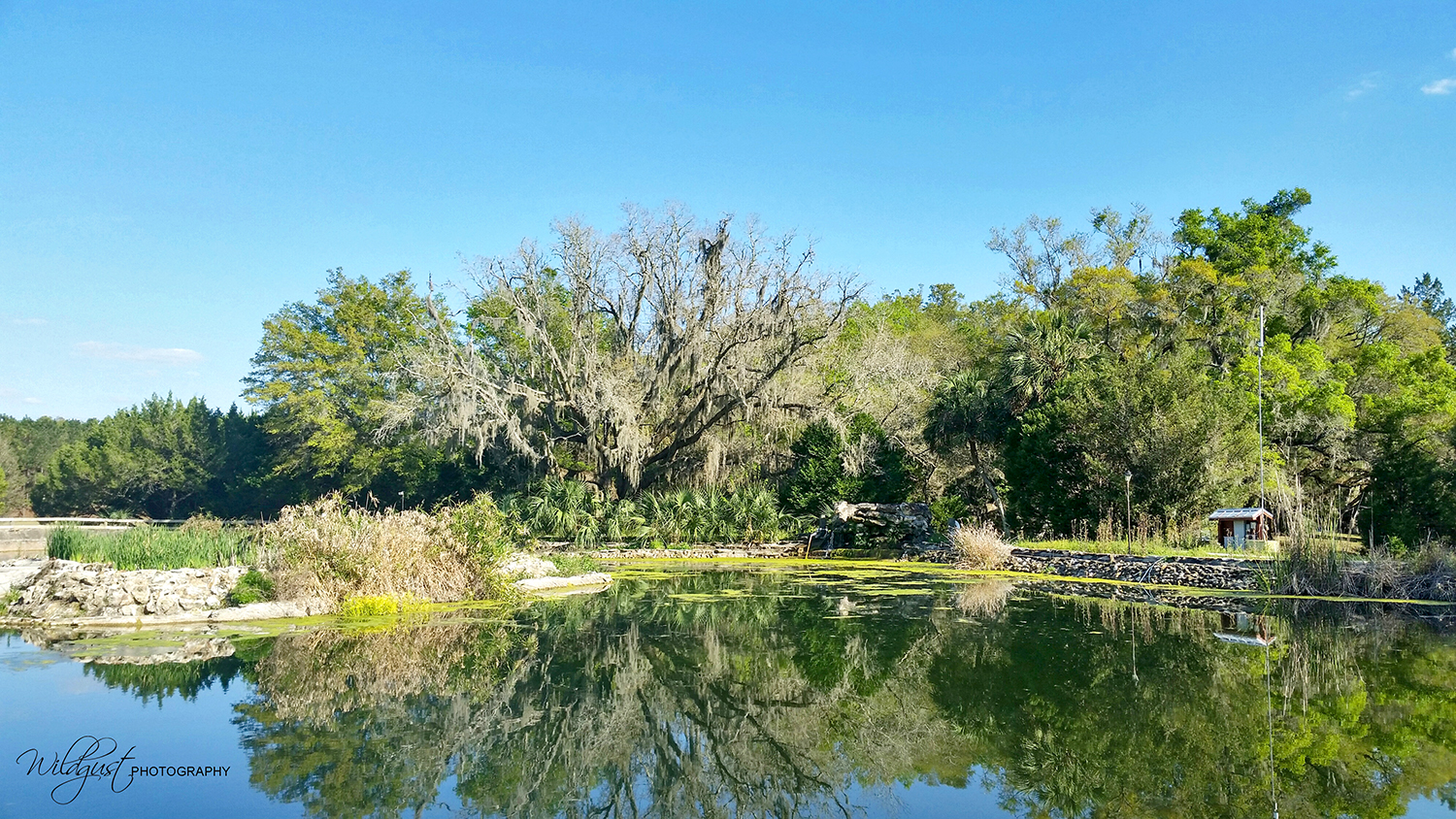 (Visited 50 times, 1 visits today)