Photos by Tom Wildgust
(Leía em Português – To read this in Portuguese click here)
Iceland is known as the land of fire and ice because of the sheer number of volcanoes and glaciers on this northern island. It has an abundance of geothermal pools scattered throughout and everywhere you drive you see those adorable Icelandic horses grazing. Icelanders wear sunglasses at midnight in the summer and chase the few hours of sunlight in the winter. They love to do happy hour and the music scene is pretty vibrant out here too. All in all, Iceland was awesome! This is coming from a Floridian girl who has never seen falling snow and decided to go to Iceland. Latitude 64 degrees North. In the winter. Seriously, best vacation decision! Icelandair has direct flights from many US cities including Orlando. Surprised? So was I. Iceland had so much to offer, I'll have to divide this adventure into a few posts. First up is a great day trip itinerary out of Reykjavik known as The Golden Circle: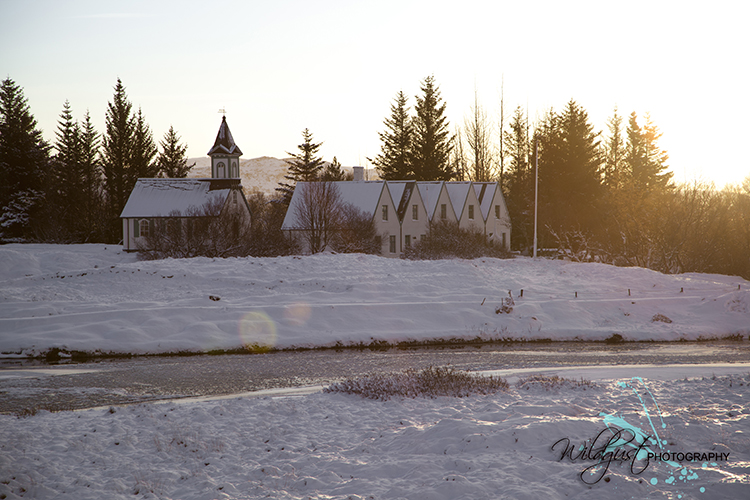 Pingvellir National Park
The Golden Circle Route is one of the top scenic tours in Iceland because it can be done as a day trip. Book a tour, or better yet, rent a car for the day so you can go at your own pace and stop along the way for photos as you please. Most people start the route as we did, headed towards Pingvellir (Thingvellir) National Park located about 45 minutes (49 km, 30.4 miles) from the capital Reykjavik. We left early so we could be there by sunrise at 10:30am. As Iceland only gets about 5.5 – 6 hours of sunlight in November, we had to plan accordingly and make the most of all our day trips. Pingvellir is of great historic importance as it is the site to the world's oldest parliament (Althing) dating back to 930 AD and it remained a functioning assembly until 1798. You'll see a huge Icelandic flag post standing where the original parliament was settled and the park has been declared an UNESCO World Heritage Site since 2004. Pingvellir is of stunning natural beauty with many trails to walk and enjoy.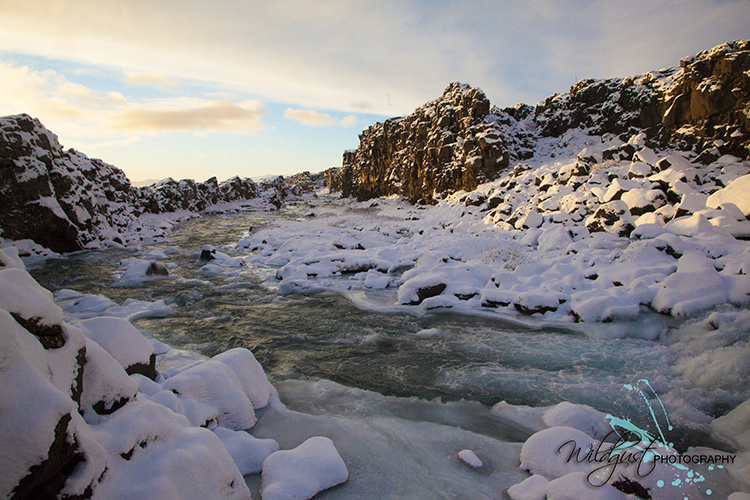 Silfra Fissure
We drove a couple of miles inside Pingvellir to the famous dive spot known as The Silfra Fissure. Iceland sits right on the Mid-Atlantic Ridge; a mostly under water mountain range between the American and the Eurasia tectonic plates, and due to this separation the island grows approximately 1 inch every year. The Silfra is literally a huge crack on the earth caused by the active tectonic plates constantly reshaping the earth. If you choose to dive or snorkel in the freezing water you'll basically be straddling between two continents! I was a total chicken shit and decided not to brace the hypothermia inducing waters. Don't judge me, I'm a Floridian. The water at the Silfra is actually fresh from melted glaciers and filtered through lava rocks. We watched as divers and snorkelers alike plunged into the ice-cold, crystal clear waters in specialized dry suits. I'm going to have to try this dive in the summer, that's doable. By the way, the water appears almost black in the photo due to the dark volcanic rocks beneath, but the water is actually crystal clear.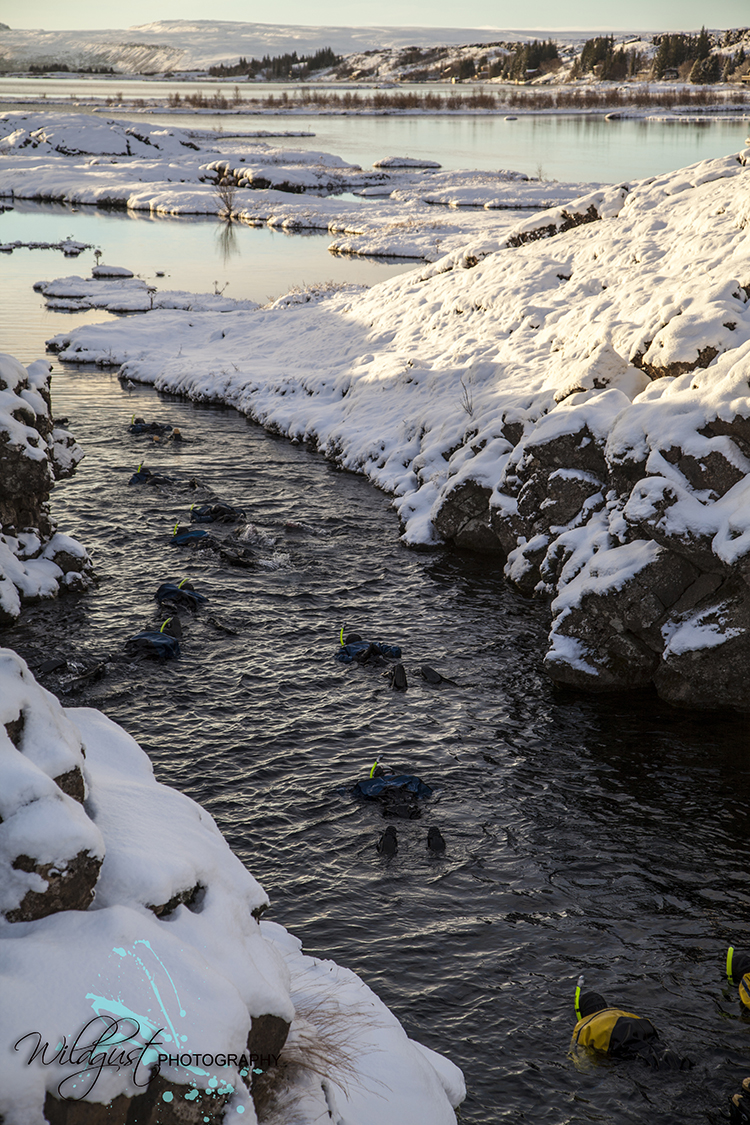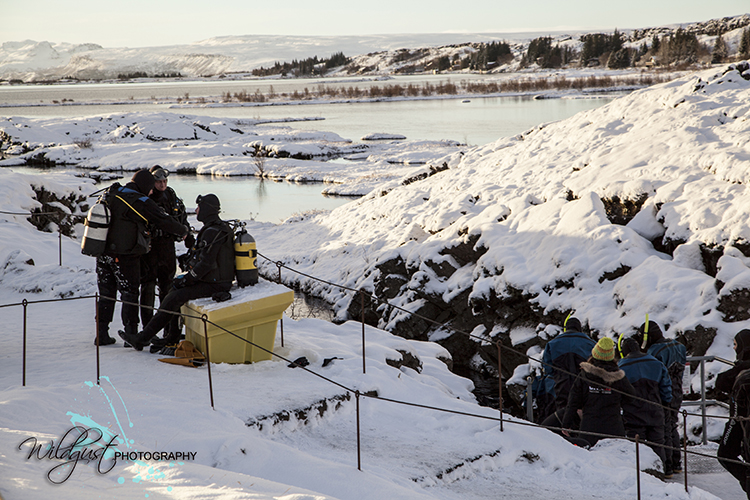 Geysers – Strokkur
After exploring the park and taking many photos we kept driving east about an hour towards the Haukadalur Geothermal Field where some of the geysers are pretty active. Strokkur, the most active of all, blows water and steam every 3-7 minutes up to 98 ft (30 meters). Be sure to set your camera to "action" or "rapid shot" to catch the action on film. It's pretty neat to hear it bubble up slowly a few times and feel the anticipation of the blow to get the perfect shot! And if you're there in the winter like we were, tread carefully as the ice is very, very slippery when wet from the spray! There's a Geyser lodge, restaurant and gift shop available in the area in case you need a break from the cold or from driving. You could warm up with a cup of coffee or a shot of Brennivin, a traditional Icelandic schnapps flavored with caraway (a licorice flavor like herb) and then head back on the road to finish the Golden Circle route. As we drove to Gullfoss we had to stop on the side of the road to say hello to these handsome Icelandic horses! They were very curious about these "humans" approaching with a camera. And we loved it.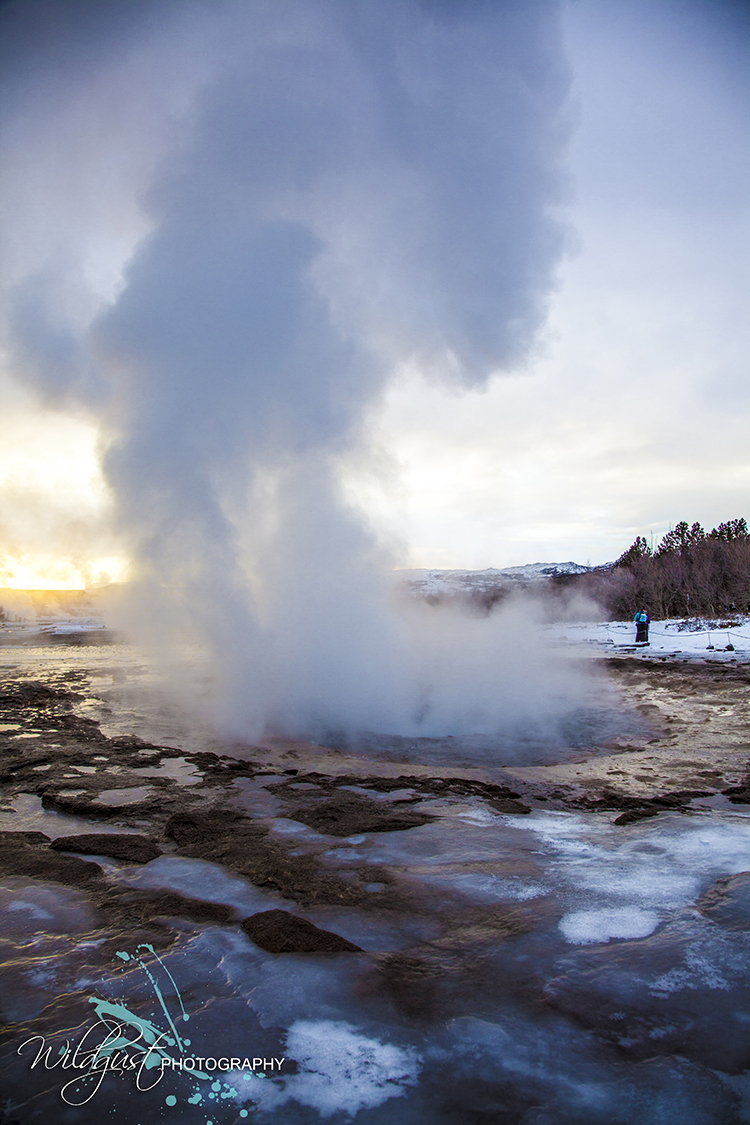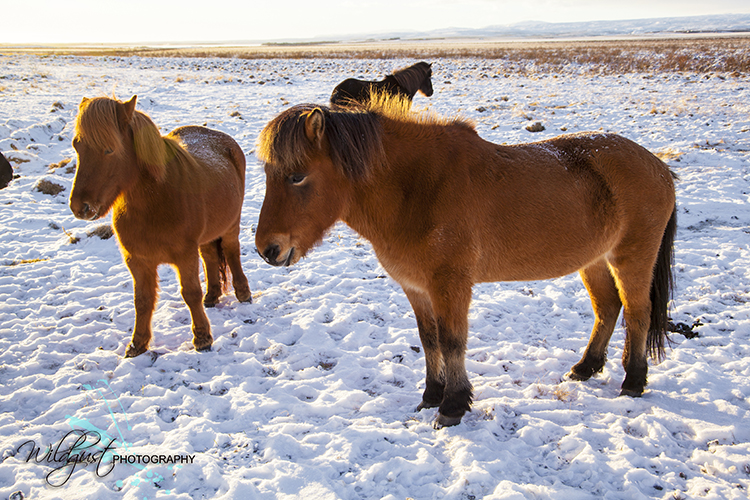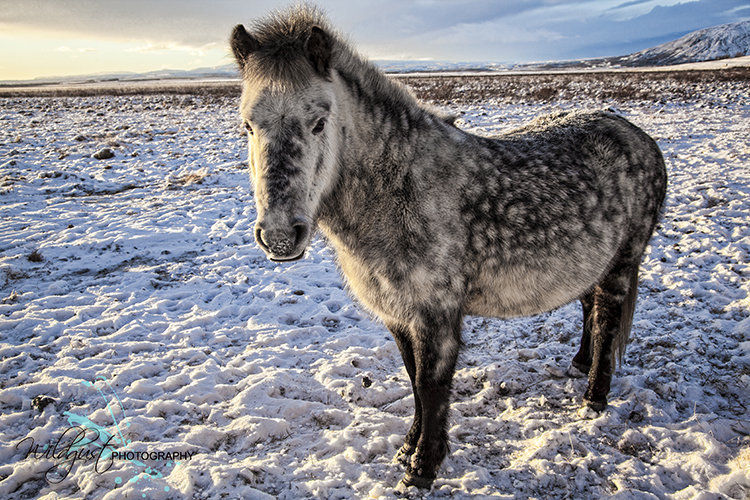 Gullfoss
Another 15-20 minutes farther east and we finally arrived at the majestic Gullfoss (Golden Falls), the largest waterfall in all of Europe! The views were breathtaking. Partly frozen and with the vegetation full of icicles it was like looking at a winter postcard. Make sure to walk all the way down the trail to the left so you see the crevice and drop of the waterfall. The trail had a sign saying "closed" due to inclement weather and falling rocks. Yeah right, like we're gonna miss the chance to get a great shot because of some early season snow. Besides, everyone else seemed to ignored the sign and so did we. (Such rebels) We had our awesome snow boots and jackets on, so we were good! Totally worth it. Even the northern winters couldn't stop the massive flow of ferocious water cascading down in two stages and then plunging into the 32 meter deep crevice that flows into the Hvita River. One more amazing site to see, all thanks to mother nature.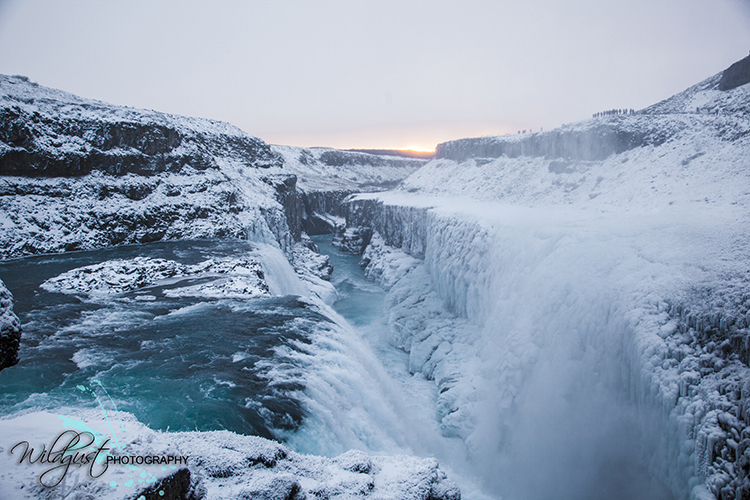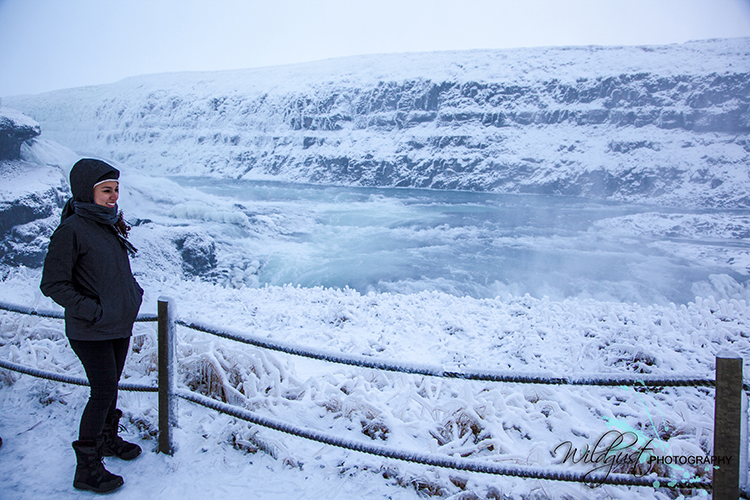 Kerio Crater
Our last stop on the route was Kerio Crater, 30 minutes back towards the west. We made it there just before we ran out of sunlight. The crater is filled with water which was frozen over from the snow storm. Still a beautiful view and the hike down to the crater is only a few minutes. Afterwards, we headed back to Reykjavik for a night stroll and dinner in the city. It is a bit strange coming from Florida where we get about 10.5 hours of sunlight in the winter to land in Iceland and go chasing the sunlight every day to get to see as much of the outdoors as possible in half the amount of time! It was an amazing experience altogether. That's one of the reasons why I love travel so much. You learn how others live, you grow fond of new ideas, and you gain more appreciation for your own sunlight. Life is wonderful…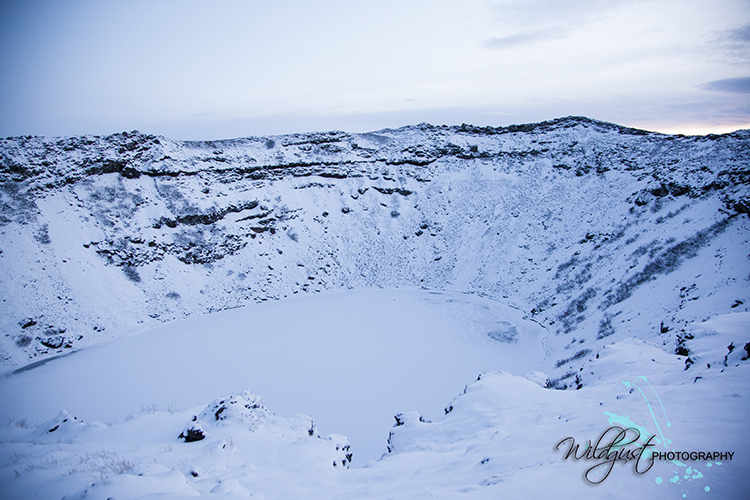 Depending on what time of year you decide to visit Iceland, you might have much more sunlight on your day and hence be able to add a few extra stops on your Golden Circle scenic route. Skalholt Church is another point of interest right before reaching the Kerio Crater, Hverageroi greenhouse village and the geothermal plants Nesjavellir or Hellisheldar. So to recap, the three main highlights of the popular Golden Circle route are Pingvellir National Park, Gullfoss and Geyser. Happy road tripping!
(Leía em Português – To read this in Portuguese click here)
Next week: Glacier Hike & Northern Lights!!! Stay tuned. Iceland Part 2
GOOD TO KNOW:
Golden Circle MAP You can also type the attractions name as a "Point of Interest" on to your GPS device.
Word of advice: Make sure you are comfortable driving in the snow if you're planning to drive out here in the winter time.  Also most cars available are stick shift.
I'll leave you with a quick video:
<div align="center"><a href="http://www.aholeinmyshoe.com" title="A Hole In My Shoe"><img src="http://www.travelnotesandbeyond.com/wp-content/uploads/2015/05/wekpost1-e1432530947416.jpg" alt="A Hole In My Shoe" style="border:none;" />
(Visited 12 times, 1 visits today)