A historic Lighthouse, giant cedar trees, pine tree trails, shipwrecks and beaches. This is Michigan, USA we are talking about here, not an ocean getaway. A fresh water paradise full of history and beauty. What more could you ask for? Historic Fishtown & Ferryboat Mishe Mokwa day tour to Manitou Island was a great way to spend a sunny day out in Lake Michigan. The Manitou Islands are part of the Sleeping Bear Dunes National Park and managed by the National Parks Service (NPS). It should be on everyone's list when visiting Northern Michigan.

Historic Fishtown, Leland – Michigan
Take a day to check out 
Historic Fishtown
 and do a day 
trip to Manitou Island
. Fishtown is a small area in Leland, Michigan known for its original, historic fishing shanties. Commercial fishing was the way of life in Leland since the late 1800's and Fishtown has become a nostalgic symbol of the maritime history of this area in Northern Michigan. Fishtown is located on the Leland river basin and commercial fishing is still in practice today by local fisherman. Most of the original fishing shanties have now been converted into small shops and cafes, but some are still used in the local fishing industry. When walking around, you can still see large fishing nets drying out by the dock; and you can certainly
smell
the fish. The local fish "butcher" shop has a great variety of fresh and smoked fish selections to choose from including fish sausage. The day we visited was rainy and grey, but that didn't stop us from exploring the area. It kind of added a gritty, monochromatic feel to the town, as the grey skies blended with the neutral tones of the weathered wood planks from the old dock and shanties perfectly.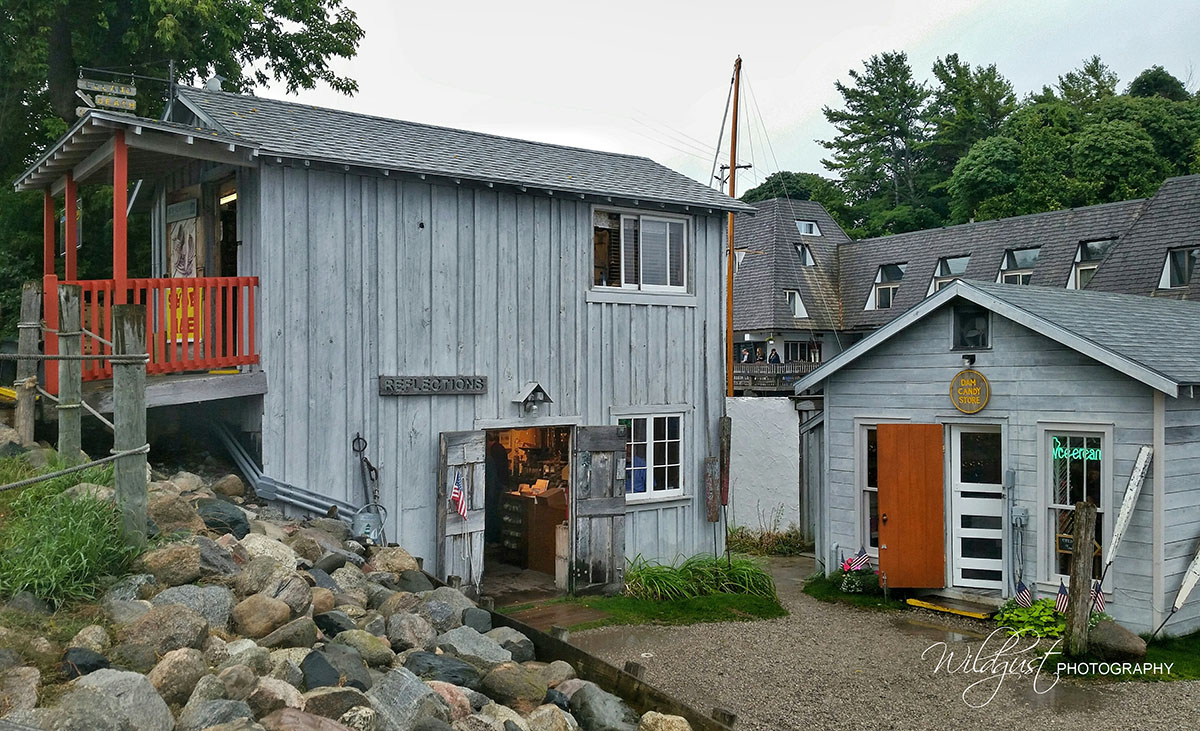 South Manitou Island, Michigan
If you are up for an early start, the ferryboat tour to South Manitou Island is totally worth it. Leaves right out of Fishtown at 10am daily. It takes an hour and half to get to the island, so sit back and enjoy the breezy ride. (I know right! I swear Lake Michigan is basically an ocean, minus the salt factor. It's HUGE) Our ferry boat, The Mishe Mokwa, has a friendly crew and a cash bar on board! So if you want to have a beer at 10am, hey, you're on vacation and you're not driving the boat right?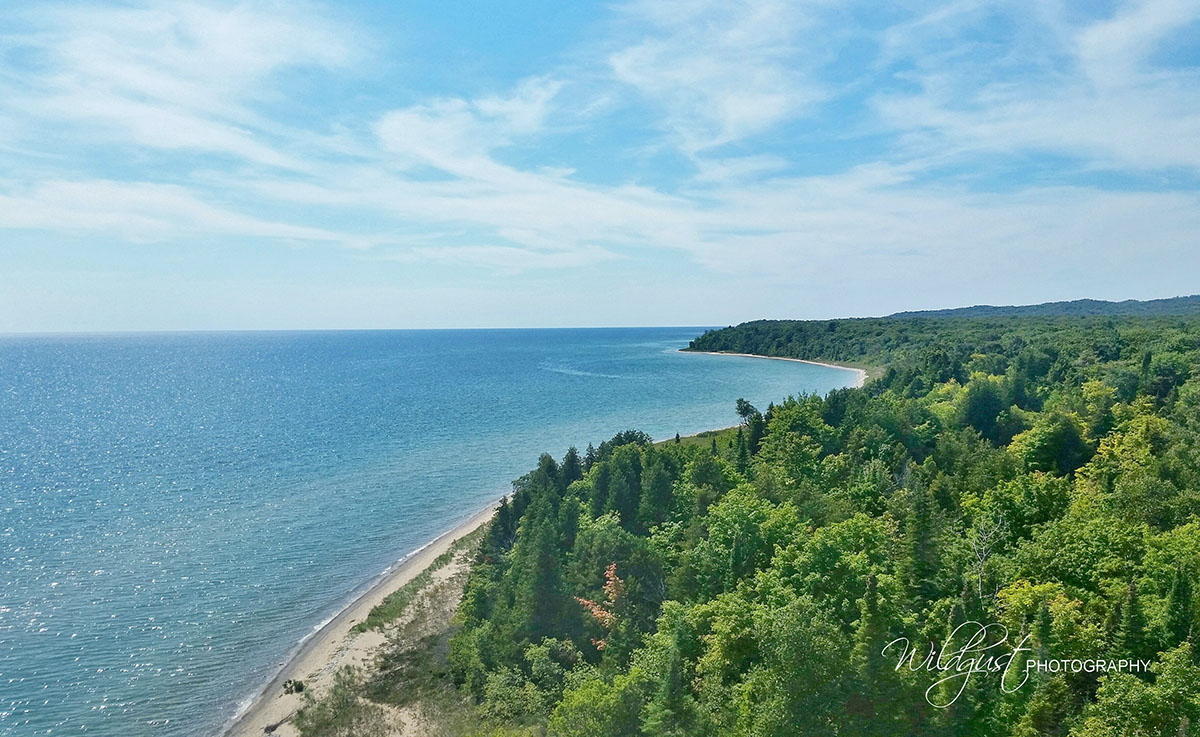 On the ride to Manitou Island we were offered the option to purchase a guided tour of the island (an extra $10 per person) and we declined because we just wanted to explore at our own pace. But honestly, we regretted not purchasing the guided tour, as we would have seen a lot more of the island in a vehicle rather than walking. We underestimated all the walking we would do! My parents came on this trip with my husband and I and mostly stayed by the lighthouse area side of the island. Manitou island has multiple shipwrecks along its shore and boasts a mini giant cedar forest on the opposite side of the dock. The hubby and I decided to walk towards the giant, old cedar trees on the other side of Manitou Island but soon realized if we tracked the 7 miles we wouldn't really have much time left to explore the lighthouse and enjoy the beaches on the lake shore. So we hiked a 3.5 mile loop through the middle of the island, passing by a historic school house and a trail so full of pine trees, it felt like we were walking through a candle store during Christmas. That fresh pine smell was so invigorating! Thank God my husband has a much better sense of direction; otherwise I would still be there running in circles in the midst of all that pine wilderness! Once we finally saw the coast line again in the distance, we got our second wind and headed back towards the lighthouse. We couldn't wait to go for a dip in the lake after a long hike.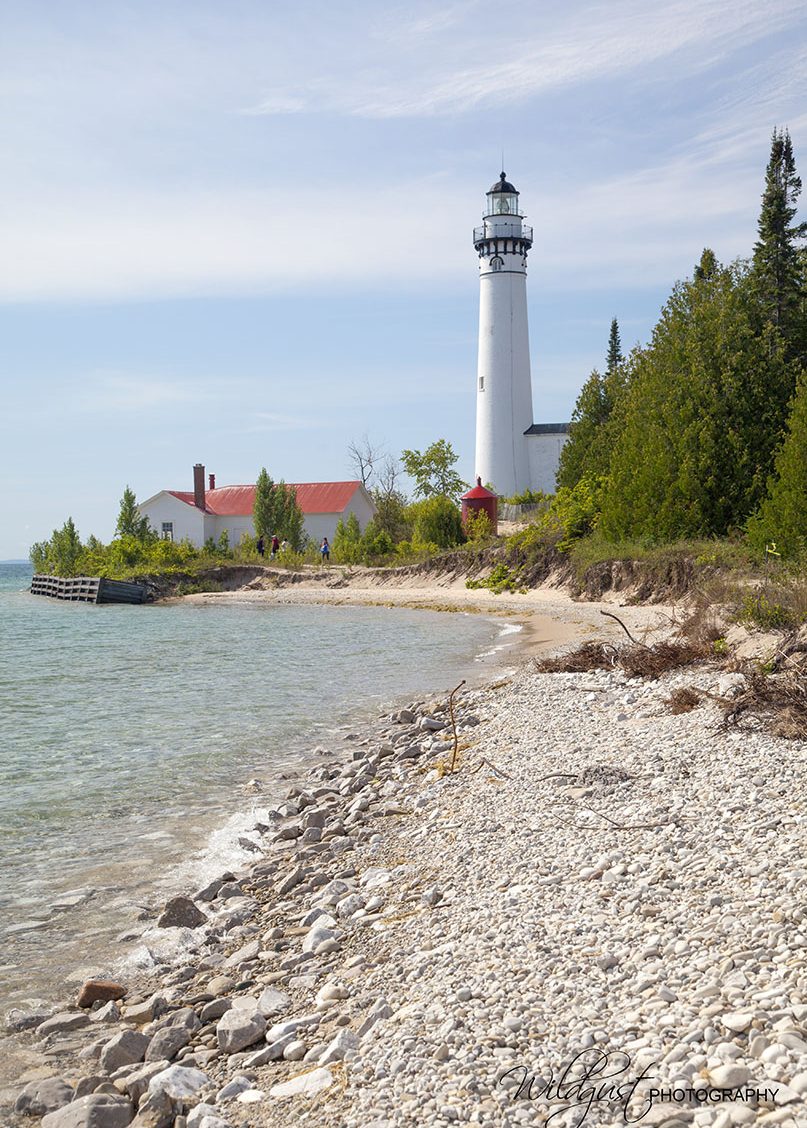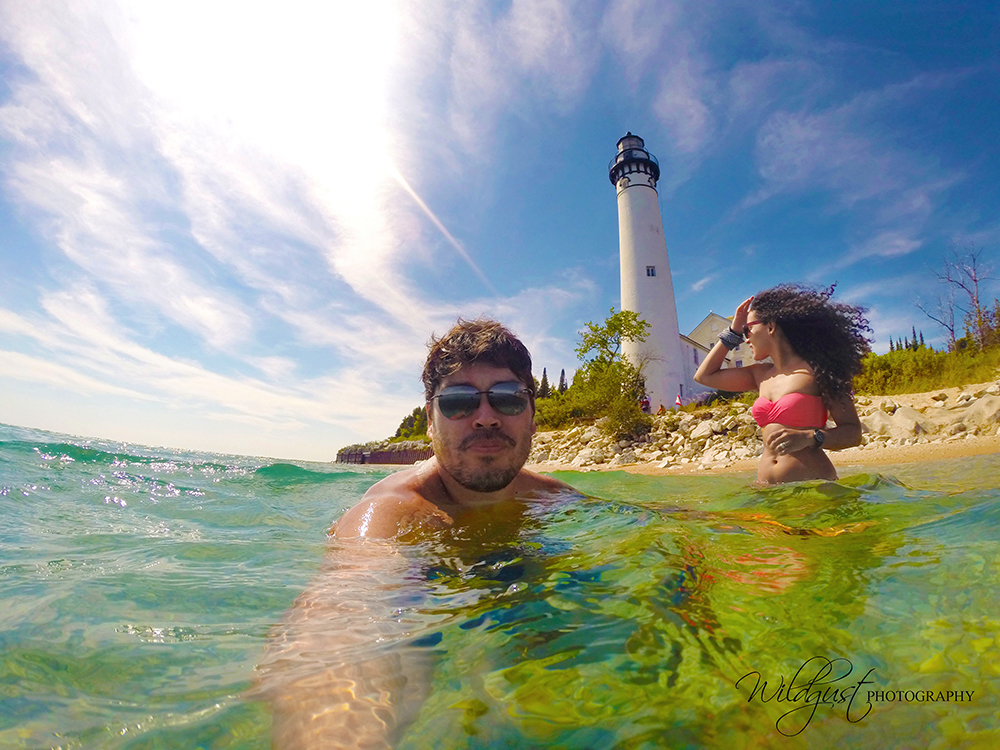 Headed to one of the little beach areas by the lighthouse, with go pro in hand of course, we couldn't wait to take a dip in Lake Michigan. Believe it or not, we are familiar with cold water because the fresh water springs back home in Florida are pretty chilly. But Lake Michigan definitely won the cold water contest!!! Thank goodness it was a hot and sunny late August day. We were slowly walking into the lake, inch by inch, but at one point we were like, "Let's just dive in and stop tiptoeing around." The water was so beautiful and clear; and down right refreshing! A little frolicking in the crystalline waters of Lake Michigan made the entire tour more than worth it.
To dry off, we walked towards the lighthouse and got there just in time. One of the park rangers was heading up the lighthouse and asked who wanted to go up with him, we obviously jumped at the chance. The park ranger stopped after the first set of stairs to show us the light keepers house which is connected by a passage way. The house is currently waiting a restoration project, done all by volunteers. After climbing the 117 steps to the viewing deck we were rewarded with a breathtaking view of the main land and South Manitou Island itself. Taking in the view from 100ft up made us feel as if we were in the Caribbean, rather than a lake. It was so surreal.
Ferryboat tour costs $40 a person. There is a NPS fee of $15 per party that must be purchased on site. You can use this same NPS entry ticket to visit Sleeping Bear Dunes and anything else part of the NPS – National Park Services.
Worth paying the extra $10 for a 2hr guided vehicle tour of the island. Really wish we had done that.
Pack a lunch and bring a bathing suit.
You can camp overnight at either North or South Manitou Island. (additional fee)
Definitely make reservations prior, as the tours book up pretty quickly. Check in is at 9:15 am and most shops in Fishtown are open by that time so you can shop around.
HAVE YOU EVER VISITED NORTHERN MICHIGAN? WHAT DID YOU ENJOY? PLEASE SHARE!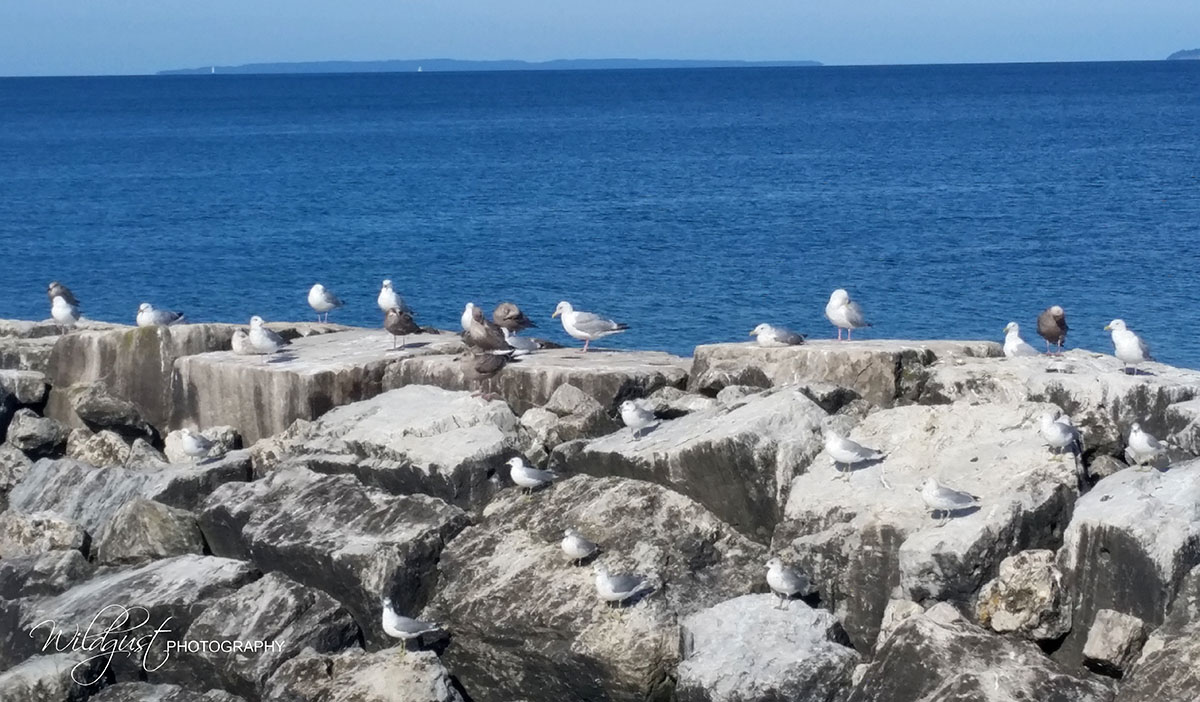 (Visited 8 times, 1 visits today)