Chicago was love at first visit for me. I wish I had more time to explore Chicago in depth and take in all of its art, history and beautiful architecture; but since this was a short work trip, I only had one full day and a few nights to explore the town. Even with the limited time, I fell in love with Chicago, the "City in a Garden"!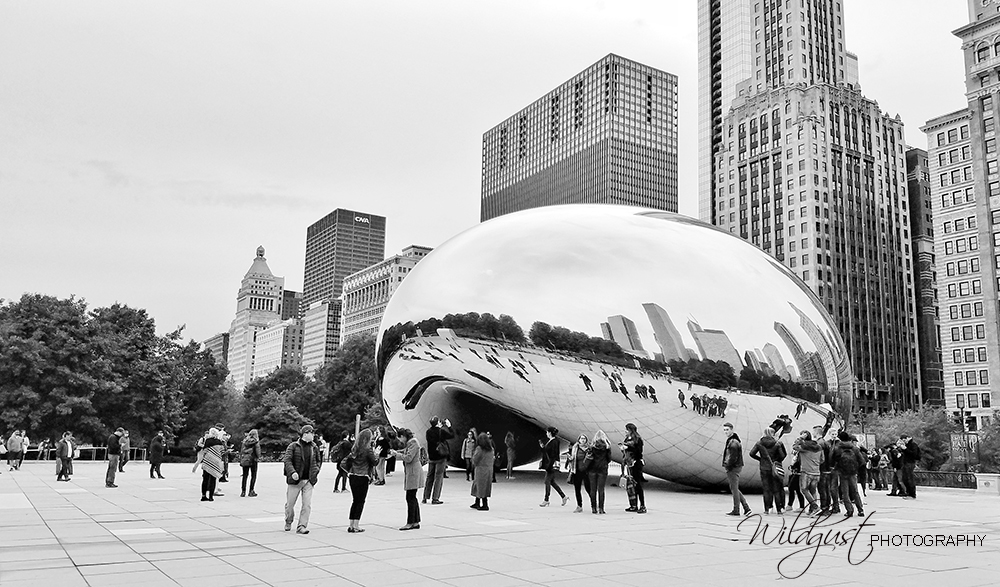 I started the day with brunch (being up at 4:30am to catch a flight sucks, and makes one very 'hangry'). After a satisfying meal I was ready to tackle on the day and decided to go for a stroll with no real purpose except to eventually see the "Bean." Right around the corner from the Rafaello Hotel, where I stayed, I ran into this gorgeous little cathedral that was half covered in ivy, and it was at that moment I began my love affair with Chicago; sorry New York City. I'm a big art and architecture enthusiast, so naturally my favorite thing about Chi Town, was the beautiful juxtaposition of old & new; vintage & modern;
historic & futuristic buildings
perfectly filling the city's skyline. And yes, New York has that too; but there was something about Chicago that was more approachable, more green and more friendly that pulled me in closer. Here are some of the trips highlights:
MILLENIUM PARK & ART:
I bet you have seen a picture of the famous "Chicago Bean" before, but its official name is Cloud Gate Sculpture by the artist Anish Kapoor. The smooth and bubble like sculpture is made up of 168 panels of super polished stainless steel. It's so smooth, it looks seamless and resembles a giant drop of liquid mercury in Millennium Park. The surface of the Bean is extremely reflective, and hence gives you a great view of Chicago's Skyline, making it a fantastic photo spot. If you want it all to yourself, better get there early morning because tourists flock to it for their photo opportunity too.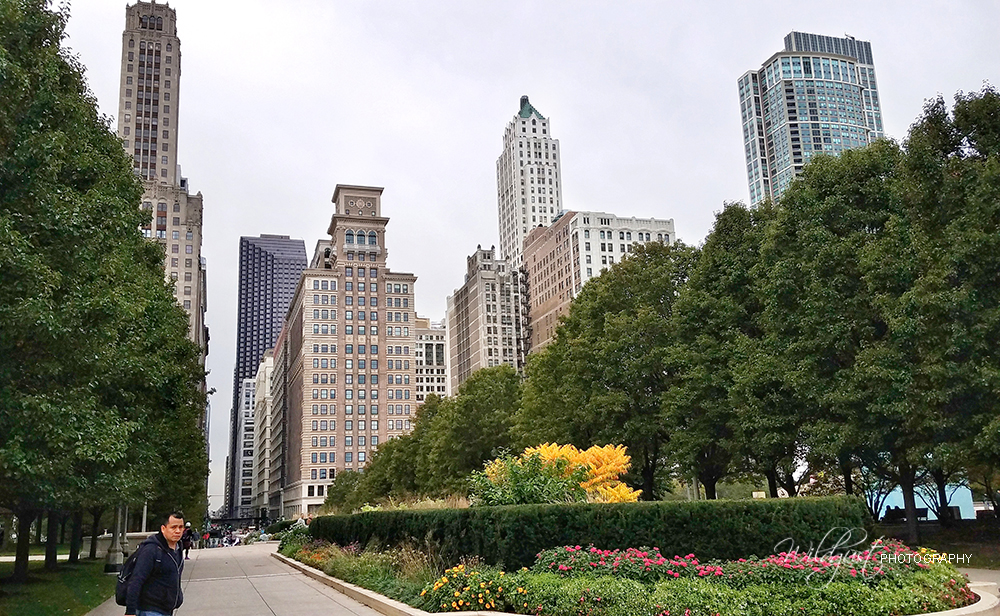 The Jay Pritzker Pavilion at Millennium Park, AKA Pritzker Music Pavilion was designed by architect Frank Gehry, and is one of the centerpieces of Millennium Park and home to the Grant Park Symphony Orchestra. The amphitheater's giant curved waves of metal (a signature design feature of Gehry), are spectacular! Specially combined with an evergreen great lawn in front of it. Again, it's that wonderful juxtaposition of man made and organic materials that truly make the design even better.
CITY IN A GARDEN:
As I strolled the streets of Chicago, it was clear why it's known as the "City in a Garden." Even smack in the middle of downtown, there are so many green spaces dotting the city and breaking up all the metal and industrial aspects of its design. Covering more than 8,000 acres, Chicago has an abundance of parks to see and enjoy. Lincoln Park was the first one of these green spaces and it was built on top of a cemetery! Apparently back in the day, some city officials were afraid the "corpses" would contaminate the water of Lake Michigan near by and decided the cemetery's location would be a great spot to build the city's first urban park.
"Public Parks are the lungs of the city" – John Rauch, physician, previous city sanitary commissioner. 

Such a true statement!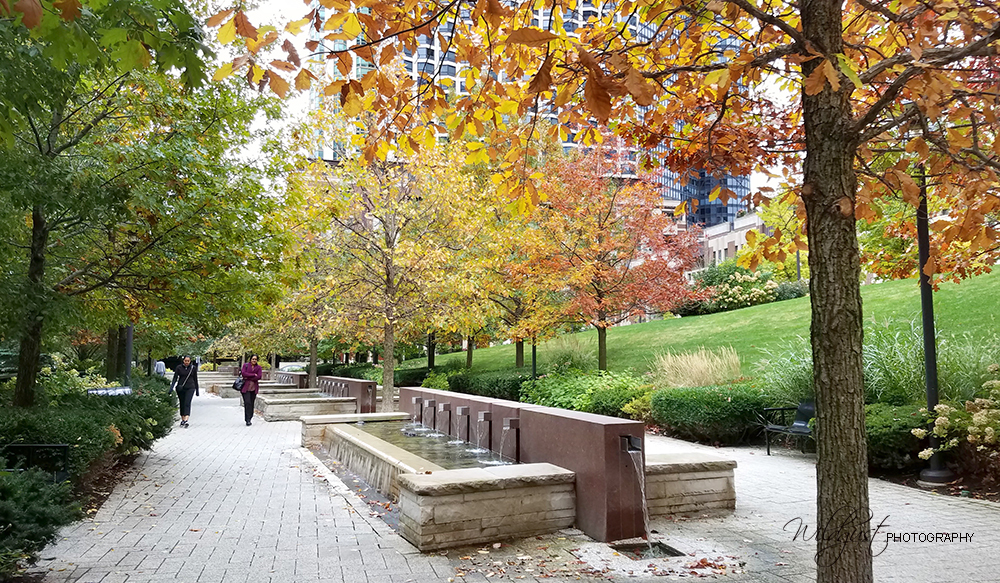 COOL ARCHITECTURE:
– The Chicago Tribune Building, a Neo-Gothic architectural design, listed as a Chicago Landmark.
– My favorite was the Clocktower; which is actually called the Wrigley Building, circa 1920s. And yes, it was founded by William Wrigley from the gum brand. The architecture was inspired by the Giralda Tower in Seville, Spain with some beautiful French Renaissance details added. Fun fact: It was the first air-conditioned office building in Chicago at the time.
– John Hancock Building. It's 100 stories high, black, with an X-braced exterior. Some call it ugly, I think it stands out against all the other buildings with its dark, utilitarian design. It has an Observatory where you can get a 360 degree view of the city and see up to 4 states on a clear day! These are just to name a few (but not even scratching the surface).
Another great thing about Chicago? There is no shortage of good restaurants to satisfy every budget and palette. Did I mention all the great shopping? Michigan Avenue has all the amazing high end stores and name brands. Milwaukee & North has all the good vintage shops, where you can find one of a kind jewelry and fashion pieces, local breweries and restaurants as well.
 Top from left: Pratical Magic cocktail at Rooftop Drumbar; Sushi at BlueFin; donuts; ice-cream at Margie's Candy Shop. Notice we each had our own gravy boat of hot fudge!
I can't wait to book another trip to Chicago an enjoy Architectural Tours, browse The Art Institute for a whole day and so much more!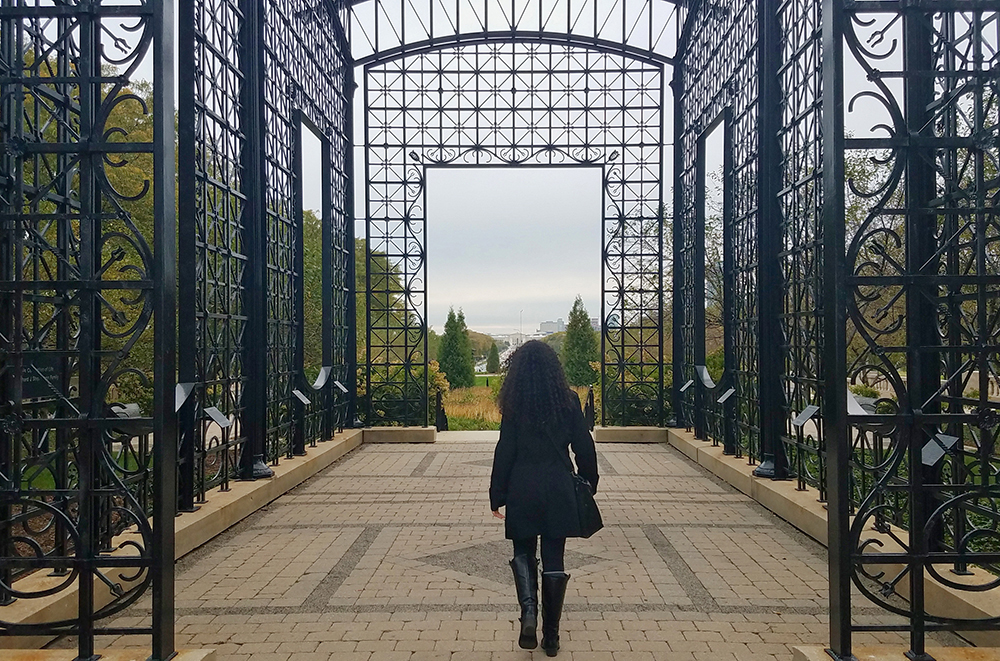 (Visited 9 times, 1 visits today)